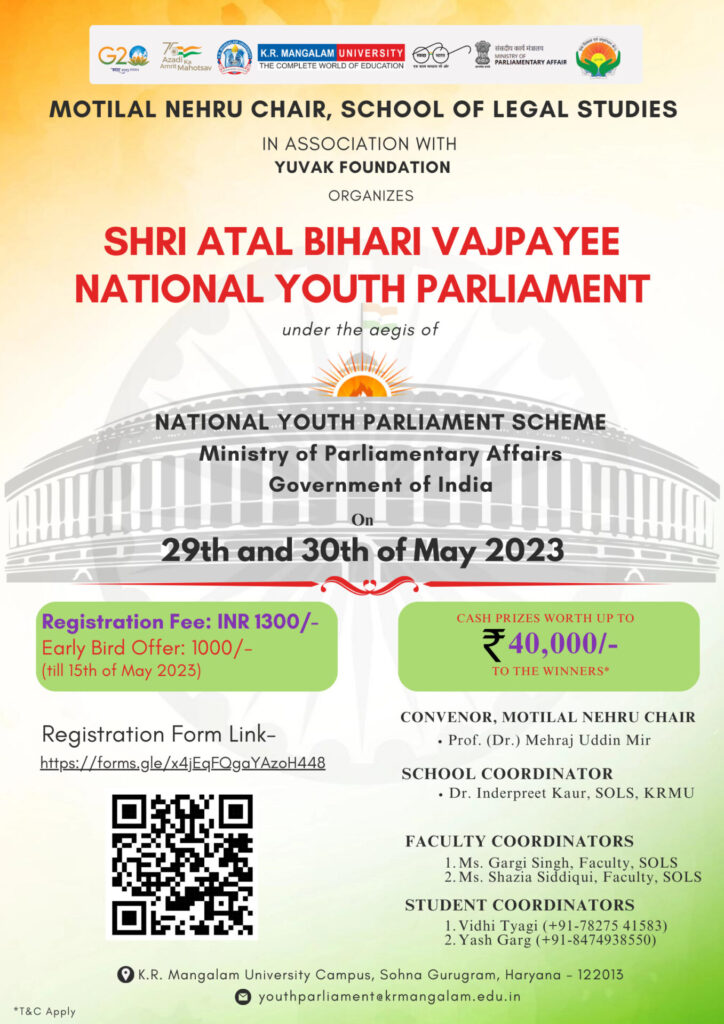 About the Organizers
K. R. Mangalam University is a pioneering institution of higher education in Haryana, established in 2013 under the Haryana Private University Act and is empowered to award degrees specified by UGC under Section 2f of the UGC Act, 1956. KRMU is driven by shared purpose to make the world better through education, research and innovation. It is spread over 26 acres nestled in Aravalli hills, the fully residential green campus offers an idyllic and intellectually vibrant environment. About 120 faculty members and more than 1800 students are indulged in making the world a better place along with KRMU.
Rules and Regulations
Eligibility
The Competition is open to students from different academic fields of any recognized University/Institution/School.
Language
It is permitted for participants to use either English or Hindi or both languages interchangeably during their speeches. The use of unparliamentary language is strictly prohibited and will not be tolerated at any point during the competition. It is imperative that all participants conduct themselves in a disciplined and respectful manner. Any instance of indiscipline will be subject to disqualification at the sole discretion of the Executive Board.
Dress Code
Participants are expected to present themselves in a professional and appropriate manner. The dress code for the event mandates either Indian traditional Attire or Western Formal Wear, and it is imperative that such attire is carried in a respectable and modest manner.
Miscellaneous
The participants shall enter the committee hall 10 minutes prior to the time allotted in the Itinerary.
The marking parameters shall be explained by the Executive Board prior to the session and the result of the Executive Board shall be final. It is mandatory for all the participants to attend the Inaugural Ceremony on 29th May and Valedictory Ceremony on 30th May.
Date and Venue
The Youth Parliament shall be held on 29th and 30th of May 2023.
Venue: K.R. Mangalam University Campus
Time: 10:30 AM onwards
Committees and Agenda
Registration and Procedure
The Registration Fees is Rs. 1300/- for each participant *EARLY BIRD OFFER (TILL 15TH OF MAY) – Rs. 1000/-
The Participants can register by scanning the QR code provided in this brochure.
Registration form link:
The Participation fee will be paid by Online Mode only. Please Scan the QR code Below in order to register:
The details of Online Payment are as follows:

ICICI BANK
Account Name K. R. MANGALAM UNIVERSITY
IFSC- ICIC0000911
Account No.- 091101000622

Please note, after NEFT/RTGS/IMPS, kindly provide following details by mail to [email protected]
Awards and Certificates
TITLES
Cash Prizes: worth Rs 40,000
Trophy and Certificate
"High Commendation" Award (Per Committee)
Best Delegate (Per Committee)
"Special Mention" Award (Per Committee)
Accommodation, food and Travel
Accommodation will be provided by the university only on days of competition in the University hostel along with dinner.
For availing the above-mentioned accommodation facility, student would have to pay an additional amount of Rs. 500/- for both days.
High Tea and Lunch is inclusive in the two-day event. 4.Transport services shall be provided by the organizers from a pre-decided stop to the VENUE (K.R. Mangalam University, Sohna, Gurugram)
Contact Details
Faculty Coordinators
Ms. Gargi Singh, SOLS, KRMU
Ms. Shazia Siddiqui, SOLS, KRMU
Student Coordinators
Vidhi Tyagi (+91 – 78275 41583)
Yash Garg (+91 – 84749 38550)
Email Id – [email protected]
Official Brochure
Disclaimer
All efforts are made to ensure the accuracy and correctness of the information published at Legally Flawless. However, Legally Flawless shall not be responsible for any errors caused due to oversight or otherwise. The users are advised to check the information themselves.