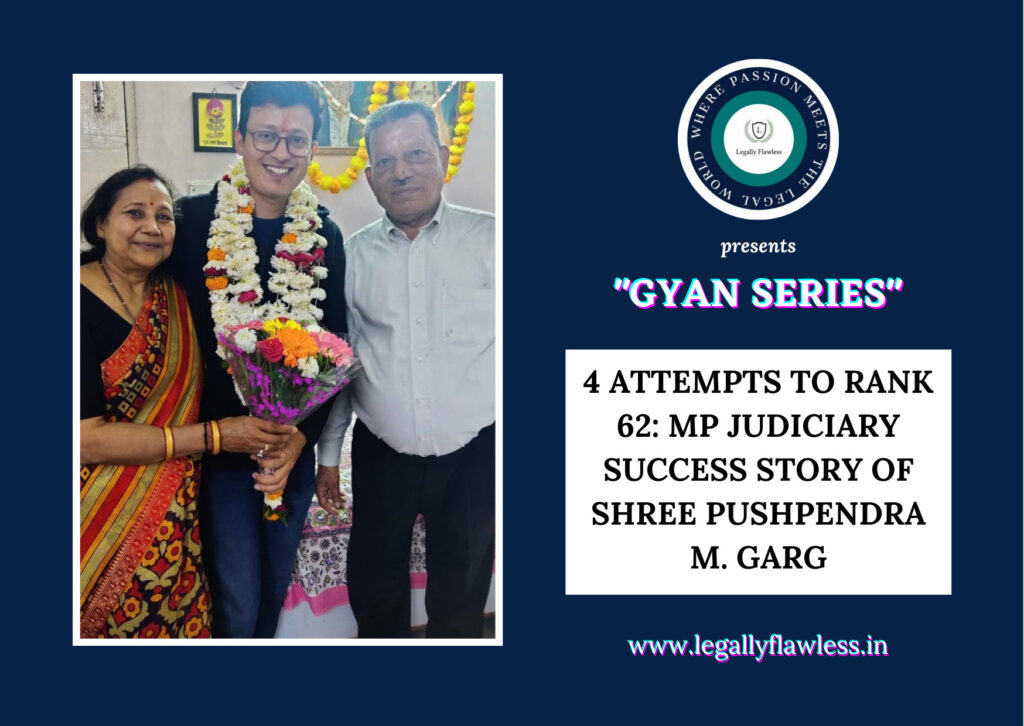 Legally Flawless has started this drive to aware law students and young lawyers to achieve in the field of law through strategies from the achievers themselves.
In our 24th blog of the GYAN Series, we are going to learn all the strategies, tips, and tricks to ace the Madhya Pradesh Judicial Services Examination from Shree Pushpendra M. Garg, who secured the 62nd rank in the Examination of 2021.
This Interview is taken by Utkarsh Pandit.
How would you like to introduce yourself to our readers?
I am Pushpendra Mohan Garg, I was born and brought up in Bhopal, Madhya Pradesh. Recently, I secured 62nd rank in Madhya Pradesh Judicial Services Examination 2021. My Father has been practicing as an advocate since 1976. My mother is a yoga instructor and housewife. I did my schooling at International Public School, Bhopal. Thereafter, I pursued my five-year integrated course of B.A. LL.B.(Hons.) from Barkatullah University. Then I did my masters in Constitutional Law from RKDF University and after my graduation, I have been preparing for the judicial services examination.
What made you choose judiciary as a career option?
When I was in school, I was not much drawn towards the legal field. But as my father is a lawyer, so in a certain way, I had a little interest in the field. It was after I appeared and failed in the JEE Entrance Exam, I realized that my interest lies in the legal field. I was able to choose Law as a career option after proper counseling. So, I enrolled in the state government college called the Department of Law, Barkatullah University. During my college days, I did many internships in various fields of law, like corporate law, litigation, etc but was thrilled by the work of a judicial officer.
I come across students who decide upon becoming a judge, even before entering Law School. However, deciding your career in Law before even entering Law School is not a wholesome approach. To know yourself better, you should explore various avenues by way of internships. By exploring other professions in the legal field, one may get to know where that person can develop himself the best.
How to Manage judiciary preparation along with college studies?
In my opinion, college students need to manage their time for Judicial Services Examination efficiently. So, after college timings, one can at least devote one to two hours daily to the Judicial Services Examination. This is because even the syllabus for the Judicial Service Exams includes the same subjects that one studies in law school. In order to remain consistent in their studies, students can also join coaching classes, and plan a schedule. Students can also use Organizer/Planners for better scheduling and mapping of their progress. In this way, they can manage their time.
What was your overall strategy for the prelims part of the Madhya Pradesh Judiciary Exam?
The Madhya Pradesh Judicial Services Examination consists of three stages, i.e., Prelims, Mains, and Interview.
The Prelims Exam consists of 150 questions. Out of the total 150, 110 questions cover the Law Part and 40 questions include the general studies part. Out of these 40 questions in General Studies, 20 marks are covered from general knowledge, 10 marks are for computer knowledge, and the rest 10 marks are for English.
Strategy for Prelims: I did 2-3 papers daily of prelims Exams of different States in the form of Multiple Choice Questions. I took this as a complete paper and did all the questions given in the paper. Students can buy Sighal's Previous Year Question Paper Book (Paper-wise). This book includes nearly 140 Previous Year Papers of different states. Also, I did 4-5 revisions before the date of the Prelims. I also dedicated specific time and days to subjects before the actual Exam. Like completing Civil Procedure Code in 3 days, Transfer of Property in 2 days, and likewise for other subjects. Also, before the Advertisement for the Exam is out, one should read in a whole sum manner like preparing for both prelims and mains simultaneously.
One also needs to follow time management properly. My aim was to give 67 hours a week as I followed the principle of Elon Musk that if one has to excel in something then he/she has to give 70-80 hours to it. I was an average student, so I targeted 67 hours/per week. I also divided my time into different slots in the day. Like the morning slot was dedicated to the most difficult subject as during that time our mind is very fresh. The Afternoon slot was dedicated to the General Studies Part. For the General Studies Part, group discussion is recommended.
While completing the syllabus for the first time, read 100% of the provisions. During the revision time, you can skip the provisions which have not been recently asked in the exam. While attempting MCQs, I also wrote the mistakes. So, at the time of the revision, or during the last 10 days of the Exam, I went through all the mistakes. This has helped me in clearing the Prelims.
What was your overall strategy for the Mains part of the MP Judicial Services Examination?
There are four papers of 100 marks each. Paper 1 is of Civil laws and Constitution and Paper 3 is of criminal laws and local laws of MP. Paper 2 is a language Paper that consists of essay writing and translation and summarization. Paper 4 is of judgment writing. To qualify for the Mains Part, the Unreserved and OBC Category Students need to obtain at least 200 marks out of the total of 400 marks. For SC & ST students it is 180 marks.
Strategy: I used to practice answer writing daily. I used to take 2-4 topics of a particular subject in the morning and then learn it till the evening or used to collect material or check out my notes on that topic. Then I used to practice the answer writing on selected topics within time.
Further, whatever I wrote, I used to get it evaluated by a mentor, teacher, or friend. One should devise the strategy based on his/her suitability. For Example, if a person is unable to write and answer properly, then he should practice more on answer writing so that he/she becomes confident in answer writing.
Paper 2 and Paper 4, play a major role in cracking the Mains Exam of the MP Judiciary as the translation part of Paper 2 is very tricky because the students who are good in English tend to lose their marks when the translation is from English to Hindi. Similarly, Hindi students tend to lose their marks when the translation is from Hindi to English. So, I would suggest the students to refer the diglot edition of bare acts when learning the law. One should also practice speaking the Hindi terminologies for Legal terms. For Example, Plaintiff is Vadi, Defendant is Prativadi.
For Judgement Writing (Paper-4), I would suggest that aspirants can read the trial court judgments which will be very beneficial. Also, do focus on case laws and learn the leading case laws of all the topics.
Please explain the structure of the mains answer writing that you followed along with the appropriate word limit for each answer.
The appropriate word limit is not listed anywhere and I would also not suggest any word limit. However, if a question is of 8 marks, I wrote 3.5-4 pages i.e., front and back, and for a 4 marks question, I wrote 2 pages. There is no blueprint kind of a structure pattern in the answer writing. The most important thing is to address the problem which has been asked and explain the provisions with leading case laws.
How to prepare and conquer the exam of essay writing?
For the essay writing exam, one should read the editorials in the Indian Express and refer to videos of Rajya Sabha TV Debates on Sansad TV on YouTube. Aspirants can also refer the different magazines like Pratiyogita Darpan, Drishti IAS, and Vision IAS Insights and practice essay writing and get it evaluated by their senior or mentor.
Is writing the exact provision mandatory in each question or mere explanation of the concept works well in cases where one doesn't remember the exact provision?
I also had the same doubt when I was an aspirant. Some people suggested that the evaluator does not expect us to write the complete bare act and others suggested writing the exact provision word to word. So, I on the basis of my experience would suggest that aspirants need not write the exact provision. If you can remember the exact provision then, it is well and good, however, it works if you are able to explain the concept with case laws and the main terminologies used in the provision.
How did you prepare for the interview of the MP Judicial Services Exam?
The interview is of 50 marks and to qualify for the interview one has to secure a minimum of 20 marks. To ace the interview round, one should have clarity of the law and should explain the concepts in a very crisp manner so that the interviewer can see the clarity in your explanation and expression. Also, it is important to be confident enough to convey the message very politely and gently.
The importance of giving numerous mocks before the final interview cannot be emphasized much. So, you can give the mocks to your mentors, seniors, or even friends and parents. This will help in improving expression skills. Aspirants should focus on their dress code and etiquette like the way they enter the hall, then wish the interviewer, keeping a 10-second pause after they are asked a question, etc.
Any tips for remembering provisions and case laws of different statutes?
See, there is no shortcut to success. So, one has to read all the provisions first. Remembering part will come when one has done a certain number of revisions. I would say that, once you read, learn, and finish the syllabus of the subject, eventually after a certain number of revisions candidates can easily remember the provisions.
Some techniques to remember the provisions:
Mind Palace Technique: There is a series named Sherlock, where the main character who is a genius uses this technique. I also use this technique, where you construct a palace in your mind where you can go through different rooms in that palace. So, you construct such a story along with the provisions of the law, that whenever you are sitting at a place you can imagine in your mind that you are walking through that room and the story is continuing. Now that room should be a place in reality that does not change its pattern constantly like your drawing room. In this way, you may revise certain provisions or Orders which are difficult to learn in the traditional way. Although, this technique is not much recommended by people but in USA Memory Championships, this technique is extensively used to remember words.
Learn by writing down: Aspirants can learn by writing the headings of the provisions.
Make Charts: Make charts for provisions and you can stick those A-4 size charts on your desk space.
Use of Sticky Notes: Aspirants can stick sticky notes on the places they frequently visit like bathrooms or cupboards. With this, they can regularly revise.
Spider Charts: One should not write whatever one has read by simply copying it from the source just after studying it. Instead, you can close the book and in some time make a chart of whatever you have studied. This way one can revise and analyze the parts that one forgot.
Did you take coaching classes and were they beneficial?
Yes, this was actually my fourth attempt. So, in the first two attempts, I did not take any coaching. However, I took the coaching for the third and fourth attempts and it was very much beneficial for my preparation.
I went to Rehman Sir's Law Centre, Alec Institute in Bhopal, Kothari Institute in Indore and Bhalse Sir's English classes also. One should go for the demo of the coaching classes and if the candidate finds good tuning with the mentor or the teacher, then they can go to that coaching and results should not be the sole criteria for selecting a coaching institute.
Should students first focus on bare act-based preparation and then read case laws or both should be done simultaneously?
In my opinion, both should be done simultaneously. However, priority should be given to the provisions of the Bare Act for understanding the law. The rulings of the Hon'ble Supreme Court or High Courts can change over time, but the provisions remain the same. If a candidate is not able to understand the provision in two-three times, then they can refer the case laws and then read both i.e., bare provision and commentary simultaneously.
Any parting advice for the students who are willing to appear for the MP judiciary Exam?
Take as much time as you want before becoming an aspirant because the process is very tiring. It is like a marathon. For this Exam, you need more mental strength rather than physical strength. The chances of selection depend upon the number of vacancies. There are very few vacancies and a lot of aspirants. So, make sure that your interest lies in Judiciary.
The aspirants of the Judicial Services Exam should practice meditation to enhance their learning.
Aspirants can use organizers and Planners as well. This will also give you clarity regarding your goals and will be helpful in mapping your progress.
Take care of your health and exercise regularly as the exam is a very lengthy process and if you fall sick during the exam then your whole preparation of a year or two can go into vain.
Develop your personality to an extent that you should feel, you are Judicial Officer during your preparation. This confidence can be very much helpful.