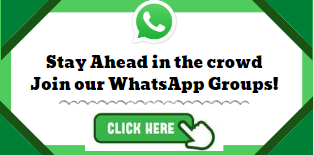 Click the below links to join the WhatsApp Groups of Legally Flawless.
To receive updates on Legal Internships, Join our Whatsapp Group (LF Internships 12): 
To get notified about new job openings in the legal industry, join our WhatsApp Group (LF | Legal Jobs 04):
General Notice
As part of Legally Flawless policy, we would hereby like to inform you about the code of conduct expected from the participants of our WhatsApp groups.
The Team of Legally Flawless shares opportunities/ internships/jobs for the benefit of law students and law graduates. However, the Legally Flawless Team shall not be liable for the acts of third parties (internship/job provider, event organizer etc.)
Under no circumstances, any group member is allowed to text any other group member. Kindly note the mentioned code of conduct; any deviance from the same shall attract disciplinary action including immediate eviction from the group.
It is a humble request from Team Legally Flawless, to kindly let us know if you receive any personal texts from any members of the Legally Flawless group for any promotional opportunity of any Coaching/ Competition/ Course/ Product/ Business, etc. Immediate and strict action shall be taken upon verification. We are committed to making this a safe environment for everyone who is a part of Legally Flawless and the associated social media handles and groups.
Note, under no circumstances, Team Legally Flawless will/has ever share/shared your contact numbers or allow any third party to contact you as well from any outside source. There shall never be a personal communication from Team Legally Flawless to you, as all the updates are sent on this group itself.
Kindly, bring it to the notice of the admin in case any unverified member of the Group texts you.
If you wish to know anything about Legally Flawless, kindly mail us at: [email protected]. We shall be happy to assist you 🙂