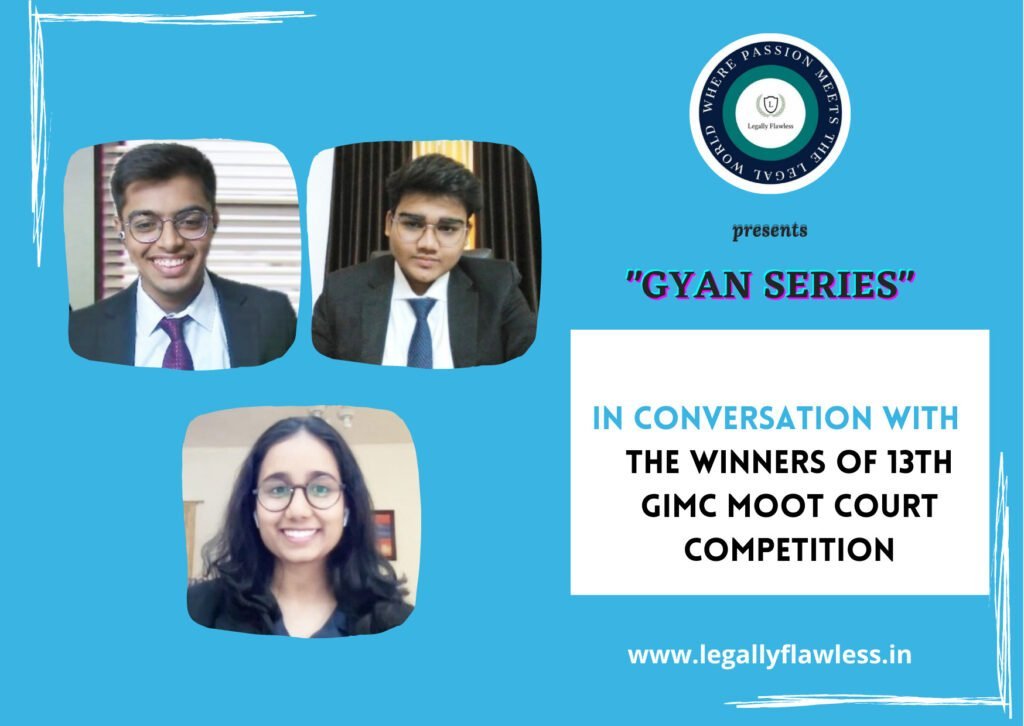 Legally Flawless has started this drive to aware law students and young lawyers to achieve in the field of law through strategies from the achievers themselves.
In our fourteenth blog of the GYAN Series, we are going to learn everything about the art of mooting and how should one approach a Moot Court Competition to make it a success.
The team of the Institute of Law Nirma University, Ahmedabad won the 13th GIMC Moot Court Competition. The winning team included Nayanika Goyal, Jaysinh Kela and Akshat Kothari.
Team Legally Flawless congratulates the Winners of the 13th GIMC Moot Court Competition 2022.
This interview was taken by Utkarsh Pandit.
The GIMC Finals 2022 video is attached at the end of this blog for your reference.
How did you feel when you came to know that you are the winners of the 13th GIMC Moot Court Competition?
I think when we got to know that we have won the competition we were elated, there is no doubt about that. When we were preparing, we used to think that it's going to be wonderful if we win it but it didn't seem real. Is it true? When we got the news we felt that maybe we need to check again. Even though we were expecting such a result, it took us some time to digest. The fact that we had prepared well boosted our confidence in the finals. Certainly, it was a nice experience. The Hardwork finally paid off.
How was your complete Moot Court Journey from the time the Moot Problem was released?
We were allotted this Moot in the month of October and we knew that the problem would be out by mid-December. So, we did take baby steps before the problem was released. We were not speculating any of the issues but prepared on the basic framework of WTO from the Books. We had our basics done before the moot problem was even released. Even though we did not have a pedigree in our college on WTO, we utilized the two months that we had to prepare ourselves the best we could. We had the memorial submission on 20th March 2022 and on 7th April onwards we had our oral rounds.
I think the journey was great because we were preparing ourselves for all the five rounds while preparing for the orals. Throughout the Moot Court Competition, we sought feedback from some people to identify the areas where we were lagging behind. I think that is one thing that always kept us going because there's a lot that needs to be done. WTO Law is humongous and there are a lot of things that are unresolved. The problem was complex and even before the rounds, we were discussing if we should argue a particular article in our oral presentations or not.
So, the journey was challenging because there were a few issues that were never dealt by any of the WTO Panels yet. Moreover, there were issues that had very little to no jurisprudence.
Another challenge was shifting from working remotely to working offline. The first few months we were working virtually, then we came to college, and then again we shifted our work to virtual mode because of the format of the moot. Managing the moot with academics and internships was a bit challenging but a thoroughly fruitful endeavour regardless.
How did you find the moot proposition? What sorts of issues were involved in this year's Moot Proposition?
The Moot Problem was extremely challenging and very interesting. So, I (Akshat Kothari) was dealing with two issues wherein, WTO did not have any developed jurisprudence. They were very uncommon and you will never see these issues in any Moot Court Competition. So, the Moot Problem was very unique not only in terms of the Issues but the facts also.
The Problem dealt with 5 issues. The issues were related to the TBT Agreement, GATT and the DSU. The first issue what whether a country be allowed as an amicus curia in a WTO proceeding or not. The Second issue was pertaining to the labelling requirement on the animal-tested products under Article 2.2 of the TBT Agreement. The third issue what related to the siting of facilities under Article 5.2.6 of the TBT agreement. The fourth issue was regarding internal tax on animal testing under Article III:2 of GATT. Lastly, the fifth issue was related to seek a recommendation from the DSU Panel under Article 19.1 of the DSU.
Did you get stuck at a particular research query? How did face that situation?
Feeling like you're stuck on a research question is inevitable when you work with any well drafted moot problem. There were multiple occasions when we felt the same, but we always utilized our logical understanding of the facts and law to back our arguments.
We searched for whatever jurisprudence that was available, arrange it sequentially and logically interpret it. So, if the team members felt that the research or the argument was logically sound with the facts of the Moot Problem then we used to proceed further with that argument.
Some cases become important; in order to analyse the way WTO has approached a particular problem. So, we relied on that. To be able to argue for the Panel we should be able to understand their viewpoint.
So, there was an issue where we found no law to support us but jurisprudence of the same was available through different streams. Let's say, investment arbitration law & Public International law and so we extrapolated such jurisprudence.
How did you form the winning Team?
There's no such winning formula while forming a team. The only thing that matters perhaps is compatibility. During the moot allotment stage, all three of us preferred forming a compatible team over the Moot that was being allotted.
Jaysinh –
We felt that forming this team could bring something so that we won't regret it. Akshat and I were friends already and we eventually found a Friend in Nayanika. Whenever any one of us used to lack, the other used to step in to cover it for the team. So, it was naturally a winning competition. (Jaysinh)
Nayanika –
We used to laugh a lot despite the challenges and we always believed in each other's strengths. I didn't know either of them before the moot but very early on in our prep, we realized that we prioritized team spirit over our egos. I think what made our team a winning team at the end of the day is our ability to work together and accept each others' differences and our willingness to work past those differences.
How was your experience mooting against an International team?
To be honest Utkarsh, we didn't know that we were facing the University of Oxford. It never came into our mind. (Laughs) We were prepared that foreign teams might come but competing with Oxford is always a challenge.
Due to the Confidentiality of the Competition, we never know the team or country we are competing against. However, we were speculating that this is a foreign team because a foreign team is common in GIMC Moot Court Competition as it is transnational, so foreign team was inevitable to us. We were a bit afraid because it was the final round, but once when we started our submissions, we were not afraid of anything. It may sound braggy but we were not at all afraid of Oxford. For the last three months, we had worked hard and were confident about the articles we had used. When we got to know that we have defeated Oxford, it was a real pleasure that yes world's best can be defeated.
For me (Nayanika), I think the experience was nice. We don't know which universities we had in our previous rounds, but no other team that we faced was at par with Oxford. So, I think it was a really different experience. Adding to the whole experience, without having competed against an international university of that stature, we would have missed out on some taste of it.
So what was the quality of arguments used by your opponents?
Their arguments were very good but somehow we turned the table in our favour. Oxford had more resources but we showcased better conceptual and logical clarity and therefore we were led to victory.
What was the role of mentors in winning this Moot Court Competition?
So, being honest, we never had a mentor because WTO in ILNU does not have a very good past. We had some people that helped us along the way. The biggest challenge was having no particular mentor throughout. We being in 3rd year had never studied WTO and we had no direct help. We tried a lot to seek a Mentor, however, most people were busy during the month of March. The whole idea of WTO was that the law is very frustrating in nature because no one is made known to such law in Law Schools.
One of the best advice or encouragements we received from one of our seniors was that we should always trust our research. At times, we felt that we are not going in the right direction but we need to keep reminding ourselves and have faith in our research. At the end, it was all about keeping faith in your logic and arguments.
Do you have any final advice for the future participants of the GIMC Moot Court Competition?
Always be thorough with the facts.
WTO lacks jurisprudence, so you have to do the logical interpretation from your side.
Be calm and keep faith in your arguments.
Never agree with your teammates, so that you have a good debate over various issues.
Don't take stress for Moot Court Competitions. Have fun with the mooting process and the learnings. Because, at the end, it's all about the process; not the result.
Link to the Finals: https://www.youtube.com/watch?v=eyOmVbQ6Eek
Disclaimer
All efforts are made to ensure the accuracy and correctness of the information published at Legally Flawless. However, Legally Flawless shall not be responsible for any errors caused due to oversight or otherwise. The users are advised to check the information themselves.