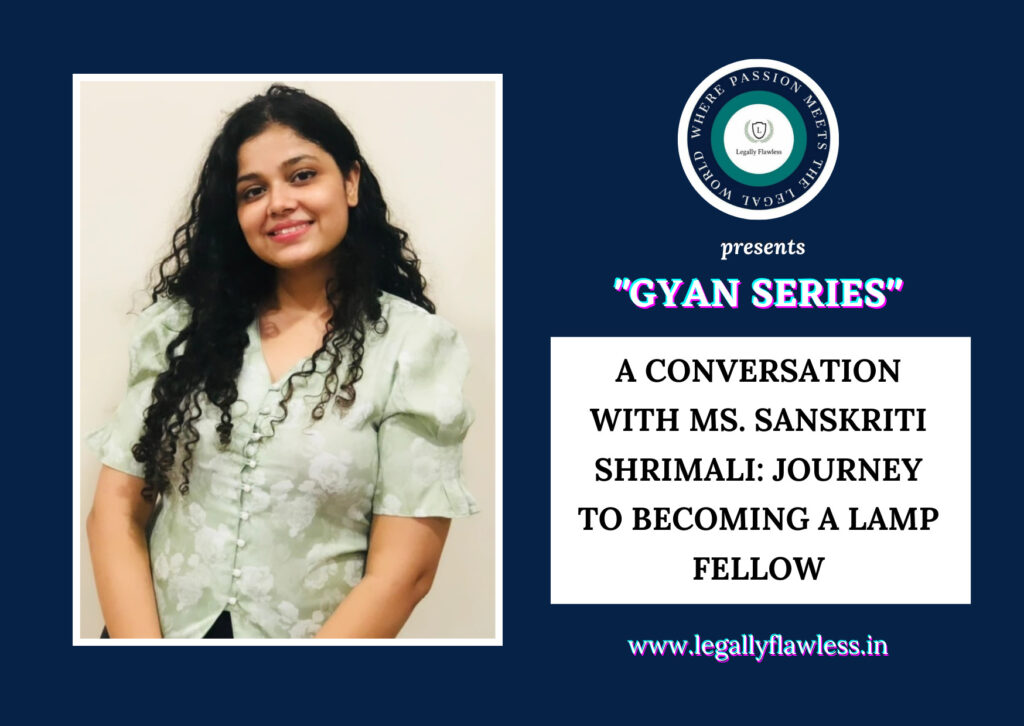 Legally Flawless has started this drive to aware law students and young lawyers to achieve in the field of law through strategies from the achievers themselves.
In our 26th blog of the GYAN Series, we interview Ms. Sanskriti Shrimali, a graduate of Institute of Law Nirma University on becoming a Lamp Fellow.
This interview is taken by Mr. Krishnansh Somani.
Please introduce yourself to our readers.
I am Sanskriti Shrimali, a graduate of Institute of Law Nirma University who likes to draw references from mythologies and dwell into history. I hail from Jaipur, Rajasthan which is quite famous for its heritage and culture.
Why did you choose to pursue law?
I grew up watching my father being a strong independent person serving people and society by voicing up for their rights and getting a way out either through court or out-of-court settlement. I believe that your work should not be just limited to earning money in a fancy cubical. Law is one of those professions that offers respect, creativity and confidence on each passing day one practices it. The zeal to pursue a purpose bigger than oneself and make a change in society with your intellect and oral skills is unmatchable. Hence, the law fits perfectly to fulfill that endeavour.  
Did you always dream of becoming a Lamp Fellow, or was it a sudden realization?
To be completely honest, I never initially considered becoming a Lamp Fellow. It all fell into place during my final year of law school when I was inspired by my senior, Palak Jain, who had also joined the Lamp program. Furthermore, I realized that I didn't want to start my career in a corporate law firm setting; as my true passion lies in litigation or something more dynamic.
How has the Lamp Fellowship been instrumental in understanding public policy?
Public policy in India is still in its early stages of development, and participating in an initiative like the Lamp Fellowship provides young professionals with a valuable opportunity to cultivate a professional understanding of this field. PRS, in its initial stages, imparts training to a diverse cohort with a focus on fostering a neutral perspective.
Although policy may seem intertwined with politics, there exists a fine line between the two. It is considered a professional practice to set aside personal political leanings and craft policies with the welfare of the people as the paramount consideration. Throughout the training, considerable emphasis is placed on equipping individuals with research skills, guiding them to identify reliable sources, and teaching them how to approach these sources from a factual standpoint rather than through preconceived notions.
What is the procedure for becoming a Lamp Fellow, and could you provide information about the application process?
I would say it's well-balanced. The LAMP Fellowship application procedure began with writing a policy essay and a Statement of Purpose (SoP). Policy essay topics should be thoughtfully selected, and applicants should have in-depth knowledge and insight into the technical implications as well. In my 2nd year I participated in a National level Moot Court on Competition law aspect, having in-depth research helped me to understand the gravity of the proposed amendments and gave me clarity as to what exactly I should write. Hence, I chose to write on the Competition Amendment Bill, 2022 which turned out to be quite treading as the bill passed right after my interview.
In the SOP segment, I was clear that no matter whether I'll get through or not, I'll not pretend to be an ideal candidate or someone who I am not in reality. There is nothing catchier than being authentic and who you truly are. The things you write will eventually be asked in the interview and a crisp justification is required to define 1) who you are 2) where you are coming from 3) why you are interested in the fellowship 4) why PRS should be interested in you. In my case, I wrote how Indian culture & society has always intrigued me as a child and contributing to the same will always be part of my personality. Due to my Family background, I always have had an oscillation between Law and Politics and to understand both policy making is a key component. I further justified it by my career choices and indulgence in college, like serving as the Chairperson of Lawyer Incubation Cell and Executive Secretary of Legal Aid helped me to become a well-read individual who can contribute to the field of law and policy-making.
The authorities review each application they receive, analyse it, and shortlist those that satisfy the LAMP eligibility requirements. Then came the Second stage, the Online Evaluation Test which was a wild card entry and had never taken place before. It was an open-book test and candidates were asked to articulate, comprehend, refer and cite their opinion on the questions asked in the window of 2 hours. There were two questions one on the Indian Health Care policy and the other on the electricity policy (only one has to be answered), both revolved around the availability of primary access to all Indian citizens, what are the available pathways and the benefits and challenges our country faces.
Even though it came as a surprise but I was quite prepared as this is exactly what I have been doing for the past half a decade as a law student. Analyse, critically evaluate, identify the issues, innovate solutions and recommend a way forward. I got lucked out a little, as my last semester I chose energy law as one of my electives. This helped me to be updated with the major International treaties & conventions, Indian legal framework, Research work and Government policies till now. My past knowledge and interest in environmental law and Energy sector helped me to crack this efficiently.   
At last, the interview stage which was the most interesting part. They gave the option to appear for either an in-person or online interview.  I was engaged with my internship in Delhi so I chose to appear offline. The panel had three people, they were quite friendly and critical at the same time. They asked me deeply about my technical knowledge of the policy essay and Competition law. My past internship experiences, Current legal affairs, hobbies and prospects etc. A candidate should be prepared with the parliamentary process, basic Constitutional provisions and fundamental rights (if not from a law background). However, the questions mainly revolve around your stream, SOP, essay, past experience and knowledge about the current political scenario in your state. 
How did your experiences during Law School give you an advantage in securing the Lamp Fellowship?
As I mentioned earlier, my decision to pursue the Lamp Fellowship was far from certain until the very last registration deadline. With a dynamic personality, I was never solely focused on achieving high grades during my time in law school or on publishing articles. Instead, I harboured a strong desire to explore various aspects of law that were not necessarily covered in the traditional curriculum.
During my law school journey, I actively engaged in diverse activities, including participation in Legal Aid and serving as the chairperson of the Law Incubation Centre. I eagerly embraced opportunities to write articles, research papers, and take part in Moot Court and Alternative Dispute Resolution (ADR) competitions. While I may not have been the top performer in every endeavour, I was determined to participate in each of these activities.
This multifaceted approach enabled me to accumulate a wealth of experience, and I underwent a significant transformation in the process. It has been said that one should strive to be a "Jack of all trades and a Master of some," and I aimed to embody this principle throughout my journey.
Any tips for preparing effectively for the essay writing part?
While essay writing might come more naturally to law students, it can be equally manageable for candidates from non-legal backgrounds. Consider the following: WOMEN RESERVATION etc.
To tackle this, start by comprehending the source and the legal philosophy behind the laws that were abolished. Subsequently, delve into understanding the legislative intent behind these new laws. This can be achieved by consulting Constitutional Amendment bills, Standing Committee Reports, Niti Aayog Reports, Annual Reports from government departments, and reputable journals. It's advisable to refrain from using news channels as sources.
You can then craft your essay by highlighting the issues and challenges presented by the new laws. Additionally, if you identify any specific suggestions or recommendations that are not included in the legislation, these could make your essay particularly compelling.
What are your plans after completing the Lamp Fellowship?
While I'm still searching for a definitive answer to this question, it's worth noting that the Lamp Fellowship carries significant prestige and can be a valuable asset when pursuing a master's degree. It provides access to strong recommendations and an extensive alumni network, among other benefits. Moreover, there's a growing demand for individuals interested in tech policy within emerging firms and think tanks.
Lastly, what advice would you give to future Lamp Fellowship aspirants?
Applicants come from all corners of the country, with approximately 7,000 individuals applying each year, but only 50 are chosen. It's common for people to have concerns about their English speaking and writing skills, such as writing articles or essays. However, these factors don't carry as much weight in the selection process as one might think. In my own cohort, there are individuals from various backgrounds, not just law. I believe that the key is to exude confidence. Authenticity is valued during the interview process, so there's no need to pretend or embellish your qualifications.
Disclaimer
All efforts are made to ensure the accuracy and correctness of the information published at Legally Flawless. However, Legally Flawless shall not be responsible for any errors caused due to oversight or otherwise. The users are advised to check the information themselves.