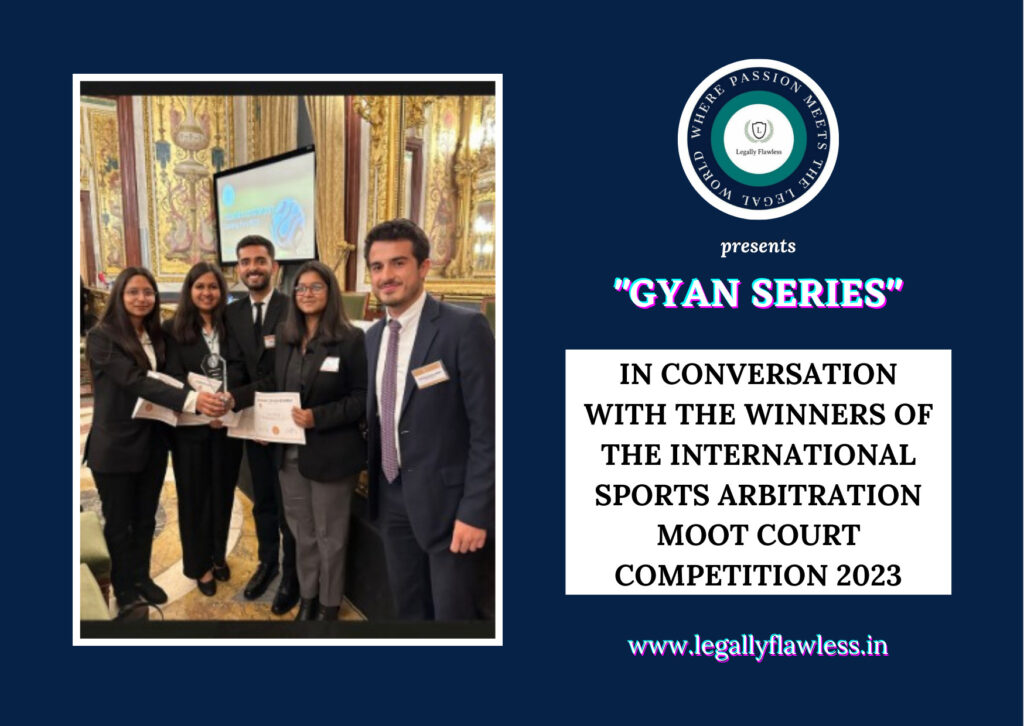 Legally Flawless has started this drive to aware law students and young lawyers to achieve in the field of law through strategies from the achievers themselves.
In this blog post, we are going to learn everything about the art of mooting and how should one approach a moot court Competition to make his/her success from the team of Institute of Law Nirma University, that won the International Final rounds of the 2nd edition of Sports Arbitration Moot Court Competition, 2023 held at Madrid, Spain. The winning team, comprised of Rishav Kumar, Priyanka Jaiswal, Vamika Chourasiya and Aditi Sharma.
Can you tell us about your team's preparation journey for the International Sports Arbitration Moot 2023? What were the key strategies and resources you used?
The moot proposition for Sports Arbitration Moot 2023 was released in November 2022, after which our first and foremost step was to decide a timeline for ourselves and work accordingly.
The key strategies included, first, understanding the moot proposition thoroughly and reading it consistently throughout our preparation. Second, breaking down the moot problem, brainstorming, identifying key legal issues, relevant facts, and potential arguments and analysing the problem from various angles to develop a comprehensive understanding. Third, thoroughly researching the relevant laws, regulations, precedents and other legal resources relevant to our moot proposition. Fourth, taking guidance and mentorship from the best possible faculty members, coaches, or legal practitioners experienced in sports law. Mentorship constituted the foremost pivotal facet of our preparatory endeavours, and the invaluable and pragmatic insights extended by our mentors played an instrumental role in our accomplishment.
The resources referred by us during our preparation included various online databases, books and reports such as Jus Mundi (Its subscription was provided to us by the Sports Arbitration Moot Association), Sporting Succession In Football, book by J. Cambreleng Contreras, S. Samarth  & J.F. Vandellós Alamilla, The Code of the Court of Arbitration for Sport Commentary, Cases and Materials by Despina Mavromati, Matthieu Reeb, CAS & Football Annual Report, 2022, etc.
How to structure your speech for a Moot Court Competition
Sports law is a niche area of legal practice. What inspired you to pursue sports arbitration, and how did you develop an interest in this field?
Law Schools generally have this concept of conducting Intra-Moot competitions and then the teams opt for the moot which they deem the most appropriate as per the subject matter. To begin with, at the time of auction post our selection through the Intra-Competition and while reflecting upon the prospective allotment of the competition, 'Sports Arbitration' was something that was merely a fancy term as none of us really had much understanding over the said subject matter. The journey literally began from scratch and exploring the subject to the fullest was the only thing we had in our mind while preparing. These topics are distinct from general legal issues and require specialized knowledge as the sports industry operates under a complex set of regulations, rules, and governing bodies. While we were preparing for the competition, we dedicated the entire time to the moot and gradually generated interest in the subject matter in a very organic way.
Throughout the competition, what were the most challenging issues you encountered in the moot problem, and how did you approach them?
During our preparation, challenging issues included complex legal questions related to sports regulations, sporting succession, bankruptcy, due-diligence, contractual disputes, jurisdictional matters, and more. We as a team approached these issues by conducting thorough research and brainstorming, analysing relevant precedents, crafting persuasive and creative arguments with the help of our mentor Mr. Saksham Samarth, International Sports Lawyer at Vandellos Sports Law, Valencia, Spain. We would spend hours engaging in discussions, exploring potential solutions, and meticulously compiling a comprehensive list of every conceivable argument. From this compilation, we extracted the most promising elements, striving to use them with maximum effectiveness. Additionally, we tried to make a web of possible questions and answers which, in a way ultimately, helped us prepare for our oral submissions.
In Conversation with the winners of the Foreign Direct Investment (FDI) International Arbitration Moot 2022, South Asia, Regional Rounds
Did you face any unexpected situations or challenges during the competition? How did you adapt and overcome them?
During the competition, our team encountered several unexpected situations and challenges that required quick thinking, adaptability, and effective problem-solving. Two of the notable challenges were navigating different speaking styles internationally and coping with the problem of lack of resources.
During the competition, when faced with diverse speaking styles, we remained patient and attentive. We adapted our speaking pace to ensure clarity and allowed room for questions or clarifications, wherever needed. By demonstrating respectful and open communication, we were able to engage effectively with the arbitrators and participants from different linguistic backgrounds.
On the other hand, we focused on the quality rather than the quantity of our research. We carefully selected authoritative sources and conducted in-depth analysis to develop strong legal arguments. We emphasized creativity in connecting different aspects of sports law and applied general legal principles to specific cases.
In sports arbitration, parties may come from different jurisdictions with diverse legal backgrounds. How did you handle the issue of conflicting laws and ensure a fair resolution?
In sports arbitration, the issue of conflicting laws arising from parties from different jurisdictions with diverse legal backgrounds is addressed through several mechanisms including, choice of law, lex sportiva (unwritten rules in sports industry), equitable principles, public policy considerations, etc. Needless to mention, the role of an arbitrator in said regards is of utmost importance as they would ensure the upholdment of party autonomy, the agreed terms and conditions and other principles to be taken into consideration to reach a fair agreement.
It is important to note that the specific approach to handle conflicting laws may vary based on the arbitration agreement, the preferences of the parties involved, and the circumstances of the case. The overarching goal is to ensure a fair and equitable resolution that respects the interests of all parties while considering the unique nature of the sports industry.
Can you share some tips for effectively presenting oral arguments during a moot competition? How did you work as a team to deliver compelling and persuasive arguments?
Certainly! Delivering effective oral arguments during a moot competition requires a combination of strong legal analysis, persuasive communication skills, and effective teamwork. Here are some tips for presenting oral arguments effectively:
Know your case inside and out
Structure your arguments
Be clear and concise (keeping in mind it's an international moot, work on making the speech to the point and speak clearly so that the arguments are conveyed to the arbitrators)
Use persuasive techniques
Engage with arbitrators
Respond to questions confidently
Rebuttal and sur-rebuttal
Teamwork tips: Choose your team very wisely! Assign roles within the team to ensure each member contributes effectively. Practice mock rounds to simulate the competition environment and receive constructive feedback. Coordinate timing to ensure a smooth and coherent presentation. Remember, effective oral advocacy involves not only strong legal arguments but also the ability to connect with your audience (Arbitrators) and convey your points persuasively. Practice, preparation, and teamwork are key to delivering compelling and persuasive oral arguments during a moot competition.
Did you have the opportunity to interact with legal professionals or experts in sports arbitration during the competition? If so, how did their guidance impact your preparation and performance?
During the competition, we had a wonderful opportunity to interact with various legal professionals and experts in European sports arbitration inclusive of but not limited to Ms. Patricia Moyersoen (International Sports Lawyer, Moyersoen Law Offices), Mr. Ulrich Haas (Professor at University of Zurich), Mr. Jacques Radoux (Arbitrator at CAS), Ms. Annett Rombach (Attorney at Law and Arbitrator at CAS), etc.
Indeed, the guidance of each Arbitrator in oral presentation impacted our preparation. After each qualifying round, they gave us constructive feedback on our performances and mentioned areas to improve upon. We took their feedback as our guiding factor and implemented the same in the successive rounds which turned out to be fruitful for us. This approach also ensured that we don't rely on a one-size-fits-all strategy but actively adapt to the challenges and nuances of oral advocacy. Moreover, our mentor Mr. Saksham Samarth, gave unparalleled guidance throughout this whole journey which impacted our preparation and performance in a transformative way.
What advice do you have for law students who are interested in participating in sports arbitration moots or pursuing a career in sports law?
For students who are inclined towards a career in sports law, we believe, understanding the technicalities through the resources like research portals, magazines, FIFA conferences, moot court competitions like these, etc are few of the most prudent ways of exploring, experiencing and engraving the initial, preliminary and later advanced knowledge. Further, one may wish to intern in a sports law oriented law firm in India and/or Abroad to delve into the practicality of the industry and become a part of the same.
In conversation with the winners of the FDI Moot Court Competition 2021
Sports arbitration often deals with confidentiality and privacy concerns. How did you address these aspects while presenting your arguments during the moot?
Although, there was no specific issue in our moot proposition that was even incidentally related with concerns related with confidentiality and privacy by either party, the said situation in sports industry is principally catered by various methods like, having a closed/private sessions, having confidentiality clauses in arbitration agreements, redacting confidential information from documents submitted as evidence or included in pleadings. Emphasizing that only authorized parties, including arbitrators and authorized representatives, should have access to the unredacted information, etc also helps to retain the confidentiality and privacy trust.
Collaboration is key in a moot competition. How did your team divide tasks and responsibilities to ensure everyone's strengths were utilized effectively?
If there was something that ensured our win in this competition, it was surely the collaborative efforts of all four of us who continuously made efforts and worked together for better. A few of the things that helped us in the process were, assessment of individual strengths, oral advocacy roles i.e. allocating speaking roles based on team members' strengths and comfort levels with public speaking, time management and deadlines, mock sessions and feedback, rebuttal and response preparation (being one of the most important roles), regular team meetings and ultimately, effective communication, flexibility, and a willingness to adapt to each other's strengths and weaknesses that were the key in successfully dividing tasks and responsibilities in the entire competition.
What advice do you have for law students who are interested in participating in sports arbitration moots or pursuing a career in sports law.
Sports law is a niche area of practice in India. There is a lack of structured framework governing the area of Sports, there are only few policies by the Parliament and judgments of the Supreme Court that regulate Sports in India, however in the western countries specially in Europe, there is a well-established practice with respect to sports law. In order for a law student to participate in sports arbitration moots or pursue a career in sports law, one can start by acquainting themselves with Lex Sportiva , and Lex Ludica (related to spirit of sports i.e. – ethics, sportsmanship, fair play, and few other aspects governing sports), further one can start reading the CAS awards related to various subject matters of sports law apart from this there are various online websites such as 'Football Legal' which one can subscribe to for weekly updates. Additionally choosing 'Sports Laws' as a subject in law school and doing internships with the organisations dealing with Sports law can be of immense help for those who want to pursue a career in sports law.
What are your future career aspirations in the legal field, and do you see sports arbitration playing a significant role in your professional journey?
Starting with the latter part of the question, we do acknowledge the fact that this journey of preparation of the moot as well as going to Madrid and winning the competition shall have an everlasting impression on us throughout our career journey. It shall guide us not only in terms of being better and dedicated professionals but also in respect of the manner in which one should conduct and manage their lives to create balance between personal and professional. Coming to the initial part of the question, we believe all four of us have diverse inclinations towards our careers ranging from joining the corporate industry, practicing litigation, being a judicial officer in court of law, etc. It shall also be mentioned here that while we acknowledge the process of the entire moot and how it may help us, we do not confirm the idea of getting into sports law, at least in the initial part of our career.
Disclaimer
All efforts are made to ensure the accuracy and correctness of the information published at Legally Flawless. However, Legally Flawless shall not be responsible for any errors caused due to oversight or otherwise. The users are advised to check the information themselves.