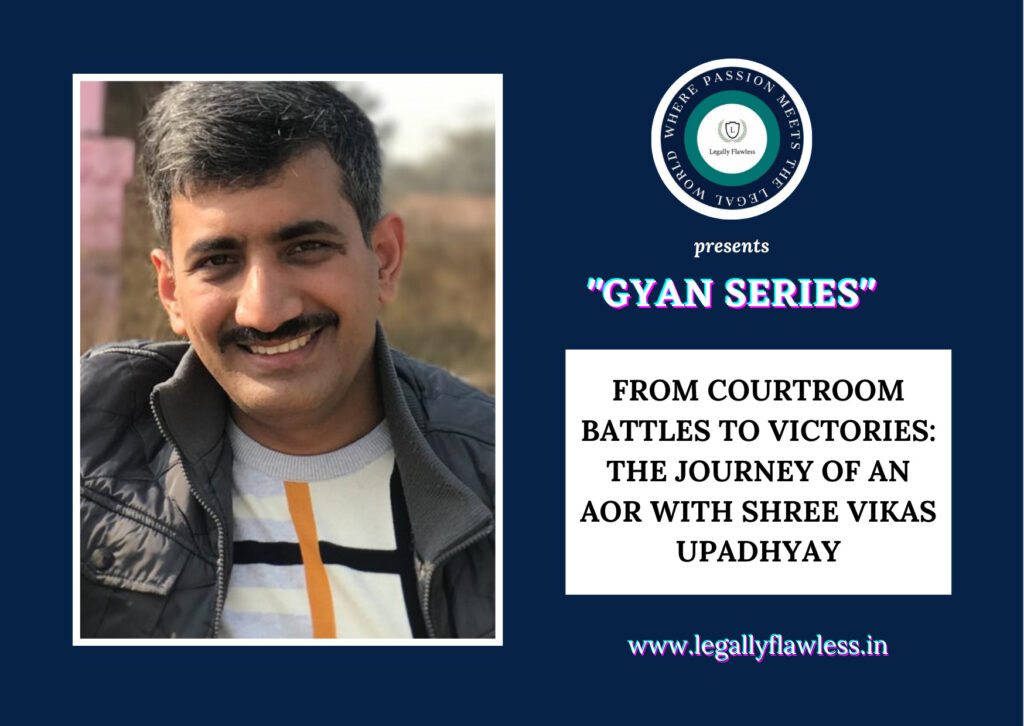 Shree Vikas Upadhyay, is an Advocate on Record (AOR) of the Supreme Court of India. He regularly appears before the Delhi High Court and various other Tribunals.
Sir, to begin with can you please walk us through your career journey so far and how it has shaped your current role as an AOR?
I started practice in 2006 with the standing counsel for the State of Madhya Pradesh and that provided me with a good exposure to appear before the Supreme Court because I was also the panel counsel for the State of Madhya Pradesh before the Supreme Court. I was appointed somewhere in 2007. So, that was a learning experience on its own.
As regards the shaping of the current role as an AOR, it is nothing but an authority given by Supreme Court to file and represent litigants before the Supreme Court. So, for any other court, the day you get your enrolment done, you can file your Vakalatnama. Supreme Court has made this special category of Advocate on Records. It has a minimum eligibility criterion that a person should have standing of over five years before the person appears in the examination, then the person has to clear that exam. But, once you do that, you more or less are actually doing the same thing which any other lawyer in High Court does, like drafting, filing and representing your clients. So, it is part of the profession, nothing separate than any other role of a Lawyer.
Can you tell us about a significant obstacle you faced early in your career as an advocate and how you overcame it?
Not only me every other lawyer, faces the same difficulty. First, of course. You aren't getting much work initially because of course, you don't know much of work and people do not trust you that much. So, you're also in a stage where you are learning. It's not that somebody with a 20 years standing, or more standing would have learnt everything in the profession as law is evolving, and so are the court crafts. You observe somebody else, and how he has dealt with a particular situation, put to him by the court, and you learn from that. So, we learn by observing. But, when you have just started your practice, at that time there is a huge difference between what we are taught in college and what the law is in practice. So even after five years of studying law in my college, I might not be able to draft a simple application which even a Steno or a Clerk who is working in courts from last year or two would be able to do. So, that huge difference is there.
Second, is of course, the financial angle in litigation. You have to understand that even today, payments aren't that great that you can meet out your expenses. So, you have to balance out both these things. You have to see that if you will focus on getting money from your clients initially, you might end up getting less work because not everybody would be able to pay a new lawyer. That's precisely what I did and I believe most of the lawyers in initial days did because the purpose is to learn.
We are also helping poor litigants who can't afford the fees of big Lawyers. At times, such litigants are not very happy going to Legal Aid because they believe that the lawyers who are assigned to do the legal aid work, do not listen to them, do not talk to them. They are not very comfortable going to Legal Aid unless they're forced to. So you're basically kind of providing legal aid to them with minimum charges at the same time you will also get the opportunity to draft cases and appear before courts.
In Conversation with Shri Arpit Gupta, Advocate on Record, Supreme Court of India on doing an LLM from abroad and establishing a career in Litigation
How do you approach researching and preparing for a case before the Supreme Court?
Supreme Court though has original jurisdiction but most of the work we do in Supreme Court is appellate jurisdiction. So, whenever you are working in the appellate jurisdiction, it could be a statutory appeal or SLP under 136. For example, if you're appearing for the petitioner, in that case, you have a judgment against you by a Court which you are challenging before the Supreme Court. Similarly, if you are appearing for the respondent, you have a judgment in favour which has been challenged before Supreme Court and, Supreme Court after listening or hearings to the petitioners has issued notice. So, in either case, if you're supporting that judgement, you have to find the logic, as to why that judgment should be upheld by the Supreme Court and that logic should go beyond what High Court has written. Similarly, if you are challenging that order, you have to answer to those findings given by the High Court, which are against you. So, if you are challenging a judgement of the High Court, you have to first address the issues, that whether the reasoning given by High Court is wrong and if it is wrong on what grounds. So, first is to figure out those grounds on which High Court has allowed or has given judgment against you.
Second, is to anticipate the query from the bench and how you can address those queries. Once, you have figured out these two things, then you can do research on the points, which could be raised during the hearing. You can look for precedents on that count and know how courts have interpreted it.
So, there are three stages:
First, culling out the reasoning.
Second, if you're for the respondents, justify that reasoning. If you are for the petitioner, then find flaws in that reasoning.
Third, whether you are petitioner or respondent you have to anticipate what could be the query from the Bench and then find answers to that and back it with judgments.
Now in Miscellaneous days, the Supreme Court doesn't have that much time to go into precedents. If you're arguing on a point which is not a settled proposition or something out of the box then of course, you can cite judgements as required. Regular days, you have enough time to even cite judgments for settled propositions.
Can you give an example of a particularly challenging case you have handled and how you successfully navigated it?
Every case you do is challenging. Stakes might be high or low. Your client could be a very influential person, or can be a poor man. But, for each of them their cases are important. For you, every case is challenging because you are challenging the order of the High Court to get relief for your client. So, I can't actually figure out or tell you any particular case which I would say has been challenging. But one thing which you have to always keep in mind for every case is that you have to think about it and you have to answer the reasoning given by High Court.
How do you handle the pressure of high-stakes cases and maintain a work-life balance?
I have heard people say that I do not carry briefs to my home meaning literally that I do not think about the work when I reach home. Honestly speaking, I have not been able to find work life balance because I keep on thinking about my matters. For Example, if I have to argue some matter tomorrow, I'll keep on thinking about it. Now that does not affect my personal life as such. It is very difficult for me to segregate work from life or vice versa. What you have to learn is that thinking about matters should not affect your behaviour. It should not affect your personal time. However, work life balance is really a tricky question because I have yet not been able to find an answer to that.
How do you continue to develop and improve your advocacy skills over time?
As I said initially, as a lawyer, you have to keep on learning, you can't actually think that you have learnt everything because law itself is evolving. First, Law is very vast. So, somebody saying that I know everything about law, then I have serious doubt of it. Secondly, it keeps on evolving. Third, you can learn from anybody and everybody. So, if I'm sitting in courtroom waiting for my matter, I would always be interested in hearing arguments being made by my colleagues in their respective matters. I would be interested in seeing how they have handled a particular query put by the judge or what has been the query and how or on what point, the concerned Judge has been satisfied with the answer. Second is to read. So, keep yourself updated with the development which is taking place. At times you might not be aware about a judgement given by the Supreme Court if you have not read or if you have not kept yourself updated. Now, for that I prefer reading SCC Weekly which is available on a weekly basis. These days, technology has improved and is helping lawyers a lot. We keep on getting information on Bar and Bench, LiveLaw and other apps. The moment a judgment is pronounced, we get update in the form of brief notes about it. So, that also helps.
How do you differentiate yourself from other advocates and stand out in the legal field?
I'm nobody to claim that I am different from others or I stand out in the legal field. This is for the litigants and the briefing counsels to decide. As every matter needs a different kind of lawyer who will be doing better in a particular field like tax or criminal law. At times, you might need a lawyer who has a better Court Craft. So, it depends upon the litigants and litigants are the ones who decides:
Whether you stand out
In what field are you an expert. I do not think that a lawyer can judge that he's expert in a particular field. It is for his clients to decide.
In conversation with Shri Abhisar Singh Bhanu, AOR Supreme Court of India
At last, what would be your parting advice for law students and young law graduates to succeed in the legal profession?
Whether you are a young law graduate or new entrant in the profession or somebody who has been practicing for a long time these things are very important:
Observing your colleagues and learning from them.
Keep on reading: Keep yourself updated. You should be knowing what the law is. How Supreme Court or High Courts have interpreted a particular thing.
Nobody should think that he knows all the law because none of us actually can.
Do not focus on Money: When you join the profession initially when you are a young law graduate, you have to understand that your focus should not be the finances. Your focus should not be money because that is what the approach has been with our seniors. There used to be no payment to juniors during the generation that preceded us. Those days, seniors used to think that since I am your teacher, who is teaching or guiding you, I'm not obliged to pay. I don't say that seniors should actually have that approach. But then that is up to the senior, whether he pays or not. But as a junior, as a young lawyer, my focus should be to learn more. Where all I can get that should be my focus.
Similarly, as I said that initially I did it and most of my colleagues would have done is to focus on getting more and more work rather than getting money because I remember reading Mr. Jethmalani once, he said that there are various stages in this profession.
Stage-1: is no work no money.
Stage-2: is some work and some money.
Stage-3: is a lot of work and then less money.
Stage-4: is no work and money, money, money….
But your focus has to be Stage-1 to Stage-4, and not directly Stage-4.
Disclaimer
All efforts are made to ensure the accuracy and correctness of the information published at Legally Flawless. However, Legally Flawless shall not be responsible for any errors caused due to oversight or otherwise. The users are advised to check the information themselves.