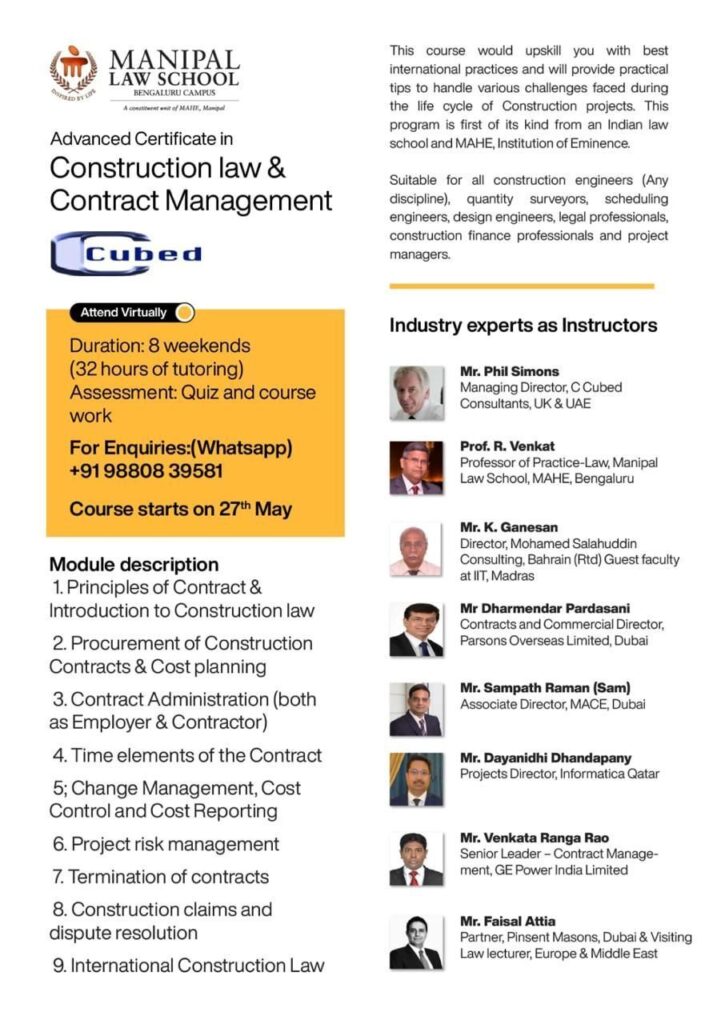 About Manipal Law School
Manipal Law School (MLS) is a constituent Institute of Manipal Academy of Higher Education (MAHE), (Institution of Eminence Deemed to be University), Bengaluru. The MAHE, Bengaluru is an Off-Campus Center of MAHE, Manipal (Institution of Eminence Deemed to be University) ranked 7th in NIRF Ranking, and NAAC accredited with A++ grade.  The Manipal Law School is approved by the Bar Council of India. MLS fosters a holistic academic environment in a state-of-art infrastructure enabling students to have inclusive access to progressive, adaptive, and innovative legal education.                                                 
MLS is providing an in-depth course on Construction Contract life cycle management involving procurement, management and dispute resolution functions. Also understand the principles of construction law and how they are applicable to construction contracts.
About the Course
Course Title: Construction Law & Contract Management
Objective: This course would upskill you with best international practices and will provide practical tips to handle various challenges faced during the life cycle of projects.
Course Duration
8 weekends (32hrs of tutoring). It will start from 27th May 2023.
Eligibility
Suitable for construction engineers (Any discipline), cost engineers/quantity surveyors, scheduling/planning engineers, design engineers, legal professionals, auditors and construction finance professionals and project managers.
Registration form
CLICK HERE To Register
Modules to be covered
Module 1: Principles of Contract & Introduction to Construction law
Module 2: Procurement of Construction Contracts & Cost planning
Module 3: Contract Administration (Employer Perspective and Contractor's preparedness)
Module 4: Time elements of the Contract
Module 5; Change Management, Cost Control and Cost Reporting
Module 6: Project risk management
Module 7: Termination of contracts
Module 8: Construction claims and dispute resolution plus
Module 9: International Construction Law
Mode of course delivery
Virtual instructor led tutoring/training; this training would be provided by senior management professionals who are practicing in the construction industry for over 30 years in India and abroad. MLS is collaborating with an international contract management consultancy to develop and deliver the program as their Knowledge Partner (C Cubed consultants limited)
Assessment
Quiz on each topic (weekly), 2 case study submissions one after 4 weeks and another at the end of the course
Benefits:
The cohort would be able to use the knowledge gained during the course simultaneously on their professional work
Discounts for the future courses launched by the Law School.
Certificate would be issued with assessment grade; Will count for 32 hours of CPD hours
Career advancement
Inter disciplinary knowledge gain
Limited participants to ensure good interaction with tutors
For More Information:
For any query contact via WhatsApp by CLICK HERE or contact at 919880839581
Official Brochure
Disclaimer
All efforts are made to ensure the accuracy and correctness of the information published at Legally Flawless. However, Legally Flawless shall not be responsible for any errors caused due to oversight or otherwise. The users are advised to check the information themselves.