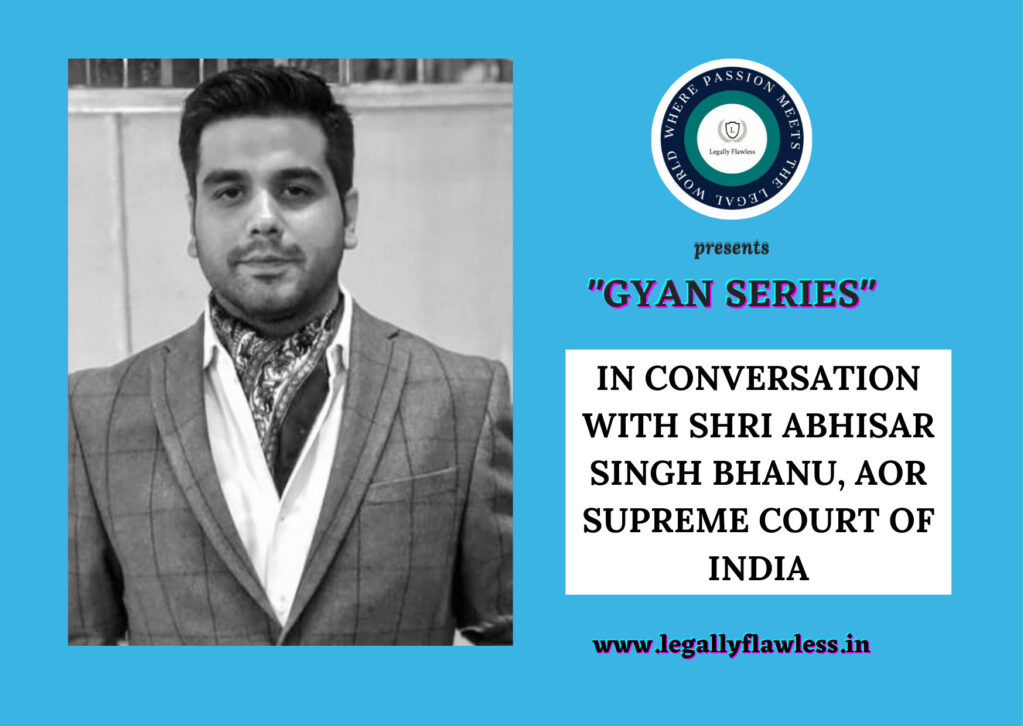 Legally Flawless has started this drive to aware law students and young lawyers for them to achieve in the field of law through strategies from the achievers themselves.
This blog post is part of our "Gyan Series". In this interview, we interviewed Shri Abhisar Singh Bhanu, who has recently qualified the prestigious Advocate on Record Examination of the Hon'ble Supreme Court of India.
How did you decide to choose Law as a career option?
First of all, I would like to extend my thanks, for inviting me on your blog. To be very honest, law was never the first career preference I had. I come from Science and Maths background, however, I would not call myself as the brightest kid in school. Science was something which I was really not able to relate to. Therefore, as a career option, I wanted to pursue something with which I could relate and which could interest my genuine curiosity. Human rights, national & international affairs, political philosophies and reading; intrigued me since childhood, therefore, I considered law to be the best option I could opt for.
You have represented your institute at a lot of International Moot Court Competitions, how was your experience of mooting and how had this co-curricular activity helped you in your professional journey as a litigating lawyer?
I have been fortunate to have performed well in Intra-Moot Rounds of the College and thereafter, being able to represent College in The Philip C. Jessup International Law Moot Court Competition (twice) and Henry Dunant Memorial Moot Court Competition (once). The experience of Mooting has been phenomenal, I could say, it acted as the foundation, for my eventual entering into litigation. Both these moots are very prestigious and the best teams from every college participate in the same. The problems are lengthy in nature and involves complex issues of International Law and International Humanitarian laws. It requires immense preparation as the problem is released some months before the rounds.
Mooting helps in the sense that one learns to read, comprehend, research and frame issues/question of laws; which is basically a skill set required for a litigating lawyer. Therefore, my view is that mooting helps immensely in professional journey.
You are a qualified Company Secretary; do you feel this additional qualification has benefitted you in your career?
Yes, I completed my Company Secretaries Course along with my Law School. I would say, that no learning ever goes in vain. Definitely, it helps me in understanding complex accounts in Commercial and Insolvency matters. However, I would also add a caveat, that it depends on an individual, if one wants to pursue it or not. One should not do it only to add value to their CV or under peer pressure.
How did you manage your law school with CS?
Managing Law School, Company Secretaries course, extra-curricular activities and Internships is a task, I would say. Law School and Company Secretaries both are valuable professional courses which require a lot of time and energy. However, I would like to add here that, most subjects (at the time I appeared) were similar in both courses, therefore, it becomes easier. Further, it is easier for a Commerce background person, as one has a base to understand accountancy, forex and economics.
Regarding managing both courses, I would say, one requires a good support system of teachers and friends. I was fortunate to have both. Some friends would help in teaching commerce subjects and the others would share extra burden in joint projects. However, if one has the will to do, one would find ways.
You are a first-generation Lawyer. At any time, did you face uncertainties with respect to your career?
Yes, I am a first generation lawyer. I would say that uncertainties exist, but one should be prepared for it, before entering into the profession. One should have clarity of mind and a mental model to face the uncertainties. The uncertainties which one would eventually feel are; which chamber to join, when to get independent, how to get work, how to pay bills and how to run an office. I feel it's a learning process and slowly & gradually, everything falls into place. Compounding, like anywhere else, works in this profession as well (read more on that, recommended).
Please share the journey of beginning your career in litigation
So, just like every other final year student, I was also very skeptical, as to how to proceed with litigation. I recall interning with the legend himself, Late Shri. Soli J. Sorabjee (Former Attorney General for India), in my last internship of Law School. I would share an anecdote here, which I had with him and forms part of my core memory:
One day, after the conferences were over, he randomly asked me, "Abhisar, what do you intend to do after law school". I, as any student would say, said "Sir, I intend to work with a law firm, thereafter, I intend to start litigation". To which he said, "Basically that's a trap. Litigation is a service you do for the people. If you join a firm and thereafter plan to return to litigation, you would be already way behind you peers".
Acting on the said advice, just after Law School, I joined Chambers of Shri Rahul Kamwar, Advocate in Jaipur. I had interned with him couple of times and I would say, it is him who recognised my potential and made me believe into it too. Fortunate to have learned a lot under his guidance (which still goes on). Thereafter, I started practicing independently before various foars, across the country.
Can you recall any particular incident which further strengthened your conviction to pursue litigation?
I cannot recall any incident in particular which strengthened my conviction to pursue litigation. But I have numerous incidents which strengthen my conviction to carry it on. These incidents happen on a regular basis when you appear for marginalised sections of the society and get favourable orders for them. It strengthens the faith of common citizenry in democracy, justice and fairness; which motivates you to do better.
Please comment on your experience of preparing for the AOR Exam and cracking it.
Preparing for Advocate on Record Exam was one of the most challenging and learning curve in my professional career. At one hand, you have your own independent practice, where on a daily basis you have to appear in some or the other court; and also burn midnight's oil for preparing the matters to be argued. On the other hand, you have to prepare for this exam, which has 4 subjective papers; and I would not call it a relatively easy exam. A lot of effort goes into preparing, as question papers are checked by Senior Advocates and you cannot just write anything (because they already know everything).
However, preparing for the exam is itself a reward. Saying in the sense that, when in Law School you only have theoretical knowledge and no practical knowledge. However, while writing this exam one has practical knowledge as well. Therefore, the course, immensely helps in enhancing legal knowledge (also your writing speed, on a lighter note).
Any other tips for young lawyers/ law students who wish to pursue their career in litigation.
I don't consider myself to be an appropriate person to give tips, as I have just begun with and there's a lot to learn. As the saying goes, "The top of one mountain is the bottom of another". However, I would just share certain principles, mental models and lessons I follow in the profession: –
Perseverance
Don't compare yourself. It kills the joy of your being.
There's no shortcut. Litigation is a marathon.
Compounding works in litigation.
Integrity and Honesty, still remains the best policy.
When tired, take rest. Breaks are necessary.
Develop some hobby, which you can pursue along with your practice. It will act as meditation.
Ask questions, take help. Have fear, but still do it.
Sir can be contacted/reached by any of the reader at : [email protected].
Checkout these posts as well:
Disclaimer
All efforts are made to ensure the accuracy and correctness of the information published at Legally Flawless. However, Legally Flawless shall not be responsible for any errors caused due to oversight or otherwise. The users are advised to check the information themselves.