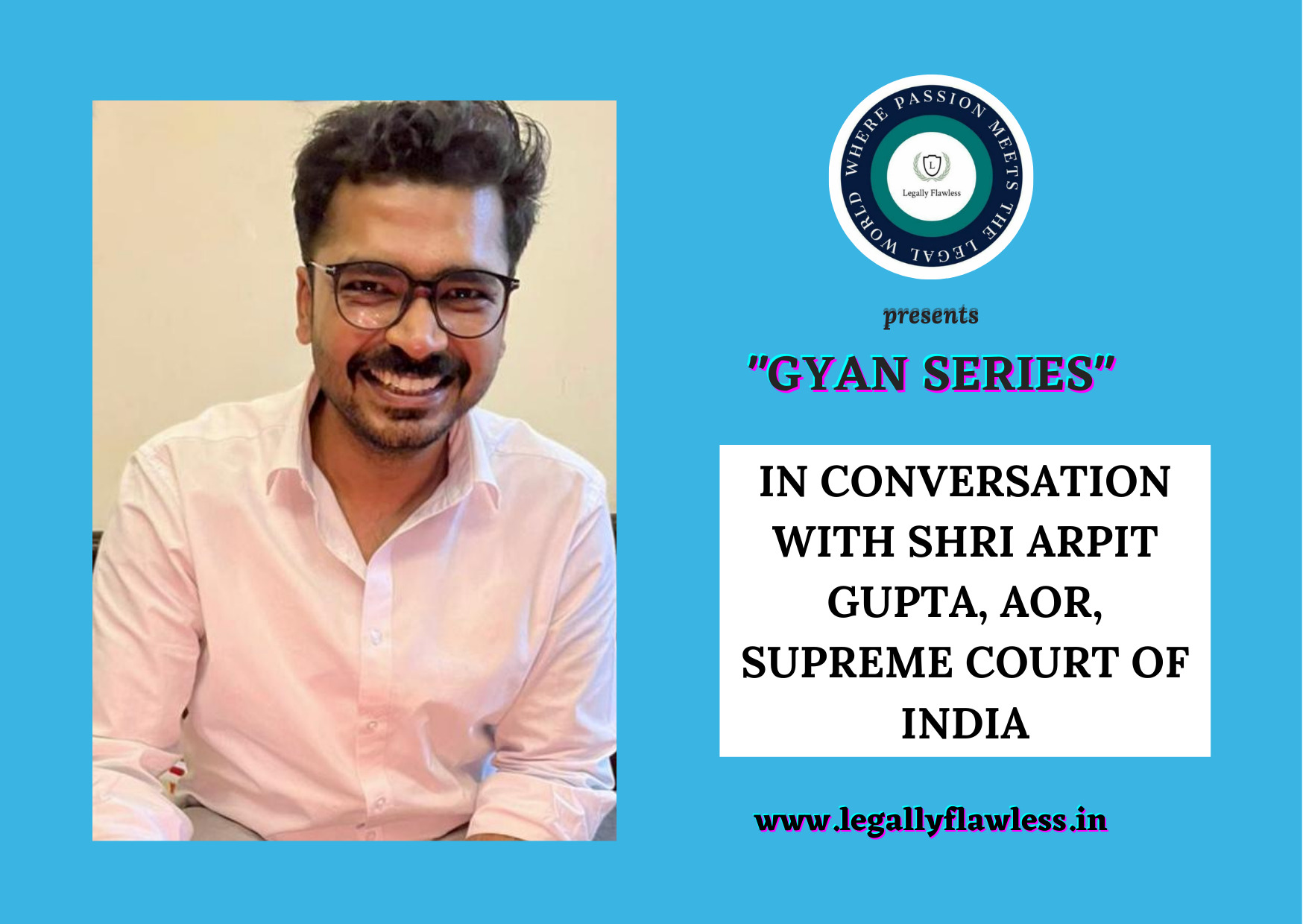 Legally Flawless has started this drive to aware law students and young lawyers for them to achieve in the field of law through strategies from the achievers themselves.
This blog post is part of our "Gyan Series". In this part of the Gyan Series, we interviewed Shri Arpit Gupta, who has recently qualified the prestigious Advocate on Record Examination of the Hon'ble Supreme Court of India.
How did you decide to choose law as your career option?
The decision was taken so many years ago that its difficult to recall what was the moment when I decided so but in the end things turned out quite well so I'm glad for the decision.
What are your views on pursuing an LLM from abroad?
I personally feel that pursuing LLM from abroad is not limited to just adding a degree to your name but it gives you the added advantage to learn things in a completely new set up in a system which you haven't explored or experienced before. It adds to your personality and helps you gain the international and holistic view in terms of the how to approach a set of issues. At the same time, I also feel that one shoe can't fit everybody and thus what worked for me may or may not be the best suited for other students.
How was your experience studying at University of Glasgow?
It was most certainly one of the best things in my life, very enriching and very memorable. I should also add that it was not just the university but even the city of Glasgow and the people there are very welcoming and it just added so much to the beautiful experience I had at the University. It was a little difficult to cope up in the beginning, as the teaching pedagogy was completely tangent to what I as a student was used to. There were more of open discussion sessions rather than classroom teaching. The best part about these classroom sessions what that the students were required to impress upon their critical analysis and once you get the hang of it, the same becomes such an enriching encounter where you get the added advantage to understand the different approaches and sentiments of other students coming from varied backgrounds.
How did you decide to go for litigation and establish yourself at the Supreme Court?
I was always keen to enter the field of litigation. The initial push happened when I was fortunate to intern with one of most profound senior counsels of the Rajasthan High Court. It was then, I realised that this is something, I wanted to pursue as a career for myself. Going down the line, I was very fortunate to be blessed with kind and caring seniors who helped me find myself and allowed me to grow at my pace. Coming to Supreme Court was less of a conscious decision and more so happened by some fortunate turn of events. Post my LLM, I was very lucky to find Mr. Anand Shankar Jha, Advocate on Record who was then looking for an intern for his office. A brief interaction and the next day I joined his office and the very first day we appeared before the Supreme Court of India and it was, I think, pre decided for me to be there at that moment.
How was your journey as a litigating lawyer before you qualified the AOR Exam?
The journey as a litigating lawyer is somewhat a bitter-sweet story. There were a fair share of both, the good days and the bad days. It is a demanding field but once you start enjoying that process of learning and take one day at a time, you don't even realise where does the time go. Like I said I was blessed to have a lot of caring seniors around me and it is their patience towards me, which helped me a lot.
What all work does one has to perform as an Advocate on Record of the Supreme Court?
Well, there are many roles of an AoR. Most importantly an AoR is the single point of contact between the Supreme Court and the Client. The Supreme Court rules specify that the only an AoR shall appear plead and address the court in any matter.
How did you prepare for the AOR Exam?
The preparation in the strictest sense begun about 2 weeks before the date of the first exam. I took a few days off from the office and focussed specifically on the reading materials and preparing for this exam. I must also add that it is the continuous practise and the effort and the day in and day out filing and practising in the supreme court which helps a lot in the preparation. If the basics of practising in the Supreme Court are clear in your head, a lot of the preparation seems like something that you have already done and allows you a certain level of comfort in appearing for the exam. The Supreme Court has a set of reading material which includes the list of cases, a few acts like the Supreme Court Rules, the Advocates Act, Contempt of Court Act etc. which you must read thoroughly and the last but not the least, drafting skills for drafting the various types of petitions before the Hon'ble Court. The most interesting part of such preparation was the numerous hours of handwriting practice required to clear the 3-hour exams. It's a whole new experience to draft a petition on pen and paper when all this time you have drafted on your keyboards and laptops.
How were your initial days in the courtroom? Can you recall any significant incident?
For every young lawyer I feel the initial days help you in ways that you can't even imagine. There were days where I was praised by the bench for arguing passionately, on some days it was just the opposite where you get an earful for not being well versed with the file at hand.
What would be your advice for law students who are passionate about litigation?
There's a very famous poem "IF" by Rudyard Kipling, which goes like
If you can dream—and not make dreams your master;
If you can think—and not make thoughts your aim;
If you can meet with Triumph and Disaster
And treat those two impostors just the same;
I believe this is all what entering into litigation is all about. There will be tough days and there will be great days but if you can hold your virtue and keep working hard, then "Yours is the Earth and everything that's in it".
Sir can be contacted/reached by any of the reader at : [email protected]
Disclaimer
All efforts are made to ensure the accuracy and correctness of the information published at Legally Flawless. However, Legally Flawless shall not be responsible for any errors caused due to oversight or otherwise. The users are advised to check the information themselves.