About The Organization
The Centre for Corporate Law & Governance has been constituted under the ambit of ICFAI Law School, The ICFAI University, Dehradun, in the year 2021.
The Centre has been established under the supervision of Assistant Professor, Mrs Stuti Tiwari as its Faculty Convenor, following the rules and regulations of the University. The Centre focuses to encourage education on Corporate Law & Governance along with a detailed, research-oriented study of the same. The Centre shall be venturing into new projects that shall announce the convergence of academia and expert insights on various corporate matters. The centre aims at promoting advocacy, research and policy-oriented discussions in the areas of Corporate Law & Governance and helps people gain knowledge about matters about the same.
About The Event
NATIONAL ARTICLE WRITING COMPETITION, 2022
Greetings from Centre for Corporate Law and Governance, The ICFAI University, Dehradun!
It brings us great pleasure to announce- that our Centre is going to organize a "NATIONAL ARTICLE WRITING COMPETITION".
We invite all the Law Students pursuing a degree from an affiliated University/College/Institute, to participate in the competition.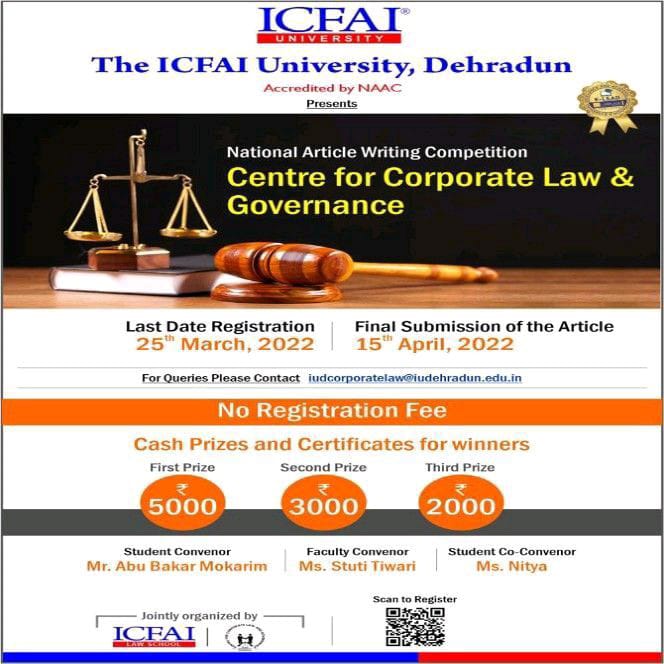 Following are the themes for the Competition:
● Raise in the Crypto Ponzi Schemes by unidentified groups- The Impact, the Victim & the Legal Options.
● The emergence of the Commercial Justice System with the development of the Insolvency Bankruptcy Code and Arbitration.
● The Retrospective Tax laws in India & Its Debacle.
● A Bite at the cherry: Challenging Arbitral Awards under contemporary issues involved in Companies Act, 2013.
● Determining the issues involved in the disputed debts under Section 9 of the Insolvency Bankruptcy Code, 2016 before the Axe falls.
The last date for registration is: 25th March 2022
Note: The Registration is Free.
🏆Exciting Awards:
1st Winner: Rs 5,000 + Certificate
2nd Winner: Rs 3,000 + Certificate
3rd Winner: Rs 2,000 + Certificate
Participation Certificate to all.
In case of any query, feel free to contact us at- [email protected]
Student Coordinators:-
Mr. Abu Bakar Mokarim
Ms. Nitya
Also Read
If your organization wants to promote any event or competition for the legal fraternity at Legally Flawless, kindly reach out to us at [email protected]
Join our WhatsApp Group for regular updates: Click Here
Disclaimer
All efforts are made to ensure the accuracy and correctness of the information published at Legally Flawless. However, Legally Flawless shall not be responsible for any errors caused due to oversight or otherwise. The users are advised to check the information themselves.