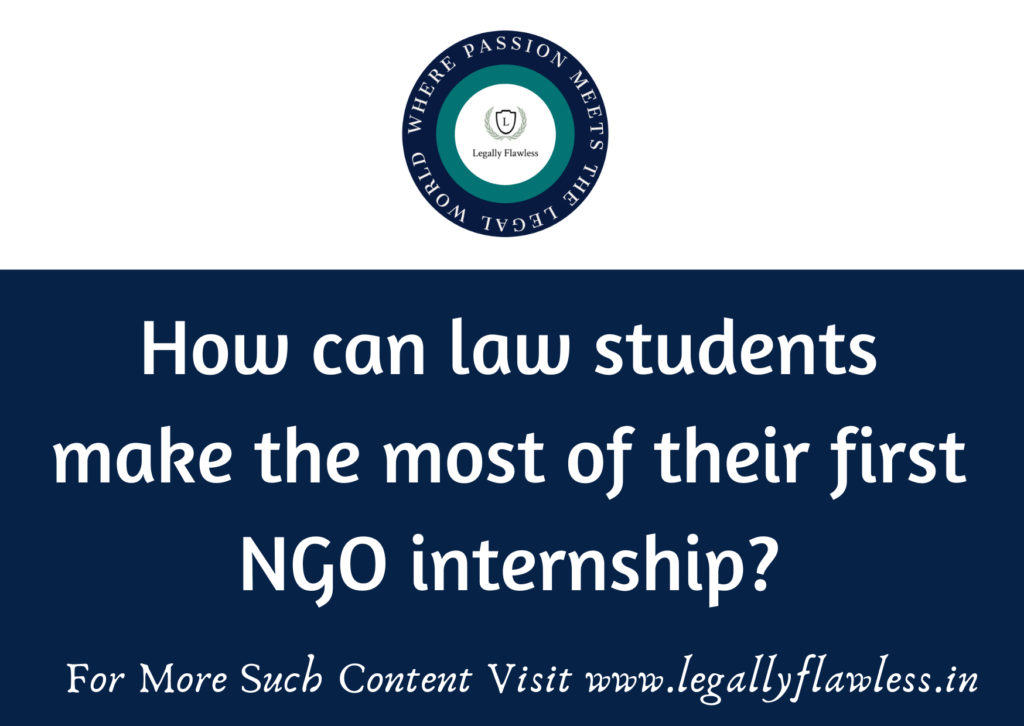 Hello young and jovial law students!
Welcome to the new phase of your life. We hope you are enjoying your law school life and also making a lots of new friends. With this delighted experience, I am sure you all must be tensed about the things to do and to abstain from doing in law school to get better exposure and make your five years fruitful.
To solve these queries LEGALLY FLAWLESS brings to you a complete NGO Internship guiding Blog. So do read the whole article and get the complete knowledge about all your queries related to NGO Internships 2022
What is an NGO?
According to United Nation department of Global Communications, NGO is a not for profit organization which is made by the citizens or people voluterally on local, national or international level to issue the support of public good. Sometimes, people associate NGO with just a small group but one thing we have to understand is that it is more than that, it can be a club or a big organization
Different areas in which NGOs work
There are different kind of NGOs working in different areas like child rights, environmental protection, constitutional awareness, etc. Moreover, objectives of different NGOs may vary from each other but some common objectives are:
To fight against exploitation, injustice and corruption, if found against any individual, class, community in the society.
To educate the people for adoption of the good norms of a good citizenship and to inculcate into the people's mind, ideals of national unity.
To work for uplifting the status of women in the society. To work against female circumcision and to fight against the victimization of girl /women by anybody in the society on female circumcision or any other related issues.
To propagate the need for tree plantation / pollution control and environmental awareness.
To help and generate training programs for self employment of women and educated unemployed people and to work for adult education.
To create the means for providing medical assistance to the people suffering from diseases, especially for helpless people.
To provide help under health & nutrition services for women and children.
To establish library and reading rooms in needy communities.
To create Training/education centers and health centers.
Why should Law Students opt for an NGO Internship?
Now, we have understood about NGO, its objecives, different fields of work, but you must be wondering about the benefits of interning at an NGO. "Why should I spend my month or two interning at an NGO? I can rather intern in any Court or Law Firm or Company or Research Center, etc; where I eventually want to go. Keep on reading, here we will tell you the benefits of doing internship at an NGO:
Lack of Knowledge
Generally students of 1st year go for an NGO internship because at this stage you don't have much knowledge of law. So, doing an internship at High Court or Supreme Court doesn't benefit at this stage. As Law is related to the society, it is good if Law Students get to know the social issues which are prevalent and for which NGOs are working. Therefore, NGOs can give you a first hand experience of legal issues prevalent in the society that need to be worked upon.
Self Satisfaction
Don't you guys want to spend your days in which you wake up every day and ponder that "Yesterday was a fantastic day but I will make my today more adorable." NGO is a place where you can get this life because at NGOs' you are working not just for money but to bring change in the society. For example- If you are interning at an NGO working for the welfare of children, then each time you bring happiness to the face of a child, the satisfaction you will get cannot be compared to money. Furthermore, such type of NGOs can lay a foundation for you to learn more about Child Rights and the Juvenile Justice System of the Country.
Practical Experience
In law school you just get theoretical knowledge but it is important to apply this theoretical knowledge to practical problems or issues. So, an NGO can be your steeping stone for applying the theoretical knowledge and gaining practical knowledge.
For example – you learn that article 24 of the Constitution of India provides for prohibition of children under the age of 14 to work in any field but if you work on it you will get to know the practical implications of this particular provision of the Indian Constitution.
New Perspective of Life
If you work in an NGO, you will start seeing the world from a different perspective. You will get new vision of looking at the society. You will get to know that:
There is an embodied section of the society that is oppressed and have very meager means of livelihood. You will get familiar with their problems and how big there problem are in comparison to yours.
You will get the opportunity to understand the gaps in the Law that is taught in Law School and its practical applicability. For example, in law school, we have been taught that ignorance of law is not an excuse but in reality we know that only handful of people know the law.
Top Scholarship Opportunities for Law Students in India [2022]
Why do Law Students abstain from doing NGO Internships?
After reading the previous part on the benefits of doing an NGO Internship, you must be delighted about the wonderful experience of working at an NGO, but still majority of student have bad experience after interning at an NGO. This is because of the lack of proper guidance that they get while choosing an NGO, they might not be able to select an NGO that fulfills their desire to learn as a Law Student.
Finding the Best suited NGO for Internship
This problem is faced by majority of students that they are not able to find out an NGO that suit their needs. This is because of plenty of reasons, like they want to work in their hometown, or their friend told them about a particular NGO internship which was not good fit for a Law Student to learn. So, Law Students are advised to research well in order to get a fruitful experience.
No Stipend
This is a general problem faced by the law students that they do not get any stipend after working for a month or two in an NGO. Moreover, this is not just limited to NGO Internships, but a lot of Law Firms, Chambers and Organizations do not offer any stipend to the interns. We understand that stipend plays a great role but law students should not go for an NGO Internship just on the sole criteria of stipend but should consider the learning factor as well. For Example: there are some NGOs offering paid internship for filling surveys or for boosting their social media campaigns. Although, such work is offered by an NGO, it would be futile for a law student who is willing to learn the practical application of the Law.
Lack of Legal Experience
Considering that you all are law students and you all will go to internship to get some practical knowledge. But, what if, after a month of internship, you don't get any experience related to your field. As mentioned in the example above, students must do prior research about the organizations they are willing to intern at.
Trending Legal Topics for Legal Blogs [2022]
10 NGOs you can consider applying for an internship
Here is a list of the 10 best NGOs of lndia related to the legal field:
Child Rights and You (CRY)
Child Rights and You is an Indian non-governmental organization that works towards ensuring children's rights. The organization was started in 1979 by Rippan Kapur, an Air India purser. CRY works with 99 grassroot projects across 19 states in India and has impacted the lives of over three million children.
Location: You can find these NGOs in delhi, mumbai, banglore and kolkata
How to Apply?
Share your CV and cover letter at email ids and wait for the response
vol.[email protected] (mumbai office)
[email protected] (kolkata office)
[email protected] (banglore office)
[email protected] (delhi office)
Alternatively, you can apply through their website: https://www.cry.org/volunteering-and-internships/#
Hope Foundation
The Hope Foundation works to free street children and poor families from lives of pain, abuse and poverty. The Hope Foundation (HOPE) was established in 1999, to provide protection and refuge for 20 girls in Kolkata (Calcutta) India, who were forced to survive on the streets, alone and vulnerable as young teenagers. It is doing fabulous job from the past 23 years
Location: kolkata
How to Apply?
send your cv and cover letter at this email id: [email protected]
Child in need Institute
Child in Need Institute, or Child in Need India, is a humanitarian organisation promoting "sustainable development in health, nutrition and education of child, adolescent and women in need" in India. The Child In Need Institute is headquartered in Kolkata and operating in some of the poorest areas in India. It was founded by mr samir choudhary in 1974and doing a good job in child welfare from past 48 years
Location: Kolkata
How to Apply?
You can apply there by sending letter by the name of your director of college
Human Rights Law Network (HRLN)
The Human Rights Law Network (HRLN) is an Indian non-profit organisation founded in 1989 to protect the fundamental human rights and civil liberties of the most marginalised and vulnerable members of society. Working on the intersection of law, advocacy, policy, and education, HRLN is organised as a collective of lawyers and social activists dedicated to providing legal assistance to vulnerable and disadvantaged individuals, advocating for the implementation of structures to safeguard human rights and fight systemic oppression, and educating the public on their rights and remedies.
Location – Mutiple states
How to Apply?
You can apply there by sending your CV at official website of the NGO
A Glimpse through the new Labour Code 2022
People's Union for Civil Liberties (PUCL)
People's Union for Civil Liberties (PUCL) is a human rights body[1] formed in India in 1976 by Jayaprakash Narayan, as the People's Union for Civil Liberties and Democratic Rights (PUCLDR). They are continueslly working for educating people relentlessly and they opend up there branch both in country as well as outside the country
Location– Delhi
How to apply?
You have to send mail at the [email protected] on selection you have to pay 1000 rupee of registration
Kailash Satyarthi hildren's Foundation
The Kailash Satyarthi Children's Foundation (SCF) was established in 2004 by Satyarthi. It is a grassroots organization that spreads awareness and advocates for beneficial policies for children's rights. The foundation is the global umbrella for KSCF India and KSCF, USA
Location– Delhi
How to Apply?
You have to send your cv and cover letter to [email protected]
Salaam Bombay Foundation
Salaam Bombay Foundation (SBF) was founded in 2002 with the philosophy and belief that the only way to invest in the nation's future is to invest in its children and in their health and education. Children also need to be guarded from risks to their health, especially tobacco which has a high prevalence in children and youth.
SBF is focused on engaging Mumbai's most vulnerable "at risk" children through in-school programmes (leadership and advocacy) and after-school academies (skill building) that help build their confidence, self-esteem and commit them to stay in school while staying tobacco-free.
Location – Mumbai
How to Apply?
You have to send your cv and cover letter to email id [email protected]
India Vision Foundation
India Vision Foundation is an NGO based and headquartered in New Delhi. The organization is committed to rebuild the lives of the imprisoned and those whose families have a history of incarceration from Central Prison, Tihar Jail. It was established by honurable lg kiran bedi in 1994 and they are relentleslly working for giving better facilities to improsenmwnt and let them to know there rights
Location – Delhi
How to Apply?
To apply you have to send your cv and cover letter at the given link
People for Animals
People For Animals is one of India's largest animal welfare organisations, originally founded by Maneka Gandhi in 1992. Currently, the headquarters of this organisation is located in New Delhi, with over 100 regional units located around India. The purposse of this organisation is " Animal rights and welfare " And they are working continueslly from past 30 years
Location: Ahemdabad
How to Apply?
To apply for the internship write your cv and cover my letter and send it at [email protected]
CLAP Foundation
CLAP, the acronym of Committee for Legal Aid to Poor, is the oldest Public Interest Law Organisation in India. It was founded in 1982 by eminent Sarvodaya Leader Shyam Sundar Das. The CLAP is a Society, registered under Societies Registration Act (Act XXI of 1860) as a non-profit making NGO which advances human right through use of law, legal process and legal system. It manages Legal Service Institute through which the activities of CLAP are given meaningful expression. The Headquarter of CLAP is based in the City of Cuttack in the State of Odisha in India.
Location: Cuttak, Odisa
How to Apply?
To apply for the internship you have to go to the website and send your cv there. Checkout the link below for the website of CLAP Foundation
This is not the complete list of the best NGOs in India. There are a lot of other NGOs who are working very well for the upliftment of the society. So, keep in mind to research. We hope that you have read the whole article and will have a great experience interning at an NGO. Do let us know your queries or any problems you face in the comment section below.
What do law student do at NGO internship?
Students at an NGO get plenty of work. If you are at good NGO then you might get work like researching, drafting, attending the court proceedings and weekly you will get ground surveys in which you will get a chance to meet people.
Is NGO internship worth it?
Yes, absolutely after reading the whole article, you can decide it for yourself.
What to do about the accommodation problem while interning at an NGO?
Best thing anyone can do it is to find the NGO at your hometown. There are plenty of NGOs.
This article is authored by Darshan Ajmera, student at Institute of Law Nirma University.
Disclaimer
All efforts are made to ensure the accuracy and correctness of the information published at Legally Flawless. However, Legally Flawless shall not be responsible for any errors caused due to oversight or otherwise. The users are advised to check the information themselves.