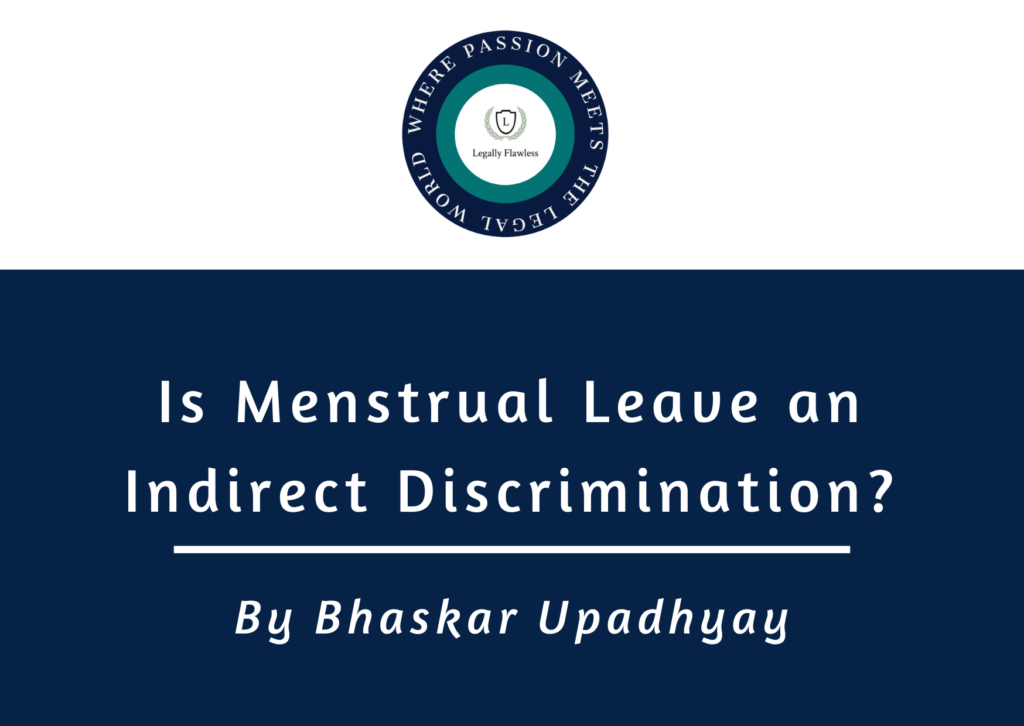 Introduction
Recently, the Supreme Court of India has denied hearing a PIL filed by an advocate Shailendra Mani Tripathi seeking to grant Menstrual leave to working women and female students across the country. The three-judge bench comprising CJI DY Chandrachud, Justice PV Narasimha, and Justice JB Pardiwala, said that this is a policy-making matter which comes under the centre's domain and left it to the centre to make such a policy or not. The bench has also opined the petitioner to make a representation before the Ministry of Women and Child development.
Part III of our Indian constitution acts as one of the most essential tools for safeguarding democracy and ensuring that the state is bound by certain fundamental rights of the people and that the state cannot abridge any fundamental right unreasonably. It talks about the basic human rights guaranteed to every citizen of our country. It is regarded as the Magna Carta of the constitution of India. Article 14-18 ensures the Right to Equality. These articles ensure that the state shall not discriminate against any citizen on any of the grounds mentioned therein. The rule laid down in article 14 is not absolute and reasonable classification is permissible. This sort of classification is essential for the development of our society. If a practice, policy, or rule that applies to everyone equally yet has an adverse impact on some persons more than others is said to be indirect discrimination. This state action puts you at some particular disadvantage. In this article, we will analyse how menstrual leave is Indirect discrimination. Also, we will look into the various aspects of equality, and the doctrine of reasonable classification which is permissible while keeping our emphasis on the Indirect discrimination prevailing in our society and how indirect discrimination is an antithesis to attaining substantive equality.
Formal and Substantive Equality 
Article 14 and Article 15 give us the idea of formal equality and substantive equality. Formal equality means the equal application of law to every citizen. Substantive equality refers to the idea that there has to be some sort of reasonable classification among the various groups. The state can grant concession, exemption, and to some extent reservation. The idea of formal equality cannot be achieved because all the classes cannot be treated equally, there must be a reasonable classification. In our society, there is huge diversification among the citizens. There exist many different classes, castes, groups, and religious denominations. Certain legislations cannot be applied equally to every citizen of different classes in such a heterogeneous society. Every person has different circumstances and situations. The state cannot make any law that has the same application to every citizen and that legislation carries the potential to disadvantage any particular class with its effect.
The doctrine of reasonable classification is a test evolved by the judiciary in the case of the State of West Bengal v. Anwar Ali Sarkar[i] to check whether there is any discrimination and whether the state has acted arbitrarily in its actions. Article 14 allows reasonable classification by the state so that there is no discrimination and that all citizens in similar situations are treated on an equal pedestal. The state has the power to treat different people differently if there exist some kind of different circumstances among the groups and the classification is proportionately justified. Two different classes cannot be treated with the same legislation, for example, the state cannot impose the same tax policies on both the rich and poor classes. 
Top Scholarship Opportunities for Law Students in India [2022]
Direct and Indirect Discrimination 
Discrimination can be classified into two types, Direct Discrimination, and Indirect Discrimination. Direct discrimination means that discrimination which is very evident. This sort of discrimination is easy to spot, for example, if an educational institution does not allow a female candidate for admission to its courses, this is very evident that the institute is discriminating based on sex. This means that you are being treated unequally from the rest just because of your identity.
Indirect discrimination is related to stereotypical discrimination. It refers to the idea of ritualistic discrimination which has been faced by various marginalized groups for so many years. This type of discrimination might not be visible from its very nature and it might seem to be fair and equal. The nature of some legislation might seem to be very positive and safeguarding but the actual effect of that legislation is discriminatory and very oppressive to some classes of people. Although the intent of the discriminator might not be to discriminate against that particular class and the intention might be to safeguard and protect some classes, the effect is discriminatory and the cause is not known.
An example of this can be that an employer releases a notice that states that all the female employees will work till 6:00 PM only and a bus along with a male driver will drop each of them off at their residents, this is because crimes against women have been increasing in the city. This policy seems to be neutral and colorblind in its very nature and looks to be positive and to safeguard women, but the adverse effect of this will be discriminatory against women. This policy is based on the paradoxical idea that women are inferior to men and they have to be safeguarded by men.
Menstrual leave: an Indirect discrimination?
A very recent example of this could be the idea of giving menstrual leave to women. Some Southeast Asian countries like Indonesia, Japan, Taiwan, and South Korea allow paid menstrual leave to women. Western countries including Spain are also planning to adopt new legislation that allows women to be paid during their menstrual leave period. In India, the Kerala govt has introduced a bill that allows period leave to all female students in state universities. Various awareness drives are also being promoted to allow menstrual leave to women.
This idea is being seen as affirmative action that empowers women and neutralizes the stigma that Indian society has regarding menstruation.
On the facet, this idea seems to be encouraging and empowering women but it indirectly discriminates women and that encouraging menstruation leave will strengthen male stereotypes of women as weak, and that it will adversely affect women's chances of getting jobs and promotions everywhere because of potential beliefs that they could end up as a liability to an institution. Giving paid menstrual leave to women employees will financially cost the employer. This will lead to biases when hiring female employees as the employer has to bear the financial loss.
In the case of the Secretary, ministry of defence v. Babita Puniya[ii], the supreme court held that women should be allowed permanent commission (PC) in the armed forces and held that there cannot be any discrimination based on gender and also laid down certain criteria for the women army officers in permanent commission.
In march 2021, eighty-six petitioners in the case of Lt. Col Nitisha vs Union of India[iii] moved to the supreme court claiming that the implementation of the judgment delivered in the Babita Puniya case is an example of indirect discrimination. In this case, the supreme court struck down the criteria laid down in the Babita Puniya case. Justice DY Chandrachud, in his judgment, notes that the criteria laid down in the judgment to grant the permanent commission (PC) to women army officers, seems to be facially neutral but it indirectly discriminates against women. He further states that the intent of the discriminator is immaterial and that there shall be no indirect discrimination to attain the idea of substantive equality.
"By invoking the idea of indirect discrimination, Justice D.Y. Chandrachud has emphasized the situation of discrimination. A facially neutral law might be seen non-discriminatory from an uncritical perspective, yet the same rule might be oppressive for particular classes."
In the case of Anuj Garg v. hotel association of India[iv], women employees were barred from a particular area where liquor or any other intoxicating drugs were consumed as a measure to protect women. Supreme court in its previous judgments including Navtej Singh johar v. union of India[v], Vikas Kumar V. union public service commission, and Naz foundation v. govt of NCT of Delhi[vi], has highlighted the idea of indirect discrimination. But in this case, it has given a comprehensive interpretation of this doctrine and has laid down the constituents of indirect discrimination, and has also declared indirect discrimination to be unconstitutional.
In addition to advancing the careers of female army officers, the judgement represents a significant advancement in the Indian Constitution's expression and acceptance of indirect discrimination as well as in the recognition and foundation of the concepts of "indirect discrimination" and "systemic discrimination."
Indirect discrimination can be justifiable if the state can showcase that there existed good enough reasons for it or that state action was to achieve a legislative objective. The equal application of any particular legislation leads to indirect discrimination. There has to be some reasonable classification if the state can show that there was some "Intelligible differentia" which means a distinction between two classes or groups.
Conclusion
Indirect discrimination requires a much deeper and more critical analysis to check whether the state action is discriminatory in nature. Indirect discrimination has to be prohibited to achieve substantial equality. Hence, Menstrual leave should not be implemented as this will not remove the stigma rather it will further lead to more discrimination against women. This will increase the notion prevailing in society that women are weak and inferior to men.
Instead, the government should be focusing on providing a comfortable working environment for women in the institutions. The focus should be on increasing hygiene and cleaner washrooms at the workplace, providing them with sanitary pads. Rather than giving them leave while they are menstruating, the aim should be to empower them with a friendly workplace environment so that menstruation does not become any hindrance to them this can include providing them with separate space to rest while at work (as done in MNCs like google and Adobe) this can act as a facilitator rather than a hindrance which would further the cause of Women's welfare.
This article is authored by Bhaskar Upadhyay, Law student at Dharmashastra National Law University, Jabalpur. 
---
[i] State of West Bengal v. Anwar Ali Sarkar (1952) SCR 284
[ii] Secretary, Ministry of Defence v Babita Puniya (2020) 7 SCC 469
[iii] Lt Col Nitisha and Ors v Union of India 2021 SCC OnLine SC 261
[iv] Anuj Garg & Ors V. Hotel Association of India & Ors AIR 2008 SC 663
[v] Navtej Singh Johar v Union of India 2018 10 SCC 1
[vi] Naz Foundation v Government of NCT of Delhi (2016) 15 SCC 619