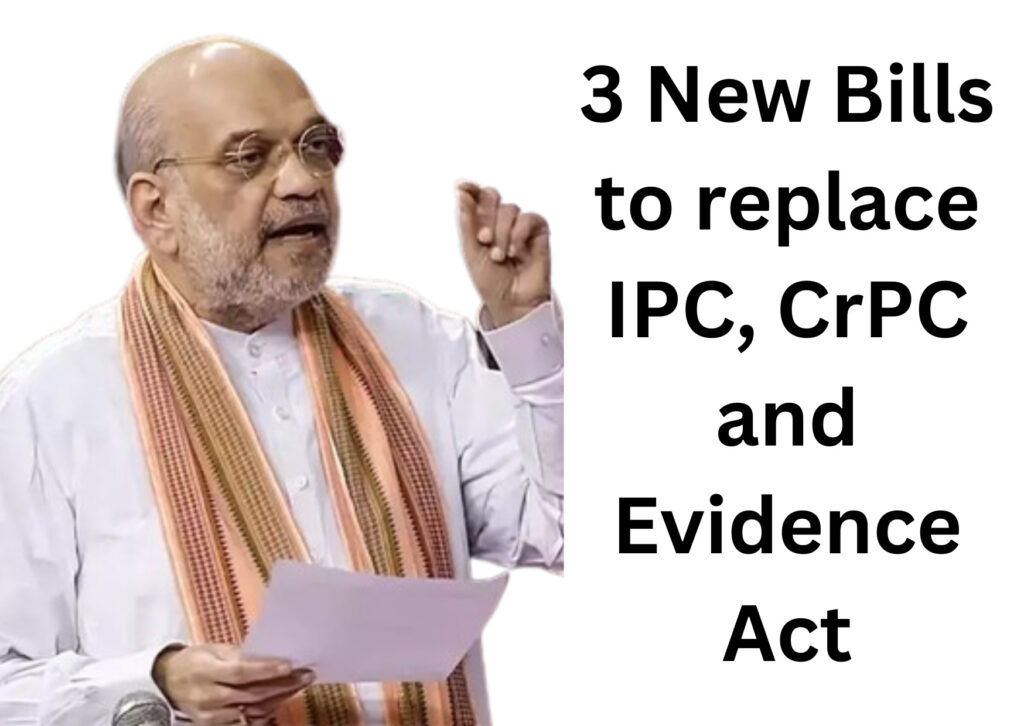 On 11th August 2023, Friday, Amit Shah, the Union Home Minister, presented three bills in the Lok Sabha to replace the Indian Penal Code, the Code of Criminal Procedure, and the Indian Evidence Act—laws that originated during the British colonial period.
Amit Shah emphasized that the new bills would eliminate the provision of sedition offenses in the new bill that would replace the IPC. He assured the House that these bills held the potential to revolutionize the current criminal justice system.
The bills, namely the Bharatiya Nyaya Sanhita (2023), the Bharatiya Nagarik Suraksha Sanhita (2023), and the Bharatiya Sakshya Bill (2023), will undergo a comprehensive evaluation by a parliamentary panel.
Outlined in these bills are several significant proposals:
The imposition of the maximum penalty, including capital punishment, for crimes such as mob lynching and the rape of minors.
Introduction of provisions that allow first-time offenders to engage in community service as an alternative punishment for minor offenses.
Inclusion of a provision to hold trials for absconding criminals like Dawood Ibrahim in absentia.
Addition of new offenses including acts of secession, armed rebellion, subversive activities, separatist actions, or acts endangering the sovereignty, unity, and integrity of India.
Shah stated, "The laws that are earmarked for replacement… were initially designed to support and reinforce the British administration, focusing primarily on punishment rather than the dispensation of justice. Through their replacement, the newly introduced trio of laws aims to prioritize the safeguarding of citizens' rights in India."
Top Scholarship Opportunities for Law Students in India [2023]
He continued, "From 1860 to 2023, the country's criminal justice system operated according to laws enacted by the British. These three laws will bring about a significant transformation in the country's criminal justice system."
"As per this Bill, our objective is to raise the conviction rate above 90 percent. This is why we have introduced a crucial provision that mandates a forensic team's visit to the crime scene in cases involving sentences of 7 years or more," explained Amit Shah.
"The focus will shift from mere punishment to the delivery of justice. Punishment will be administered to establish a deterrent against criminal activities," the Home Minister concluded.
Disclaimer
All efforts are made to ensure the accuracy and correctness of the information published at Legally Flawless. However, Legally Flawless shall not be responsible for any errors caused due to oversight or otherwise. The users are advised to check the information themselves.