About the Organizer
Dharmashastra National Law University was established in 2018 by the Madhya Pradesh Dharmashastra National Law University Act, 2018. DNLU emphasizes the value of researching in each and every student and promotes scholarly qualities in them. Established in the 'Sanskardhani' of the state of Madhya Pradesh, it aims to develop the legal ambit by reflecting on our culture since time immemorial.
About the Debate
We feel immense pride in bringing to you the 2nd Edition of Justice R.K. Tankha Parliamentary Debate (DNLU PD), to be organized from 15th-17th April, 2022. Keeping the current condition of the Covid-19 Pandemic in mind, the Tournament shall be conducted online through Discord and Zoom.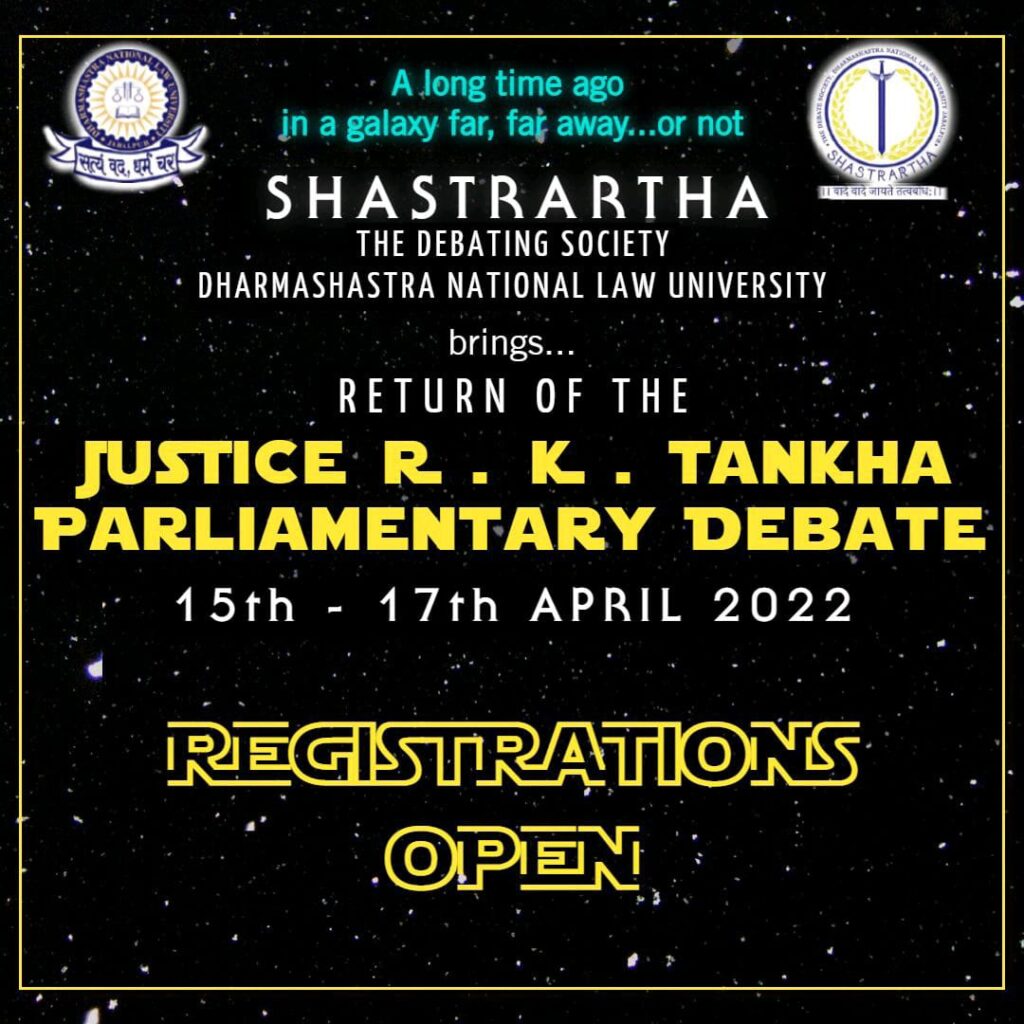 Details for the Tournament
Format: 3V3 Asian Parliamentary
Eligibility: Open
Gender Diversity Policy: We shall be implementing a gender-diversity policy at registration that requires institutional contingents to have at least 25% non cis-male persons. The policy would be followed strictly. However, if any specific contingent genuinely fails to meet the above-mentioned criterion, you are requested to drop us a mail at [email protected] The decision of the organizing committee will be final and binding.
Registration Fee: Rs. 350/ US$ 5 per participant.
Adjudicator Policy: N=N (for both Institutional and Cross Teams).
Phase I Registrations end at 11:59P.M (IST) on 15th March, 2022!
The details for the payment shall be given to you after allocation of slots!
The teams shall be required to make the payment after registrations, only after which their slots shall be confirmed.
MAY THE FORCE BE WITH YOU!
For any queries, feel free to contact-
Kartik Pendharkar- +91 7509922989 (Co-Convenor)
Ojaswini Gupta- +91 7223967592 (Secretary)
Ashutosh Chopra- +91 7985069858 (Executive Member)
Also Read
If your organization wants to promote any event or competition for the legal fraternity at Legally Flawless, kindly reach out to us at [email protected]
Join our WhatsApp Group for regular updates: Click Here
Disclaimer
All efforts are made to ensure the accuracy and correctness of the information published at Legally Flawless. However, Legally Flawless shall not be responsible for any errors caused due to oversight or otherwise. The users are advised to check the information themselves.