About the Organization
Centre for Excellence in Sports and Entertainment Laws is a research centre established at Rajiv Gandhi National University of Law, Punjab.
The Centre for Excellence in Sports and Entertainment Laws, RGNUL (CESEL) has been established in RGNUL with a view of promoting research in sports, entertainment, and other allied laws/fields. The primary vision of the Centre is to promote study and research through dialogue, discourse, and discussions. The "3D" approach, as we call it, will provide students with a chance to interact with like-minded people on a social level. The Centre conducts research on contemporary issues and advancements within these fields, while striving to boost recognition, create interest and provide information regarding the workings of these emerging domains of law.
About the Webinar
CESEL is organising an Interactive Talk-Show/Webinar on the topic, Career in Sports Law on 19 February 2022 i.e., Saturday at 1:00 PM wherein Ms. Apoorvi Jha (Assistant Lecturer at Jindal Global Law University, B.A.LLB. (Jindal Global University) & LL.M. from ISDE, Spain) will be the Keynote Speaker.
About the Speaker: Ms. Apoorvi Jha is an International Sports Lawyer. She is currently working as Assistant Professor at Jindal Global Law University and has completed her LL.M. from ISDE Madrid in the field of International Sports Law. She has previously worked with many reputed law firms like Tannuri Ribeiro Advogados, Brazil, and has the experience of representing several high-profile cases at FIFA and CAS.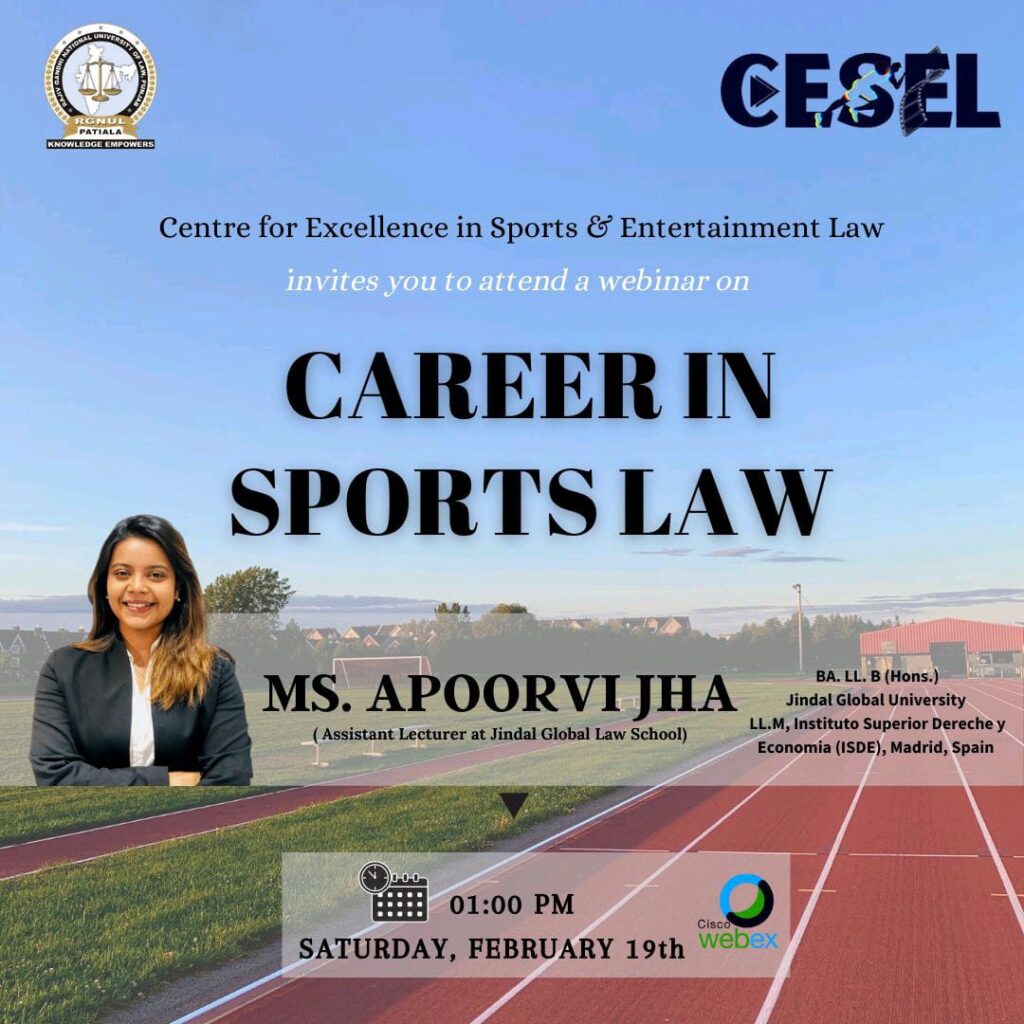 About the Topic
The field of Sports Law, with time, has gained momentum to settle their ways as a specific branch of law. Sports & Gaming Laws are the upcoming trends that are lucrative and appealing. International sports organizations like FIFA, UEFA, NBA appoint legal Counsels and so does giants of the media industry like Sony, Fox Studios, and Star Network does. However, there still exist many questions regarding career prospects in the field. Through the medium of this webinar, the speaker will try to address all the doubts pertaining to career prospects in the field.
Date: 19th February 2022 (Saturday)
Time: 01.00 PM IST
Mode: Virtual
Platform: Cisco Webex
In case of any queries, drop a mail at [email protected]
Also Read :
If your organization wants to promote any event or competition for the legal fraternity at Legally Flawless, kindly reach out to us at  [email protected]
Join our WhatsApp Group for regular updates: Click Here
Disclaimer
All efforts are made to ensure the accuracy and correctness of the information published at Legally Flawless. However, Legally Flawless shall not be responsible for any errors caused due to oversight or otherwise. The users are advised to check the information themselves.