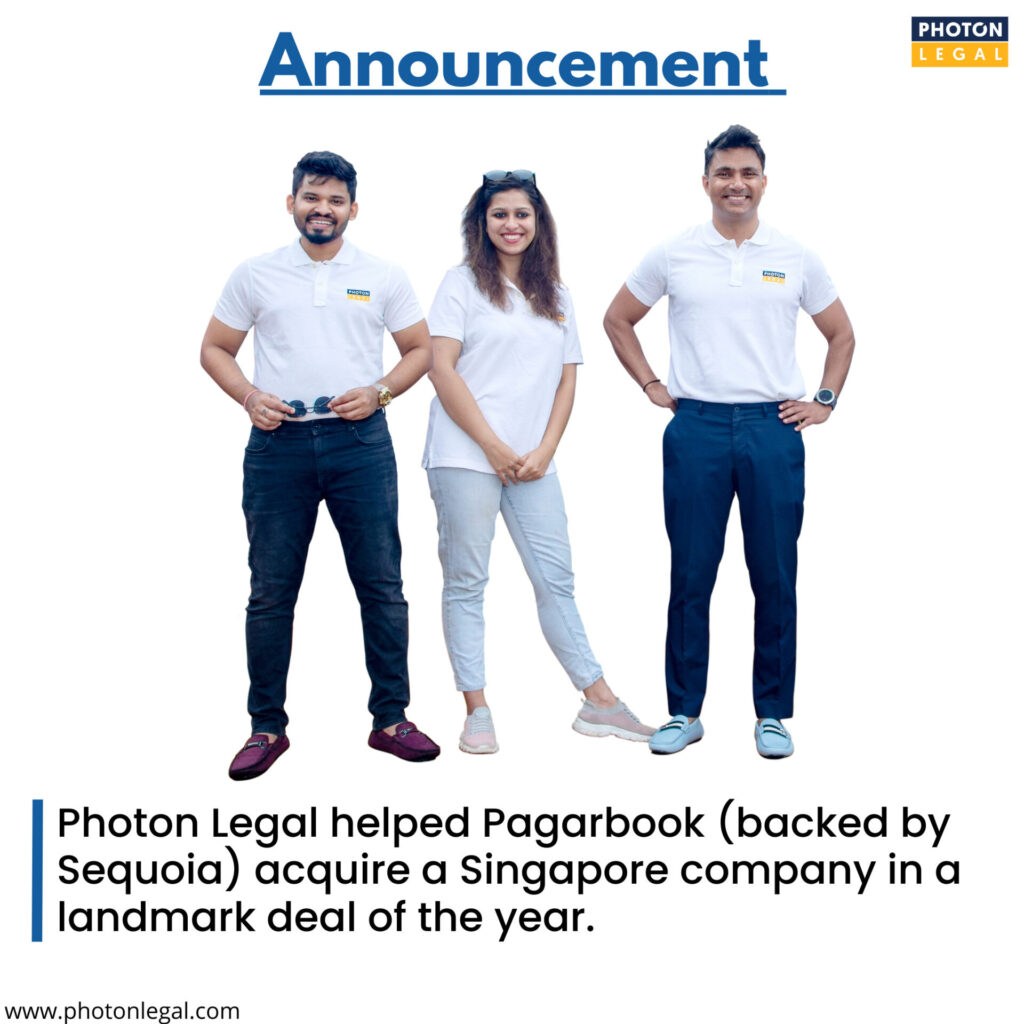 The world of business is constantly evolving, and one of the biggest trends we're seeing today is the rise of international acquisitions. Companies are increasingly looking to expand their reach and strengthen their market position by acquiring businesses in other countries. This is exactly what Bengaluru-based PagarBook has done with their recent acquisition of Singapore-based Vara Technologies.
Photon Legal, a leading law firm in India, played a crucial role in making this acquisition possible. Our team of experienced attorneys navigated the complexities of a cross-border transaction and helped PagarBook acquire Vara for a whopping $5.6 million. This acquisition was a share-swap arrangement, where 122 equity shares with 1,006 Series A4 CCPS were exchanged for $5.6 million!
The deal was led by the founding partners of Photon Legal, Amit Koshal and Prayank Khandelwal, as well as our Head of Corporate Department, Shruhita Amit. These individuals bring a wealth of experience and expertise to the table, and their hard work and dedication played a crucial role in making this acquisition a success.
So, why did PagarBook decide to acquire Vara Technologies? The answer is simple: Vara Technologies is a leading provider of mobile app services in Southeast Asia, specifically in Indonesia. PagarBook, which is an Indian company, saw an opportunity to expand its reach and strengthen its market position by acquiring a company that already had a strong presence in the Southeast Asian market. While Vara was a part of the fifth cohort Sequoia India accelerator program Surge, Pagarbook was selected in the fourth batch of the 16-week-long program. Sequoia still remains a major investor in Pagarbook post the acquisition.
With this acquisition, PagarBook will be able to leverage Vara's existing user base and reputation to gain a foothold in the Southeast Asian market and grow their business. This is a smart move for PagarBook, as Southeast Asia is a rapidly growing market with a lot of potential for businesses looking to expand.
But, as with any international acquisition, there are always going to be complexities and challenges that need to be overcome. This is where Photon Legal comes in. Our team of experienced attorneys have the knowledge and expertise needed to navigate these complexities and ensure a smooth and successful transaction.
We understand that every acquisition is unique, and we work closely with our clients to understand their specific needs and goals. In the case of PagarBook and Vara, we were able to provide legal guidance and support throughout the entire process, from the initial negotiations to the final closing of the deal.
This acquisition is a significant deal for both PagarBook and Vara, and we are proud to have played a key role in making it happen. It's also a testament to the growing trend of Indian companies looking to expand their business in Southeast Asia. We believe that this trend will continue to grow in the coming years and we are ready to help more and more Indian companies to expand their business overseas.
In conclusion, Photon Legal is proud to have been a part of PagarBook's successful acquisition of Vara Technologies. Our team of experienced attorneys have the knowledge and expertise needed to navigate the complexities of a cross-border transaction, and we are dedicated to helping our clients achieve their business goals. If you're considering an international acquisition, don't hesitate to reach out to us. We're here to help you every step of the way.
Disclaimer
All efforts are made to ensure the accuracy and correctness of the information published at Legally Flawless. However, Legally Flawless shall not be responsible for any errors caused due to oversight or otherwise. The users are advised to check the information themselves.