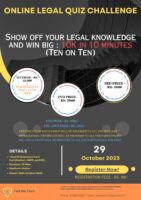 About the Quiz Competition
The major objective behind organizing such a Quiz Competition is to give students and Professionals the opportunity to demonstrate their thinking and knowledge in a well-connected and compact manner.
Theme of the Quiz
Questions from Constitution, IPC and CRPC will be asked.
Eligibility
All students enrolled bona fide in an undergraduate i.e. 3 years/ 5 years law program conducted by any college or university, legal professionals, judiciary aspirants, candidates pursuing LL.M and law teachers shall be eligible for participation in the competition.
Registration Guidelines
Registration fess of the quiz is Rs. 99/-
Participants will be added on the WhatsApp group wherein link of the quiz and other important updates will be shared.
General Rules
The quiz will be conducted on 29/10/2023 and will be available from 11:00 AM to 11:10 AM. To avoid any inconvenience, the participants are advised to be ready 10 minutes before the commencement of the quiz.
There will be 20 questions of 20 marks in the quiz. The questions will be based on Constitution, IPC and CRPC.
It is an Online MCQ based Quiz.
There will be no negative marking.
Tell me Tech will not be responsible in case of any connectivity/device failure during the Quiz.
In the case of a tie, the one who takes less time to complete will be given preference.
All the participants will be provided their certificates within 2 weeks from the Date of quiz.
Important Dates
Opening of Registration: 19/10/2023
Last date of Registration: 27/10/2023
Date of Quiz Competition: 29/10/2023
Declaration of Results: 30/10/2023
Payment Details
Google pay at 8758534686 (Please share the screenshot of the payment at 8758534686).
Registration Details
Interested candidates can apply through the link:
Click Here to Register!
Perks
First Position: A cash prize of Rs.10,000 + Certificate of Merit + Internship at Tier 1 law firm + Free Legal Drafts
Second Position: A cash prize of 5,000 + Certificate of Merit + Free Legal Drafts
Third Position: A cash prize of 3,000 + Certificate of Merit + Free Legal Drafts
Fourth Position: A cash prize of 2,000 + Certificate of Merit + Free Legal Drafts
Fifth-Tenth Position: A cash prize of 1,000 + Certificate of Merit + Free Legal Drafts
All the participants shall receive Certificate of Participation.
Free Legal drafts will be provided to all the participants .
Contact Information
In case of any queries, please mail us at [email protected] or WhatsApp on 8758534686
Disclaimer
All efforts are made to ensure the accuracy and correctness of the information published at Legally Flawless. However, Legally Flawless shall not be responsible for any errors caused due to oversight or otherwise. The users are advised to check the information themselves.