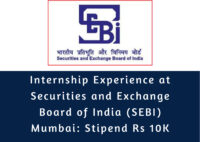 This internship experience is shared by Mr. Pradyumn Yadav, student at Institute of Law Nirma University.
About Securities and Exchange Board of India (SEBI)
In 1988, Sebi was constituted as the regulator of capital markets in India. Initially, Sebi was a non-statutory body without any statutory power. Following the passage of the Sebi Act by Parliament in 1992, it was given autonomous and statutory powers. It specializes in securities law and capital markets. It has various departments under it like LAD1, LAD2, ED, IT and many other such departments.
Application and Selection Process
I got to know about the internship opportunity at SEBI through my brother when I was in the third year. However, SEBI takes interns only from the fourth and fifth year in a 5-year law course and second and third year in 3-year law course.
The form is open from 1 to 7 of every month on the website of SEBI. So, if you want to apply for the month of August, you must fill out the form in the month of July between 1 to 7 of July. In the form, the applicant needs to fill in the basic details, achievements, and publications. Other than that, the applicant is supposed to attach the CV and a letter of recommendation from his/her college in the format provided by SEBI on their website. Then based on that they shortlist 5 to 6 interns in one month. One of the legal officers will mail you regarding the selection and the date of joining within 20 days of filling out the application.
First Impressions and Onboarding
On the very first day, we went to the head office and met our reporting officer. He then introduced us to the CGM of the Legal Affairs Department (LAD 2). There we had an introduction and got to learn about the working of different departments of SEBI. Then we had lunch and after that, we all were allotted different departments. On the very last day, we were lucky enough to have attended the session by the chairman herself.
Day-to-Day Responsibilities
Our day-to-day responsibility included drafting, researching and creating the data. After every week you must report to the reporting officer (in my case as I was given the ED department my reporting officer was the CGM herself). On the last day of the internship, you will have to mail the data and also create an internship report which would include the work undertaken by you.
Challenges and How You Overcame Them
The major challenge and obstacle were traveling in local train and bus. There is so much rush in the buses that I wasn't able to find a seat even for a single day. Further, things became worse as I interned during the monsoon season.
So, if you are planning to intern in Mumbai during the monson season, then you must make sure to carry an umbrella and it is strongly suggested to avoid formal shoes, instead one must buy a plastic formal. Also, finding a good PG with a reasonable price was a task in itself but thanks to my family and friends who helped me find a good PG.
How did you find accommodation in Mumbai?
I found it through a friend of mine. My PG was in marine lines and the office of SEBI is at BKC (Bandra west). My office was almost 20 KM far from my PG and it took me almost 1 hour to reach the office i.e., 30 minutes from marine lines to Bandra station and 20 minutes from Bandra station to BKC.
How much money (approx.) will a student have to spend if he/she is willing to intern in Mumbai?
The amount of money a law student would need to spend while interning in Mumbai can vary widely based on several factors, including the duration of the internship, and the student's lifestyle and preferences. I have pointed out basic expenses which need consideration:
Accommodation: On average, hostel or PG accommodation might cost about Rs 14,000 to Rs 15,000 per month, while a rented apartment or hotel could be more expensive.
Food: Food expenses can vary based on your eating habits. If you arrange your food from the PG itself or eat at affordable local eateries, it can be relatively cheaper. The Lunch was provided in the SEBI Office. However, apart from that I had to spend around Rs 3,500 from my own pocket.
Commutation: Expenses related to commuting to your internship location will depend on the distance and mode of transportation. If you use public transport or rely on services like Uber or Ola, it could be expensive. If your internship is unpaid and requires you to travel or attend events, you may need to budget for those additional expenses. For me, the travelling expenses were around Rs 1500 for the whole month.
If it's your first internship in Mumbai and you want to explore Mumbai then you will require at least Rs 20,000.
Were you also paid a stipend? (If yes, how much)
Yes, I was paid a stipend of Rs 10,000 which is be transferred to your bank account within one month after the completion of the internship period.
How will you rate your SEBI Internship Experience on a scale of 1 to 10?
I honestly enjoyed working in SEBI. So, I would rate it a 7.5. Further, I would like to give 1 point extra for the delicious food they provide. So, my experience on a scale of 1 to 10 will be 8.5.
Disclaimer
All efforts are made to ensure the accuracy and correctness of the information published at Legally Flawless. However, Legally Flawless shall not be responsible for any errors caused due to oversight or otherwise. The users are advised to check the information themselves.