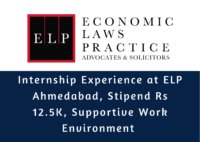 About Economic Laws Practice (ELP)
Set up in 2001 with the aim of bringing together a diverse set of professionals to deliver effective solutions for clients, Economic Laws Practice (ELP) is a leading full-service law firm in India with offices in Mumbai, New Delhi, Pune, Ahmedabad, Bangalore, GIFT City and Chennai.
With 200+ qualified professionals they assist clients on transactional, advisory, litigation, regulatory, trade, competition and tax matters. Ranked amongst the top ten law firms in India (RSG Report 2019), ELP is recognized as a top tier firm by Chambers Global, Legal 500, IFLR 1000 and AsiaLaw Profiles. The firm has an excellent Taxation and Capital Markets Practice as well and counts SEBI amongst one of its clients. ​Additionally, ​it is one of the few firms where Associates from the Litigation Team actively appear in Court.
Application and Selection Process
I discovered the internship opportunity at ELP through their official website and legal internship portals. To conclude the application, one needs to submit a detailed 2-step application process. This includes filling up of the application form available on their website with relevant details after which one has to take an online quiz. The quiz consists of questions related to basic concepts across various areas of law practice. Once both these steps are completed, your application will be submitted.
The firm strictly adheres to the above-mentioned process and no internship requests/applications are accepted on the email and any such request/application is to be routed through the portal only. I got the confirmation via e-mail itself with a deliberation with the H.R. regarding the preferred location and the area of practice for the internship.
First Impressions and Onboarding
My first day at ELP was both exciting as well as overwhelming. The office was located in Ahmedabad, and the administration and front desk team was incredibly helpful and provided me with a basic introduction to the office, HR Forms and the assigned computer systems to the respective interns. Further, an orientation session was scheduled on the very first day by the H. R. team, where I learned about the firm's culture, values, and expectations. I was also assigned with the practise area according to my interest. (However, it would also depend upon the location wherein one is interning)
I'd like to include a small piece of advice to all budding interns: Avoid being submissive. Instead, take initiative. Interact with others. Prepare a brief thirty-second profile talk, explaining your objectives and area you would like to work upon. Approach individuals, regardless of their position. If you notice someone available for a casual chat, engage them into one. Additionally, express your interest in getting involved with a new task. Don't jump straight into pleading for work; otherwise, you might find yourself handling clerical work.
Day-to-Day Responsibilities
The office operated on a five-day workweek, however, if you want, you can also visit the work on Saturdays as well. The office typically commenced at 9:30 am, and you can leave between 6:30 and 7:00 pm, unless you're assigned with any urgent tasks. For female interns and employees, the departure time was 6:00 pm. You could request time off without any stipend deductions or unnecessary complications, however, in the orientation itself, it was advised to notify the HR department in advance. Additionally, if you were assigned tasks, it was essential to seek permission from the person who allocated them before taking leave.
Working at ELP in the Tax Team typically involves tasks such as drafting, providing opinions, and researching on various notifications & precedents on matters related to Indirect Tax and Customs Act. What's noteworthy is that you are afforded a significant degree of autonomy in your work, and often, it's your contributions that are highlighted and utilized.
On my very first day, I had a personal interaction with the Partner, which was a pleasant surprise and a departure from the usual process seen in larger law firms where interns often need to proactively seek attention.
After inquiring about my preferences regarding the type of work I'd like to engage in (yes, you can decline assignments here if they don't align with your interests). One aspect I particularly appreciated about this firm, something I rarely encountered in my previous workplaces, was the direct involvement of Partner and other Associates. If you see they have time for a casual conversation, you can approach them for career talks and your interests as well.
Learning and Professional Growth
During my internship, I experienced substantial growth in both my skills and knowledge. I had the privilege of delving deep into various aspects of Customs law, taxation, and honing my legal research techniques. The guidance and mentorship I received played a pivotal role in my development. My mentor offered invaluable insights into the legal field, which not only enhanced my understanding of the industry but also contributed significantly to my drafting and analytical abilities.
Furthermore, I had the opportunity to attend the court hearing in one of the matters. These learning opportunities exposed me to intricate legal matters, expanding my comprehension of complex legal issues. Overall, my internship was an enriching journey that equipped me with practical skills, knowledge, and a deeper understanding of the legal profession, thanks in large part to the mentorship and resources available to me during my time with ELP.
Challenges and How You Overcame Them
As it was my first law firm internship, I encountered several challenges that tested my adaptability and problem-solving skills. One notable challenge was the steep learning curve associated with understanding the firm's complex legal procedures and systems. Initially, I felt overwhelmed by the sheer volume of legal documents and terminology that I needed to grasp.
One of the challenges I encountered during my internship involved handling a substantial workload and meeting strict deadlines. To address this, the skills of task prioritization, maintaining orderliness, and reaching out to colleagues for assistance when necessary was important. My proficiency in managing time also notably improved. Furthermore, adjusting to the fast-paced atmosphere of Ahmedabad presented initial challenges, but as time passed, I became more accustomed to it.
To overcome this challenge, I implemented a proactive approach. I sought guidance and clarification from senior colleagues and mentors, asking questions whenever I encountered something unfamiliar. I also dedicated extra time outside of regular work hours to research and study relevant legal concepts, which helped me gain a better understanding of the firm's practice areas.
How did you find an accommodation in Ahmedabad?
Finding suitable accommodation and an efficient commute in Ahmedabad is crucial for a comfortable and productive stay. Ahmedabad offers a range of housing options, including apartments, PG accommodations, and independent houses.
When it comes to commuting, Ahmedabad has a well-connected metro network together with Bus Rapid Transit System (BRTS), making it convenient to travel within the city and to neighbouring areas.
I stayed with my relatives in South Bopal and traveling was really easy due to Ahmedabad BRTS bus connectivity. From bus, it took a maximum 30 minutes to reach the office. For the people searching for accommodations, it will not be a problem. The Office is just minutes away from the High Court of Gujarat and thus hostels and PG accommodations are easily available.
How much money (approx.) will a student have to spend if he/she is willing to intern in Ahmedabad?
The amount of money a law student would need to spend while interning in Ahmedabad can vary widely based on several factors, including the duration of the internship, and the student's lifestyle and preferences. I have pointed out basic expenses which needs consideration:
Accommodation: On average, hostel or PG accommodation might cost anywhere from INR 7,000 to INR 15,000 per month, while a rented apartment or hotel could be more expensive.
Food: Food expenses can vary based on your eating habits. If you arrange your food from the PG itself or eat at affordable local eateries, it can be relatively cheaper.
Commutation: Expenses related to commuting to your internship location will depend on the distance and mode of transportation. If you use public transport or rely on services like Uber or Ola, it could cost around INR 700 to INR 2,000 per month. If your internship is unpaid and requires you to travel or attend events, you may need to budget for those additional expenses.
Considering these factors, a rough estimate for a law student interning in Ahmedabad for a month could range from INR 10,000 to INR 18,000 or more, depending on their choices and preferences. It's essential to plan and budget accordingly to ensure a comfortable and productive internship experience at ELP.
Were you also paid a stipend? (If yes, how much)
The stipend is one of the biggest plus points to intern at ELP. While the stipend was modest, it helped cover some of my expenses during the internship.
Final year students are given a cheque of Rs. 12,500/-. The amount is directly paid to the respective bank account and in other case cheque is posted to home address within a week of your internship being over.
How will you rate your ELP Internship Experience on a scale of 1 to 10?
I would rate my internship experience at ELP as a solid 9 out of 10. It was an exceptional opportunity that offered me a wealth of legal insights, exposure to diverse practice areas, and a nurturing atmosphere for learning. The only reason I didn't rate it a perfect 10 is due to occasional high-pressure situations; however, these challenges ultimately played a vital role in my growth as a legal professional. Overall, it was an immensely rewarding experience that substantially enriched my skills and career prospects.
Disclaimer
All efforts are made to ensure the accuracy and correctness of the information published at Legally Flawless. However, Legally Flawless shall not be responsible for any errors caused due to oversight or otherwise. The users are advised to check the information themselves.