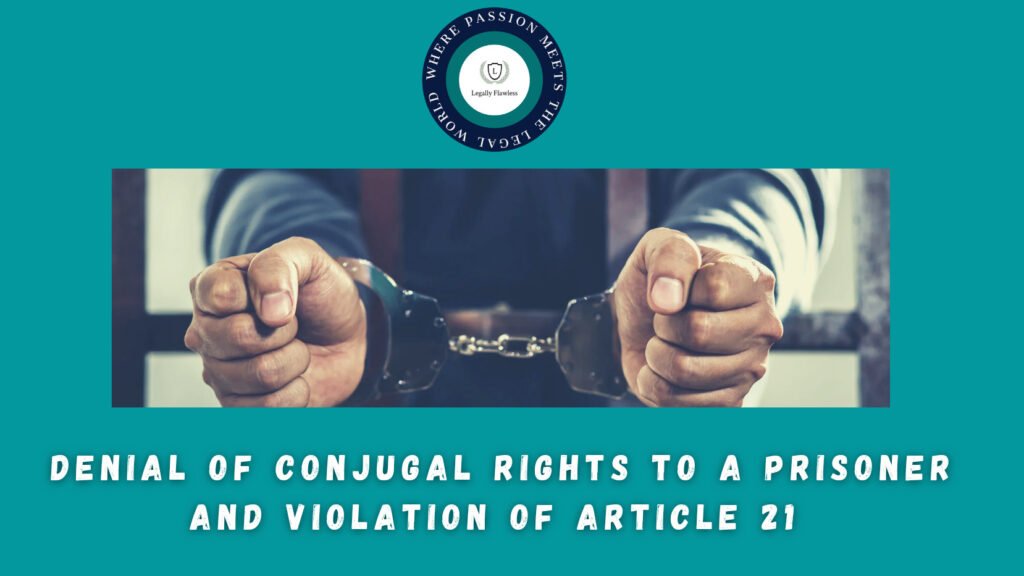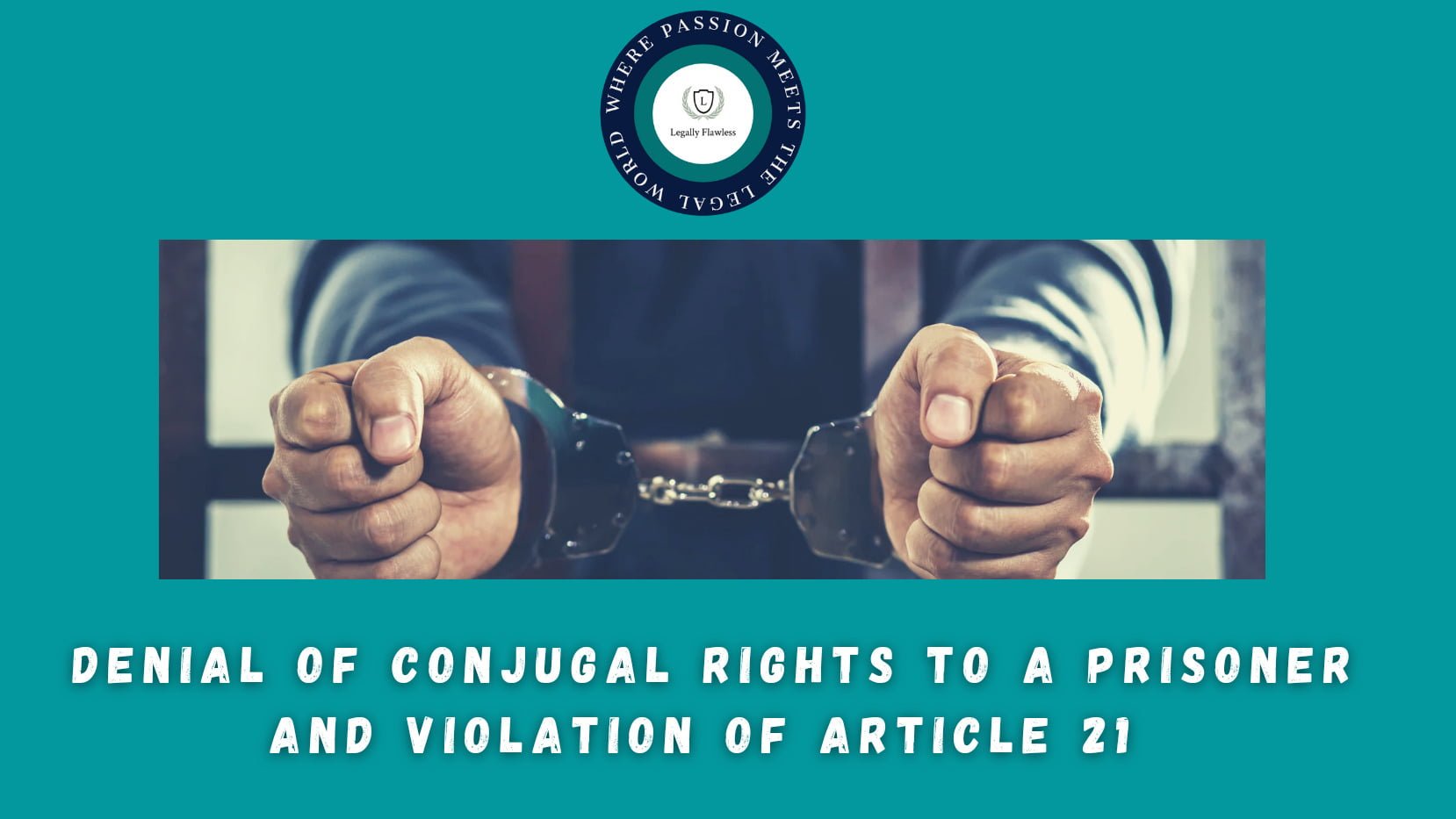 What are Conjugal Rights?
Conjugal rights of a married couple gives them the right to cohabit together, share love and companionship, have sex and procreate, and secure a meaningful place in each other's societies. Conjugal rights are linked with the deepening of marital bonds and are considered to be an indispensable part of a successful marriage by our society.
Conjugal Rights of Prisoners: Pros and Cons
One of the issues that emerge inside prison is that of sodomy i.e non-consensual homosexual sex, in other words, sex done solely to release pent-up frustration from being incarcerated for long. Some say that the provision for conjugal visits could help curb this problem as inmates would be able to fulfill their physical and emotional needs by meeting their spouses and spending time with them.
This could also help foster a safer and more stable environment for other prisoners since people would be able to satisfy their urges through their partners and would not feel the need to violate one another in order to claim their masculinity.
Moreover, 'family time' could incentivize prisoners to be on their best behavior, and keep them hopeful of meeting their loved ones if they conduct themselves properly. In this manner, they will have something to look forward to every few days and this will prevent them from being pushed to the brink of bad mental health that comes with being cut off from society and being locked in dingy-overcrowded spaces. Considering India follows a reformative theory of punishment where the ultimate goal of punishment is to make the convict fit to re-enter the society as a functional adult, regular interactions with spouses/family will equip them well to re-enter the society after serving their sentence.
Not only do conjugal visits stand to benefit the prisoners, but also their (innocent) marital partners who have not done anything wrong per se, but are made to live away from their partners because of their crimes and wrongdoings. Conjugal visits may help these individuals in feeling connected with their spouses since marriage dynamics undergo a diametrical shift as soon as one of the spouses is sent to prison. This can help in preventing future divorces or breakdown of marriages.
Coming to the flipside of allowing conjugal visits, a couple could get pregnant by chance(and decide to keep the child), and since one of the parties is already serving their sentence, the (financial and emotional) burden of raising the children will almost completely fall on the other spouse. This can have harmful consequences not just for the couple, but also for the child's growth and development. Since prisons in many countries (including those of India), are terribly overcrowded, building additional rooms and infrastructure to facilitate conjugal visits will be a huge burden on the exchequer. Privacy granted during these visits could also become a reason for easy smuggling of Contraband items into the precincts of jails. Moreover, since not all prisoners are eligible to avail of conjugal visits, this could create a feeling of disparity between them. It can also be argued that society does not owe anything to these prisoners. After all, they have gone to jail because of their own actions/inactions, and the purpose of jail is to make them serve their punishment, not to entertain their wishes or provide them with a sense of normalcy. Therefore, public money need not be splurged on constructing needless infrastructure for them.
Article 21 and Humanitarian Concerns
Article 21 of the Indian constitution states that "No person shall be deprived of his life or personal liberty except according to procedure established by law." Time and again, Indian courts have provided liberal interpretation to this article to expand its scope and protect the rights and dignity of prisoners and under trials. Some of these rights are:
Right to a speedy trial (Hussainara Khatoon vs. Home Secretary, State of Bihar, 1979)
Right to invoke the writ of Habeas Corpus in case of excesses by prison authorities (Sunil Batra vs. Delhi Administration, 1979)
Right against prison torture and cruelty (Francis Coralie Mullin vs. The Administrator, Union Territory of Delhi, 1981)
Free legal must be provided to the less privileged(M.H. Hoskot vs. State of Maharashtra, 1987)
Meharaj v State of Tamil Nadu and others(2022): The petitioner(aged 32) is the wife of a prisoner(aged 40) who's serving an 18-year-long imprisonment. The couple does not have a child but is advised by a doctor to go for infertility treatment to beget one. The husband is released initially for a period of 2 weeks and an extension of 2 weeks may be further granted if needed.[3] In place of seeking an extension of the previous leave period, a fresh petition is filed by the petitioner seeking another 6 weeks of leave.[4]There is no provision for grant of ordinary/emergency leave pertaining to conjugal visits, in the Tamil Nadu Suspension of Sentence Rules(1982). As per the 1982 rules:
Leaves cannot be claimed as a matter of right (Rule 3), otherwise, the prisoner might seek such leaves over and over without proper justification.
The main issue before the court here was whether denying someone conjugal rights is a breach of their rights under Article 21(Right to life).
Rule 20(vii) of the 1982 rules provides for the grant of ordinary leave under "extraordinary" circumstances, for example 'undergoing infertility treatment' here.
The court reasoned that this is an extraordinary situation, but even this right cannot be sought again and again.
The court also asserted that prisoners cannot be allowed to enjoy every right that is available to a free citizen , otherwise, there'll be no difference between a prisoner and a law-abiding citizen.
Jasvir Singh vs. State of Punjab[5](2015): The husband and wife are awarded death penalty, which is later commuted to life imprisonment. They then seek conjugal rights (the permission to live together and procreate in jail premises, or alternatively go for artificial insemination). The 2 pertinent questions here are: A) Whether the right to procreate exists even during the period of incarceration? Yes. This falls under the ambit of the Universal declaration of human rights [6](Article 5 of states that, "No one shall be subjected to torture or to cruel, inhuman or degrading treatment or punishment..") and is also traceable under Article 21 of Indian constitution. B) Whether 'right to life includes the right to conjugal visits or artificial insemination? Also yes, subject to the procedure established by law.
Francis Coralie Mullin vs. The Administrator, Union Territory of Delhi(1981)[7]: A detenue has all the rights available to a free person, except those he is are incapable of enjoying due to incarceration. He is not stripped of his fundamental or other legal rights, except those which are inconsistent with his incarceration, and if any of these rights are violated, the law will immediately come to his rescue.
Sunil Batra vs. Delhi Administration (1979)[8]: Heavy torture(anal rupture) was inflicted upon a prisoner by a jail warden in lieu of money, causing him prolonged bleeding and pain. The court highlighted the need for instant prison reforms and said that no prisoner should be deprived in such a way as is not necessitated by the fact of incarceration. This case further explained the power of Articles 32 and 226 of the courts to issue writs to protect fundamental rights under Part III of our Constitution.
Conclusion
Prisoners are human beings, and though it is understandable that prisoners cannot be treated exactly at par with regular citizens, they still have certain inalienable rights that they cannot be forced to give away even in jail. Prisoners, who display good conduct, pose little threat to the jail authorities and need minimum amount of security, should therefore be allowed to meet their family from time to time. The denial of conjugal rights for a specific purpose may amount to the denial of the fundamental right under Article 21 of the Indian constitution. The necessary infrastructure should be created to facilitate this process and if this is not possible in near time, then paroles and furloughs should be granted. Several states/countries that have experience with conjugal rights show that these visits help in the well-being and reformation of the convict. They also reduce sex crimes in prison [9]. As India's criminal law system follows the reformative punishment theory, granting this right can be a major rehabilitating factor. As nations progress and  the overall welfare of the citizenry takes the central stage, human rights become more and more of an important issue. Those who are rich and are well off are important, but those who are deprived and at the lowest rung of society are no less  human beings. It's high time that the Indian legislature started thinking in this direction and came up with a law concerning prisoners and their marital rights/family rights.
This article is authored by Anshika Singh, student at Institute of law, Nirma University
[1] http://docs.manupatra.in/newsline/articles/Upload/22A58DF8-EA77-472B-B0B5-F06ECDF5EB61._Goyal_Dr._Asst._Prof._57-73_Family.pdf
[2] https://indiankanoon.org/doc/1199182/
[3] https://indiankanoon.org/doc/167406695/
[4] https://indiankanoon.org/doc/161803969/
[5] https://www.casemine.com/judgement/in/56e6687f607dba6b534332b3
[6] https://www.un.org/en/about-us/universal-declaration-of-human-rights
[7] https://indiankanoon.org/doc/78536/
[8] https://indiankanoon.org/doc/778810/
[9] https://www.prisonlegalnews.org/news/2016/aug/26/study-argues-conjugal-visits-can-reduce-number-prison-rapes/