CV | Cover Letter | Resume | Law Internships | Legal Internships | Law Students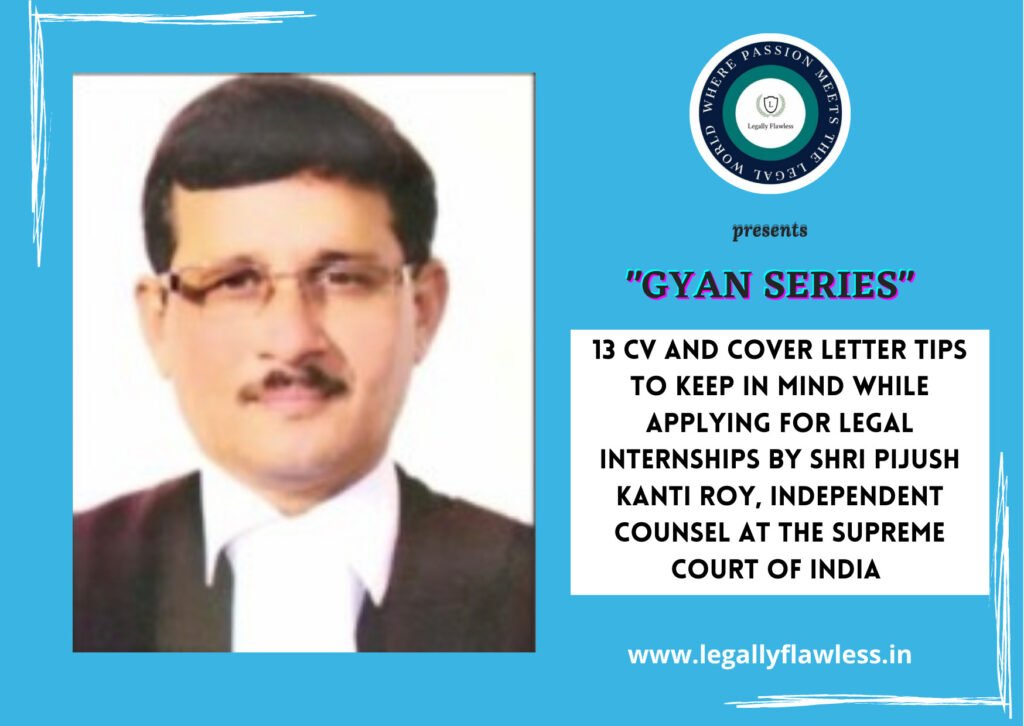 Recently, Shri Pijush Kanti Roy, Independent Counsel at the Supreme Court of India, invited internship applications from law students for the months of July-August, 2022. Shri Pijush, shared the feedback in terms of the quality of applications received through LinkedIn.
Some of you might have already gone through the post but we are sharing the complete post here with Sir's permission so that it reaches a lot more law students. To read the post on Linkedin: Click Here
According to him, some of the applications were greatly drafted but, a major chunk of them exhibited fundamental problems, on which I think law schools should work upon at the earliest. So here are my two takes and a few suggestions on how to ace internships and how to stand out of the crowd, even if you do not fulfill the requisite criteria:
Firstly, always make sure you are making the job of the recruiter easy. Think of it like an examination where you need to write a 12 or 15 marker answer. We all know that the examiners do not read every line of your exam sheet, so, we make their job easy by highlighting and directing them to relevant points by means of underlining the relevant parts only or writing the answers in bullet points and headings. Similarly, just to reduce the efforts of the recruiter, always make sure that you write the cover letter in the body of the email only. No need to attach a different cover letter. Make it a short, to the point cover letter so that it acts as a prelude to what you offer in the CV;
Follow the instructions. If the recruiter is looking for candidates in their 4th and 5th year/final year of law school, then respect the requirement. I have received applications from CLAT UG aspirants appearing in 2022 to reserve an internship spot for December 2022 xD ;
Always respect the age of the person, who is recruiting you. Study/search about the person on google or do a simple LinkedIn. I have received emails with my first names and with the new-age "Yo!" and "Wassup". Please avoid all of this and respect the formal boundaries;
Please spell the name correctly of the concerned person. Pijosh, Piyush, Pikush, PK, Dijush, I have seen a lot many versions of my name, which instantly motivated me to reject the applications outrightly. Always do your due-diligence with a lot of care and attentiveness
A big no-no to Word Docs. Always send your CVs in PDFs. And those people converting the .pages file to .doc, please make sure the recruiter does not see rectangles all along the page. Safest- send it in a PDF file. Also, DO NOT send handwritten and scanned CVs. As a formal application, it is expected that you have a sound knowledge of using MS Word so demonstrate that skill through your CV;
Avoid tables in the CV. They end up taking a lot of space. Also, no need to elaborate all of your semester marks and individual subject scores. The CGPA will do for me and if there are certain subjects where you have topped or obtained extraordinary marks, do mention them briefly;
Always make sure the font of the CV isn't too small. I, like many other senior people have trouble in going through the CVs having font size of 10 or 9, just to to fit the content in 2 pages. Please do adhere to the standard TNR 12 with 1.5 spacing;
Always make sure that your work experience/internships are mentioned in a newest-oldest order. It helps the recruiter to assess you on the basis of your recent relevant experiences because it is highly possible that in your 1st and 2nd year of law school, you did not do core procedural or substantive law related drafting and researching (follow point 1 – make the job of the recruiter easier);
Whenever you are enumerating your internship experience, make sure that it is in bullet points and not in anecdotal form. And do not write generic statements like "worked on arbitration matters and criminal law cases". DO NOT give scope to the recruiter to ask you questions which are beyond your fathomable knowledge. Always be specific in your CV so that the recruiter, if interviews you, can only ask you all questions on those specific topics or sections;
Quality of internships > Quantity of Internships;
A good academic performance is sine qua non for my chamber at least. If the score is less, do substantiate the reasoning for scoring less and indicate your productive involvements in extracurricular activities or even if it is because of a medical exigency or any other personal problem, do mention them (trust me, people understand and are empathetic  );
So far as your extracurricular activities are concerned, understand that your rangoli making certificate which you got in your 7th class or your Mr/Ms Fresher in Law School Freshers Event won't actually influence my decision of selecting you as an intern, rather a certificate of a value-added course, a debate competition in law school, a good research paper published with a good publisher (not the paid ones), a medal in a university sports-meet, being octa-finalist in an international or a national moot court competition would definitely attract my attention and would increase your chances of selection;
No need for a declaration. Understand that a CV of a law student is not same as that of any other professional's CV (or for that matter an affidavit xD ). The generic templates do not work which are available on the internet. Do put in some effort and give something presentable to the recruiter and try applying your mind whether what you are putting in your CV actually makes any positive difference or not;
I wish you all the very best for your future endeavors! Have a great law school journey and an even better innings as a lawyer 😀
Read Also:
Disclaimer
All efforts are made to ensure the accuracy and correctness of the information published at Legally Flawless. However, Legally Flawless shall not be responsible for any errors caused due to oversight or otherwise. The users are advised to check the information themselves.