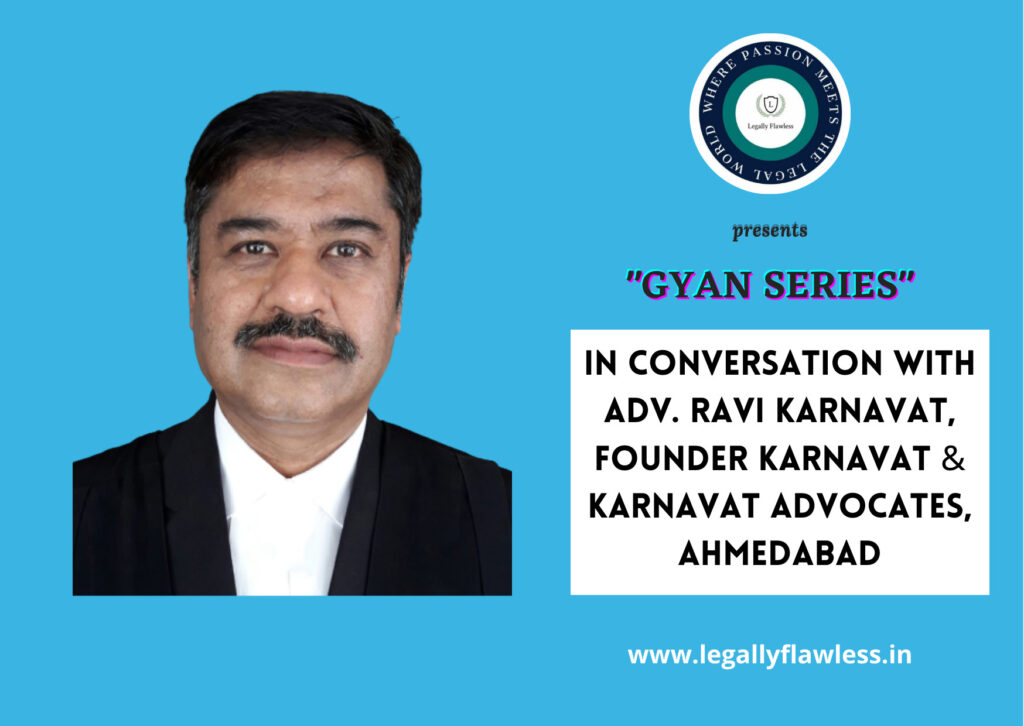 Legally Flawless has started this drive to aware law students and young lawyers for them to achieve in the field of law through strategies from the achievers themselves.
This blog post is part of our "Gyan Series". In this interview, we get to know everything about life as a litigation lawyer and tips to succeed at the bar from Adv. Ravi Karnavat
Adv. Ravi Karnavat is an advocate based out in Ahmedabad, Gujarat. He specializes in arbitration and frequently appears before the High Court of Gujarat and other city civil courts. Sir has an experience of over 29 years.
This interview was taken by Mr. Arjav Shah, Student Partner at Legally Flawless.
Why did you select arbitration and corporate law as your area of practice?
I have no definition of corporate law as such, in my mind. Corporate Law is something which the New Age law firms have started, or the law schools have started. Now, coming to the other aspect, why did you select arbitration? Well, there was a tenant who was into permanent contracts. And he said that he started with arbitration and it is a very fast remedy. And the results seem quick in it. That's how he pushed me into arbitration. And, the rest is history.
Please enlighten us on your journey from a law student to a successful advocate?
I completed my law in 1993. And at that point of time, I never wanted to be a lawyer. Law is something which was forced upon me by some well wishers. But as you know, fate always has things and surprises in store for you. This was my fate. Whether I'm successful or not, only my clients or others can tell, what I can tell is that I'm doing my work. Whatever I have gathered, my knowledge, acumen I'm putting to use, I'm using that acumen. And it has been almost 30 years now. This 5th September, I will be completing 30 years in profession. Just from being nobody to somebody, and still my journey is going on. So it is not, I would say, an overnight process, it is a long drawn process, where you simply have to keep yourself updated, apply the skills, learn, and welcome each day as a new challenge.
What were the challenges and opportunities that you faced being a first generation lawyer?
Well, I cannot say that there were challenges, I would say that there are always opportunities. Number one, being a first generation lawyer, there were no restrictions for me. There were no comparisons for me, which the second generation has to go through. But, I would definitely say that the second generation lawyer has to excel or at least he has to come at par with his ancestors. Whatever was available to me, I grabbed it as an opportunity. And I'm doing the same thing today itself. What was a first generation lawyer 30 years ago, has culminated into a family of lawyers now. We have three members in the family and we all three are lawyers. In fact, my wife is a gold medalist. She received a gold medal in the third year of her degree. My son passed out last year. And he's also a litigating lawyer.
There are as such no challenges. The things are equally difficult for my son, and they were equally difficult for me. But I never thought they would be difficult. Rather, they were only the stepping stones for my success.
Okay, so the answer was quite motivational for me (Arjav Shah) and other law students as well.
What would be the things required by an advocate to establish his or her name in the legal industry?
Any advocate who wants to establish his name needs to have thorough knowledge of law, Number one. Number two, we should be good at listening because, unless and until he listens to his client patiently, he would not be in a position to put the key.
Have the client on paper, that thing he should listen to the judge carefully. So that whatever query is being raised by the court, that is answered precisely for that reason, why should he listen properly, because whatever arguments are being made by the other side, they have to be answered, they have to be repudiated. So, the first and foremost thing is he should be a good listener, it is not necessarily that he should be a good orator.
The judge will always read the brief, the other side will always read the brief and being a person who is qualified to be an advocate, I believe that he is at least well versed in speaking one or the other language, which is permissible under the Constitution where we can address the Honorable court, the court would not mind if your English is full of flaws, as long as you are in a position to convey your ideas. If you get success in one matter, it spreads by word of mouth. So, you have to be very good at your craft.
What skills should I or any other law students develop at Law School and internships so that we can do good and we can perform well in the legal industry?
As I said earlier, you have to be a good listener number one. Number two, you have to give your 100% or more than 100% to your brief. Even if you know that you are on a losing case, still, because you are representing someone's cause, you have to be thorough with this case. You should know more than your client. Your client is going to tell you about the facts, you have to search them to know the judicial precedents and you should do proper analysis, you should not only go by the judicial precedents, because they have been pronounced in a particular given set of facts.
For your client, the facts may be identical, may be similar, maybe all together different. Therefore, first and foremost thing you should know the case of your client thoroughly inside out. Otherwise, it would not be easy for you to convince the court or convince anybody else about the merits of your case.
So what's your opinion on law colleges training students. Are they training students enough to survive and thrive in litigation?
The law colleges have been framed with a view to impart education of law, they will make you aware of the broad principles and that learning is going to stay with you all throughout your life.
Towards legal profession, it is one's own prerogative one's own calling, someone may choose litigation as a career someone may choose non litigation as a carrier, there was an intern who was very clear that she has to join the editorial board of the publication of refugee law for as far as that perspective is concerned to my mind, it will only be a basic qualification and nothing more than that. So I cannot say whether the law Colleges of the law schools are preparing lawyers for legal field or not. They are imparting their basic function there they are there for imparting knowledge of law and nothing more probably that they are doing right. The teacher or the professor in the classroom speaks equally to each and every student. It is for the student whether to sleep in the class to ignore whatever is falling from the teacher or to pay attention to the teacher.
Do you think that there's going to be a lot more competition in the legal field as in the medical and engineering fields right now?
If you consider the entire legal industry which consists of in-house law, jobs, non litigation lawyers and litigation lawyers and teachers, probably the answer will be no, because India has a very huge population and to cater them the amount of qualified lawyers is very miniscule.
It may so happen that once you enter the courtroom, there may be a competition for every post advertised, but that is only if you go for a particular post, if you enter the litigation or what we call is a practice of law primarily, there is no competition because each one gets sufficient to work. And there are those who are more capable of the workflows more towards them. I cannot say that there is huge competition or competition at all.
When I came to Ahmedabad, yes, there were lawyers, there were established lawyers. But still, I got a place to place my foot on the land of Ahmedabad. I started practice, and it has been almost 27 years that I am billing.
And now, I do get recognized somewhere that people know me by name. I'm not just an ordinary lawyer, not anymore now, or just any other lawyer for that matter. So what I have gone through is probably the political process or the journey, and from my experience, I will not say that there is competition.
So what will be your advice for our readers, especially law students, and young lawyers who want their career in arbitration law?
If someone wants to build up the career in arbitration law, he should be well versed about Civil Procedure Code, evidence and Contract Act. These are the three broad laws, which you should be aware of other than being an arbitration lawyer, because ultimately arbitration is a trial, it is not to the trial not in before the court, but before a selected person who has to decide in accordance with the principles of law more particularly natural justice.
If you know the substantial law, then there would not be much difficulty and nobody at this age should say that I am focused only on arbitration. Because to get our case decided in your favor, you have to during the various stages, complete the pleadings, cross examine the witness, lead the evidence, read and interpret the law. My advice would be to join an office of a trial court lawyer and spend couple of years there and learn the tricks, various nuances, and then start thinking that whether you want to go for a particular field of law or still you would like to be generalized Lawyer.