About the University
GLS University was established in 2015 to provide an ideal and creative learning environment and continue the tradition of excellence in the education of the sponsoring body of the University, viz., Gujarat Law Society (GLS).
Gujarat Law Society, established in 1927, is one of the largest and oldest educational institutions in the State of Gujarat. GLS was promoted by luminaries Sardar Vallabhbhai Patel, Shri Ganesh Mavlankar, the first Speaker of the Lok Sabha, and Shri I.M. Nanavati with the vision of Excellence in Education.
About the Journal
"GLS KALP" shall serve as an intellectual platform for the academicians and professionals of various disciplines to exchange knowledge in innovative articles and quality research papers. They seek to establish a platform where knowledge traverses through all disciplines on God's kind Earth; therefore, they have adopted a multidisciplinary approach for the journal.
GLS KALP will be the clarion for all academicians around the world. It shall focus on critical and creative research and seek to promote authentic research and establish a bridge between critical problems and dynamic solutions.
GLS KALP is dedicated to promoting superior quality research activity in the fields of Law, Commerce, Management, Finance, Computer Science, Liberal Arts, Social Science, and Design, among other things.
Call for Papers
The journal accepts submission of empirical research articles, conceptual research articles, case studies, practitioners' viewpoints, interviews with experts, and book reviews. The journal is published quarterly in the online version.
They welcome submissions in the form of Articles and Research Papers.
Theme
Any Multidisciplinary Topic
Submission Guidelines
Only original and unpublished Research Papers will be accepted.
The Research Paper should not be under pending review process for approval with any other journal.
The manuscript submitted should be both in MS-WORD and PDF format.
The journal accepts Single and Co-authorship.
General Formatting: Times New Roman, Body – 12 pt. All headings should be 14 pt., Footnote – 10 pt. Single word spacing, Alignment – Full justified, No borders.
Abstract of min. 200-250 words with 5 keywords is mandatory. (No prior submission is required)
Mode of Citation: 20th edition Harvard Bluebook (Law) / APA (multidisciplinary)
Word limit for the full Research Paper should be 4000 – 5000 words
Submission Procedure
Submit (e-mail) the research paper/manuscript at [email protected]
Eligibility
Academicians and Professionals from the domain of Law, Commerce, Management, Computer Science, Liberal Arts, Social Science and Design may submit their manuscript for publication.
Fee details
No fee will be charged for submitting and publishing the research paper.
Rewards
Accepted papers will be published in GLS KALP: Journal of Multidisciplinary Studies (an online open-access Journal)
Important Dates
Last Date for Submission of Research Papers: July 31, 2022
Contact Information
Ms. Navaneeta Majumder (Assistant Professor)
Phone: 9004548025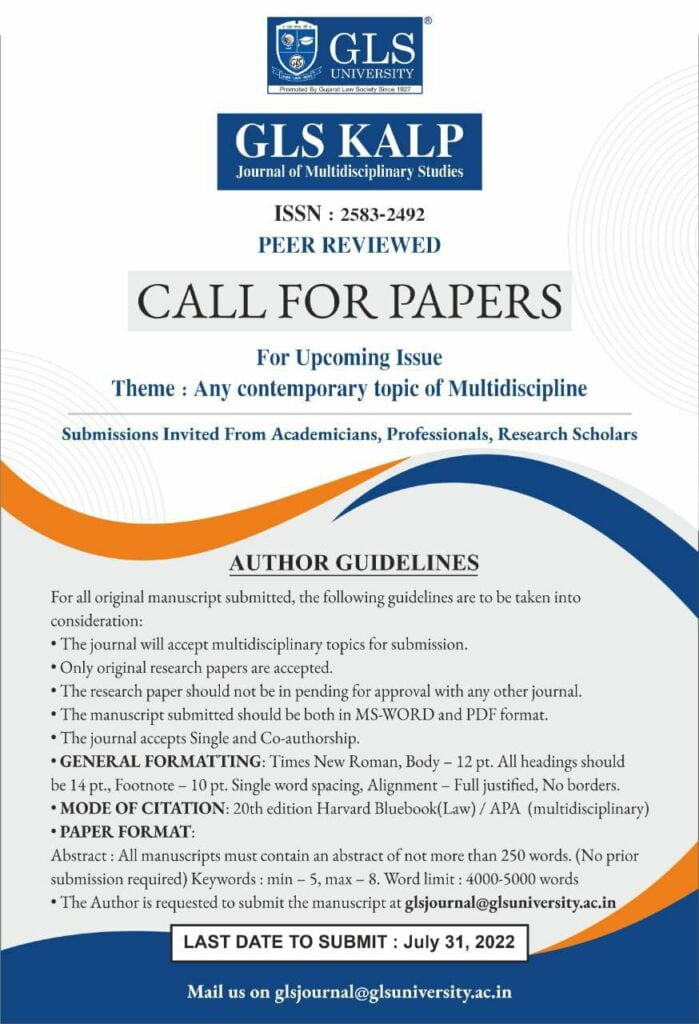 Also Read
If your organization wants to promote any event or competition for the legal fraternity at Legally Flawless, kindly reach out to us at [email protected]
Join our WhatsApp Group for regular updates: Click Here
Disclaimer
All efforts are made to ensure the accuracy and correctness of the information published at Legally Flawless. However, Legally Flawless shall not be responsible for any errors caused due to oversight or otherwise. The users are advised to check the information themselves.