MPCJ Exam 2019
Legally Flawless has started this drive to aware law students and young lawyers for them to achieve in the field of law through strategies from the achievers themselves.
This blog post is part of our "Gyan Series". In this interview, we get to know everything about creating a strategy for Judiciary Exam, grabbing internships at Tier-1 Law Firms and eventually getting PPOs.
Mr. Rishav Dixit is an alumnus of National Law University, Jodhpur who achieved AIR-96 in the Madhya Pradesh Civil Judge Examination 2019 and got a score of 92 in the Prelims Exam of Rajasthan Judicial Services. He was also shortlisted for 3 PPOs and has the experience of working at one of the top Law Firms in India, Cyril Amarchad Mangaldas.
This interview was taken by Mr. Utkarsh Pandit.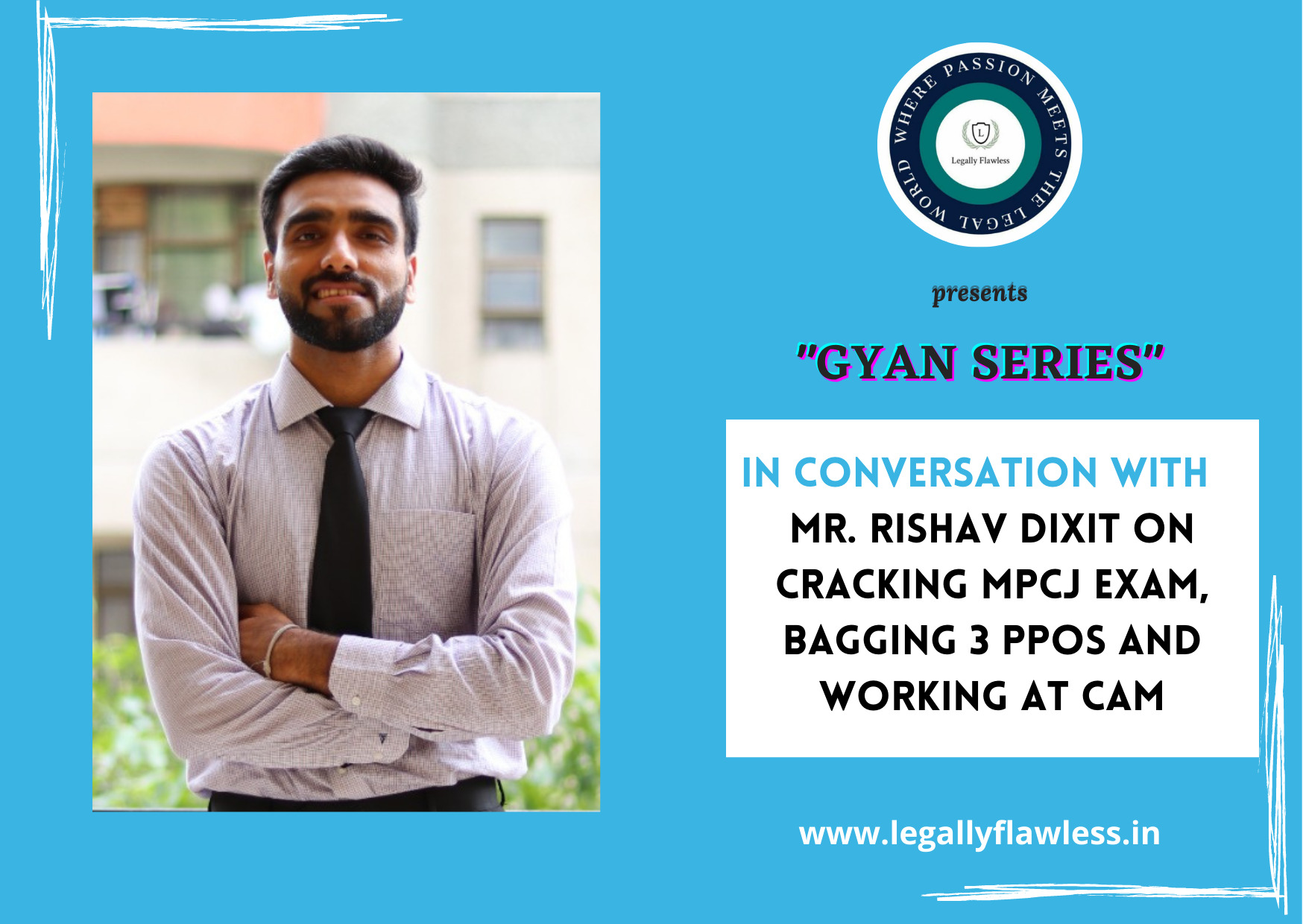 How was your Law School Journey at NLU Jodhpur?
So, to talk about my law school journey at NLU Jodhpur, I think it was amazing. I mean law is a field which is very exciting and very experience enhancing. Simultaneously, the curriculum is such that it is not very difficult, so it gives you a good amount of space to try various other activities. For example, if you talk about my law school, it was a mixture of good academics. It was a mixture of sports, specifically basketball, cricket, gyming, then also chilling with my friends, then trying Moots as well. So, my last journey was a blend of a lot of activities, which I did in order to enhance my overall experience in the college.
What is the role of co-curricular activities in shaping one's overall personality?
I personally believe that moot court is like a Co-curriculum activity in the college, which in any manner does not affect your academics per se. So, for example, I tried Moot Courts once, after that, I was very much into sports, but being in sports and excelling at sports has also helped me in bagging three PPOs. So in my personal opinion, Moot Court Competitions might give you a better understanding of the law, but I think if you speak about future opportunities, to the best of my understanding, it has not helped me or anyone, in a way that it will get you a job or it will do wonders for you. So, for me, sports and Moot Courts are on the same pedestal. That's personally my opinion.
How should law students decide upon their career in Law?
I think opportunities for an In-house counsel are very less. So I think that option comes at a later stage. Speaking predominantly about the top three fields, which are judiciary, litigation and corporate job, I think, a very wise decision can only be made once you have a clear experience of all three of these three. For example, you should do a good Tier-1 Law Firm Internship to understand what are the dynamics of the same; Whether you are able to cope with the need of the same, the long hours and the environment entices you or not.
When it comes to the judiciary, you should also be able to intern at a few of the lower courts to understand the functioning of the judiciary and for that purpose, you can talk to the senior as well who have cracked the judiciary to understand the nuances.
When it comes to litigation, I think it is very much personal to an individual, that whether he likes the idea of litigation or not. So, for that as well, you need to take some litigation internships and need to figure out your interest. So, an informed decision can only made once you try your hands in all these categories to understand which of them suits you appropriately.
So, it is only through internships you get a preface to a subsequent nature of work. So it helps you in not only deciding whether you want to go into or not, but it also helps with making your mind. Say, for example, if you're comfortable with litigation, it will help you to exclude the other two options, so you will get into that right zone. If you specifically ask me, unless you put dedicated efforts in any of the three options, it won't fructify into something useful. So understanding and then excluding other options is the key.
How did you manage to bag three PPOs and eventually begin your law career at Cyril Amarchand Mangaldas?
First thing is, that you need to understand the very basics of getting an internship. If you have a good reference, then it is one way of securing an internship. Another way is, like in my college, a lot of Firms used to come for giving internships, so you have to directly apply through your college. In the very first year, I understood that for getting a handsome job, you need to have a good internship. In order to get internship, you need to have a good rank and to get a good rank, you need to have good marks, so I understood this link at the very initial stage. Therefore, I never compromised with my academics. So, if you are from a Tier-1 Law college, life is comparatively easier because firms will directly come to your college. So, this is step one to getting an internship in a tier-one law firm.
Now coming to other option, what about non Tier-1 Law colleges? So in order to get an internship, firstly, you need to have a basic experience at Tier-two or Tier-three corporate law firms. For example, if the firms are not coming to your college, you keep on applying to that places and keep on following back regarding the state of your application. Simultaneously, you can build your CV in a manner that shows that you are interested in Corporate Law. For example, if you speak about me, in order to bag a Corporate Law Firm Job, I did Corporate Law internships, I had one corporate law research paper, a Moot Court Competition in Corporate Law and I took Corporate Law Honours. So, I tried to form a scenario where anyone would understand that I'm completely interested in it. So, speaking about the second scenario, a student should try to frame his/her CV in such a manner to show that he's interested in Corporate Law. Then, he must apply to all Tier 2/3 Firms initially, so that he can get a fair experience from there. Once he has a good experience of 2-3 internships at Tier 2/3 Firms, then he can apply to Tier-1 Firms like Amarchand Mangaldas and can follow it back with them. So this is how you can secure internships with these firms.
In order to get a PPO, what is essential is to still get a call back from your first internship and you get a call back only if you are able to perform well in your internship. Now there are a few techniques that I always follow.
Willingness to Work: Be always willing to work because at that moment, they want to see your curiosity and if you are easily flustered by a huge amount of work or are you a receptacle, or are you very much open to the idea of working for long hours. So you need to show your willingness.
Maintaining Good Relations: So, you need to maintain good relations with one of your immediate seniors.
So these two things helped massively in getting a callback internship. Then you replicate the same in the callback internship, and that's how you secure a PPO. This was the reason I was able to get three PPO interviews for myself.
How was your experience working at Cyril Amarchand Mangaldas?
While I was interning at Cyril Amarchand Managaldas, I knew the nature of the work which I shall be doing over there for a course of one year. So, CAM being one of the Best Firms in the country, it obviously equipped me with one of the best techniques. It also helped me in understanding the basic nuances of the law. Also I got the opportunity to work on one of the biggest transactions going across the country. So that's how it enriched me with a lot of knowledge. But from the initial days, only my main aim was to go into the judiciary. So, I knew that I will work for two years or something but then due to some personal reasons, I had to leave my job in between and that's how I commenced my preparation.
Most of your Internships were based on Corporate Law. So, how have they helped you get to where you are now?
No, so these two paths are completely different. I wanted to do judiciary as my primary goal, but then I had certain financial constraints. So keeping that in mind, I knew that I will have to do a corporate job for at least two years. So judiciary was the larger goal, but the immediate goal was to get a corporate job, get myself financially secure, and then start preparing once the secondary goal is achieved.
So, if you say how internships helped me in the judiciary. They did not because judiciary requires strict number of hours into study on subjects that are completely different from what we do in corporate internships. So, these two are mutually exclusive because their approach is completely different.
What all State Judiciary Examinations did you plan to take?
So before preparing, I did 15 days of ground research. I tried to understand the nuances of the competition. Then, I realized that you just cannot go for each and every state. It is not humanly possible and it is not feasible. Even if you do that, it will take a lot of amount of time. So, I categorized these exams into three categories.
The First Category is UP and Bihar, which includes a lot of GK and GS.
The Second Category is Delhi, Haryana, and Himachal Pradesh. These are the exams in which Bare Act is given in the mains examination. So, it is more of a conceptual exam.
The Third Category is MP and Rajasthan, which is purely a Bare Act-based Exam. So, my approach was to choose one of these three categories, so that I make my life simpler, that was my entire goal. Therefore, I picked up Madhya Pradesh and Rajasthan Category and I just worked for it only. I did not bother about other categories of exams because the requirements and nature of exams are completely different. So, I chose this one category of exams and cleared MPCJ, scored 92 out of 100 in Rajasthan Prelims, and then eventually walked off my mains because my MP result was positive. So, that was my approach to dealing with judiciary Exams.
How did you prepare for the various stages of the Examination?
My story is different because when I started preparing, I just had four to five months for my Prelims. So I did not prepare in a conventional manner where you rigorously read all the subjects properly and then you prepare yourself and when you finish your preparation of Mains before appearing for the Prelims.
So, I just had four to five months for the Prelims. So I was very strategical about my preparation. I applied the rule of elimination, I eliminated all those things which I thought are not very much essential. Secondly, I tried to do a very limited syllabus. So, I procured notes from Ambition Law Institute and few notes of my friend, Harshit. I tried doing those notes multiple times instead of doing a lot of things. I just did one thing a lot of times, so that my concepts are clear and based on what I'm reading. I did not try to vouch for a lot of sources and a lot of material. Along with that, there was a non-legal part as well. I was fortunate enough to find good books, which helped me to score well in those non-legal parts.
For Mains, MP consisted of four papers. So, law I was reading from the same source. For Judgement writing, I was regularly practicing these four papers because each of them has got the same weightage. For translation, I referred to Manmohan Joshi. For judgment writing, I referred to Robinjeet Singh but I was doing it every day. I distributed my efforts equitably because each paper had the same weightage and most importantly MP has a lot of previous year questions being repeated. So, I did previous your Question Papers religiously. So, that was my technique for Mains.
Coming to interview, it is the easiest part, because you don't have to bother about law because you have already been tested on it. What matters is what kind of personality you are. So in my case, I just prepared my non-legal questions properly. I did not bother about law and other things. I prepared those questions which might come from my DAF which I filled. For Example, why did you leave your job, or Why you didn't go for defense as your dad is in defense. All those kinds of questions create a larger impact as compared to a legal question.
What would you like to say about studying from the Commentaries for Judiciary Examination?
Through the medium of Legally Flawless, I would like to make it clear to everyone that there is no need to refer to commentaries like Takwani or Kelkar, and others. No, there is no need to do that. Because you are not writing a research paper but you are writing an examination paper. So, when I speak about examination paper, it is not just one subject it consists of 15 or 16 subjects. So, if you will start studying from all these big commentaries, it will take a lot of time, and secondly, you will get confused. So my humble opinion is that one should always refrain from referring to such big commentaries and books because they are never meant for competitive exams. If someone is referring you, in my humble opinion, it is misguided to be very honest. You can refer it for clarifying your doubts but that cannot form your study material.
What would be your final advice for law students, aspiring to crack the judiciary Exams and PPOs in Tier-1 Law Firms?
For PPOs:
So, students who want to secure PPOs, the technique is very simple. Somehow, you need to get an internship. If you get an internship over there, then there are two things you need to follow up.
First, be willing to work, you need to share the enthusiasm. If you are able to show that, if you are able to give good amount of hours, which these people are looking for, then you are almost there.
Secondly, maintain good relations with one of your seniors, who can pitch in for you when it comes to talking about you to any senior partner. So, if there is someone who backs you, or who admires you, or who vouches for you that he's a hardworking chap, then you can definitely secure a subsequent internship and a PPO.
So this is two-step guidance for those who are looking for PPO.
For Judiciary:
For Judiciary, my humble suggestion is, Don't fall into the trap of giving all the exams or appearing for all the Exams. Wisely choose your category and secondly, never ever refer to big books while you are preparing for any Judicial Service Exam.
Also Read
Disclaimer
All efforts are made to ensure the accuracy and correctness of the information published at Legally Flawless. However, Legally Flawless shall not be responsible for any errors caused due to oversight or otherwise. The users are advised to check the information themselves.