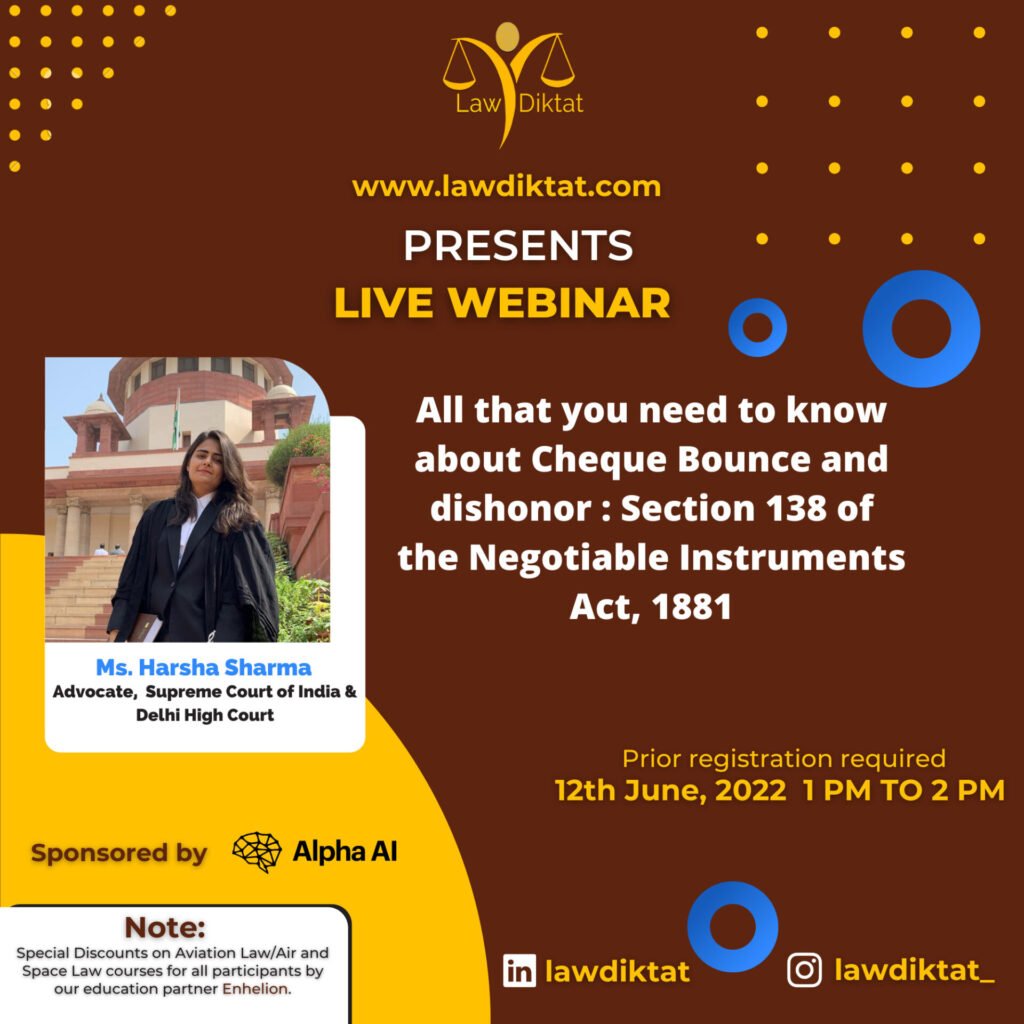 Lawdiktat is hosting a Webinar on the topic 'All you need to know about Cheque Bounce and Dishonor: Section 138 of Negotiable Instruments Act, 1881' on Sunday, 12th June, 2022 from 1 Pm – 2 Pm.
ABOUT LAWDIKTAT
Lawdiktat, a project of Alpha AI aims to bridge the gap between law and technology. With a focus on a variety of different aspects regarding the laws in India, Lawdiktat hopes to create an atmosphere wherein everyone has easy access to their legal needs.
Currently, Lawdiktat is involved in numerous projects relating to Applied AI and implementing it in various parts of the legal sphere to change the way legal work is done and legal help is accessed. Lawdiktat has also started teaming up with professionals of the legal industry in hosting Webinars and other events to help educate the next generation of lawyers.
ABOUT THE EVENT
The Event is on Section 138 of the Negotiable Instruments Act, 1881, dealing specifically with Cheque Bounce and Dishonor. The speaker, Advocate Harsha Sharma is well versed with all aspects of the Negotiable Instruments Act and will aim at simplifying the various intricacies of Section 138 and its applicability, how it works in general and also discussing some of the problems and issues surrounding the section.
The Event will be hosted on Zoom and YouTube. Participants will have to pre-register for the event as the session is an interactive one and any questions can be asked to the speaker in real-time. Link for registration can be found below.
ABOUT THE SPEAKER

Advocate Harsha Sharma is a practicing Advocate in the Supreme Court of India and the High Court of Delhi. She graduated from Guru Gobind Singh Indraprastha University in 2018 with her Bachelor of Laws. She has been practicing at the Delhi High Court for over 5 years now and has immense knowledge regarding financial instruments and their implementation, working, problems surrounding them and so on.
SESSION DATE & TIMING
The Webinar is to be hosted on Zoom and YouTube on Sunday, the 12th of June, 2022 from 1PM – 2PM.
REGISTRATION
The last date to register for the Webinar is Saturday, 11th June, 11:59PM
Registration Link: https://forms.gle/5mJryYWCUekvwHxA6
PERKS
Participation Certificate to all. (T&Cs Applied)
Live query session with the expert
Free of cost.
CONTACT US
For any further details or queries, feel free to:
Disclaimer
All efforts are made to ensure the accuracy and correctness of the information published at Legally Flawless. However, Legally Flawless shall not be responsible for any errors caused due to oversight or otherwise. The users are advised to check the information themselves.