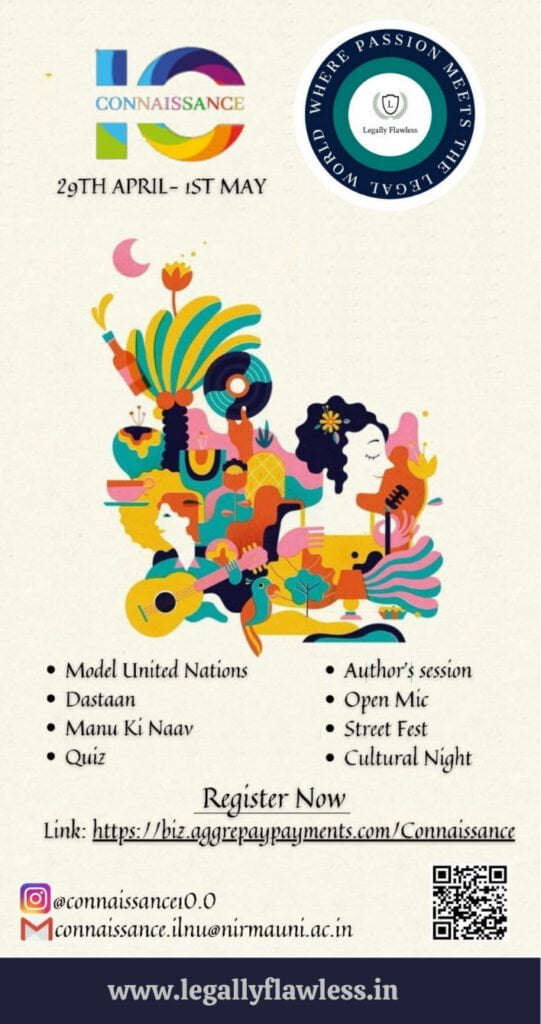 LEGALLY FLAWLESS is proud to be the Media Partner for the Connaissance 10.0
Connaissance at a Glance
Connaissance, the iconic literary and cultural festival held annually by the Institute of law, Nirma University, is a celebration of the various facets of student life. Having begun as a joint effort of students to foster the love of knowledge, literature, and art, it strives to propel the wheels of wisdom by acting as a rostrum to attract the exchange of ideas. With this highly anticipated 10th edition, Connaissance aims to serve as a platform for the free and democratic expression of a diverse mix of ideas emanating from the country's finest writers, thinkers, jurists, humanitarians, and entertainers by bringing them together on one stage through the organization of various events and facilitating engagement by means of debate, discussions, poetry, quiz, and entertainment. Through hosting events like, Model United Nations, Daastan, Manu ki Naav, Street Fest, Cultural Night, lzhaar, InQUIZitive, and Pratyancha, Connaissance aims to promote acuity and inculcate a spirit of literary and cultural enthusiasm.
About the Events
Model United Nations
A significant part of the Connaissance, the Model United Nations inculcates the spirit of globalization through an educational simulation that deploys various United Nations Committees to address and disseminate information about issues of international importance and concerns that need effective deliberation. Through this simulation, a variety of global concerns ranging from climate change to political crises are highlighted and along with that, to give the whole event an Indian perspective, the problems faced by the Indian State and the policies adopted subsequently, are deliberated upon by Indian Committees such as the Lok Sabha. MUN is an intellectual exercise and is steered by students who assume the roles of delegates and represent various nations. The event stimulates students to learn about diplomacy, international relations, role of the United Nations and treaties and exhort them, to bring about a change by engaging in meaningful discussions and quest after a way out from the current and impending obstacles while being in line with nations' municipal law and policies.
Cash Prize:
Best Delegation- Rs. 10,000
High Committee- Rs. 5,000
Special Mention- Rs. 3,000
Registration Charges:
Without accommodation- Rs. 1,500
With accommodation- Rs. 4,000
Daastan
Humans have long used pictures to communicate their greatest tales. Photographs carry with them vital memory cues and hold value as through this two-dimensional art, humans are able to mesh the experience of engaging with each other by exchanging their thoughts while also keeping a record of the past, and surprisingly, photographs end up becoming a delightful form of expression which hold the enigmatic power to capture the sentiment of the subject of the photography as well as the one who captures it. Recognition of this talent is precisely the inspiration for the photography event, Dastaan. It seeks to create an enriching record of visual memory by inviting the participation of people from across the country to exhibit their talent for capturing this dynamic and convey a story through the photographs captured by them. This year's theme, "the Heritage of India" aims to encourage budding photographers to encapsulate the diverse Indian culture, all in one frame. It is the only event under Connaissance that is extending to virtual space to ensure maximum involvement of participants.
Cash Prize:
1st Prize: Rs. 2,000
2nd Prize: Rs. 1,200
3rd Prize: Rs. 800
Registration Fee:
For the students of ILNU: Rs. 50
Other participants: Rs. 100
Manu ki Naav
One of the flagship events of the festival, Manu Ki Naav embodies the spirit of Connaissance. It stands as a one-of-a-kind, thought provoking event, which would truly invigorate the participants and the judge and encourage them to put their thinking caps on by attempting to arbitrate between rationality and human emotions that are often dictated by bias and prejudice. This event represents the lifeboat dilemma in its own novelty wherein the participants would be required to assume the role of any character and persuade the judge to let them board the lifeboat. A classic and exemplary representation of the moral and ethical dilemma faced when dealing with a conundrum, it impels the participants as well as the judge to expand their avenues of thought by reckoning with diverse perspectives and viewing a character with a lens that is devoid of any preconceptions.
Cash Prize
1st prize- Rs. 3000
2nd prize- Rs. 2000
3rd prize- Rs. 1000
Registration
For ILNU student – Rs. 50
Other participant fees- Rs. 100
LET'S Be InQUIZtive
A mosaic of multi-cultural experience- Inda is a land of rich heritage, myriad attractions, sumptuous food, vibrant traditions, spirituality, festivals, history, and vast landscapes.
Doesn't a quiz on this topic sound exhilarating? Here is your opportunity to show your inQUIZitiveness and gear up for this double delegation event! What joy would it be to represent your team and reflect energy! An enthusiastic quiz master awaits your presence. This is your sign to grab the front seats and win this segment. This is your perfect chance to be swift, practical, and display the quick wit that you possess. So, sit back, relax and start cudgeling your brains!
To participate as exciting prizes await you!
Cash Prize:
1st prize- – Rs.5,000.
2nd prize- Rs. 3,500
3rd prize- Rs. 2,500
Registration Fee:
For ILNU student fees: Rs. 100
Other Participants fees- Rs. 200
Pratyancha
"It is in the literature that the concrete outlook of humanity receives its expression."
– Alfred North Whitehead
This event is truly dedicated to celebrating the passion for literature. This year, ILNU is honoured to host Padma Shri Sitanshu Yashaschandra Mehta, who will be holding an interactive session with the participants. This session is organized in a manner that is insightful, informative, and most importantly, interactive. Participants obtain the opportunity to have a one-on-one dialogue with the author and engage in a meaningful conversation with them and consequently, gain insights about the process of writing books, obtain a peek inside the mind of the author, learn how to frame a character or develop hypotheses and ask questions on the books by the author. This session allows the participants to unfurl the wings of their imagination and bridge the gap between the author and the reader by giving them a platform to engage in a fruitful discussion.
Street Fest
A melange of dance, music, and theatre, all in one place. It's an hour and a half filled with thrill put together solely for your viewing pleasure! With an Instrumental Jam Session, Group Musical Performance and Act, Flash Mob, Semi-classical Dance, and Bollywood Buff lined up for your kick, this has always been one of the most awaited events in the whole fest. To end the night with a bang, our concluding act is the DJ session where the whole audience can groove to the beats forgetting all their woes!
Warm-up and get ready to rock and roll! Dance your troubles away and get mesmerized by the art of music, dance, and theatre. Brilliant performers will deliver splendid performances filled with zest. Ever wondered what a plethora of creative mindsets looks like? This is your opportunity to discover that level of creativity. At the Street Fest, you will not only watch breath-taking performances, but you will also get to show your moves on the floor. This one is a feast for the eyes, the ears, and the soul!
Izhaar
This gala event would be filled with shimmer and glitter as young poets and orators would grace the occasion with fresh original pieces. The competition would include a solo entry where the participants will get a chance to showcase their talents on a grand platform. The competition is also open to different forms of expression because after all, art is an escape; a medium of your inner expressions. Be it a monologue or a JAM session, slam poetry, or stand-up comedy, you've got the Open Mic Competition to your rescue.
The sheer thrill increased heartbeats, and the anxiety you feel before performing would be changed into a blissful moment once you've performed. Every art is equally valued and respected. Come and be a part of this euphoric segment!
Note: This event is open only to students of the Institute of Law, Nirma University
For more information, Contact:
Chairperson: Mansi Gupta (9461908939)
Secretary: Niharika Shetty (9008456386)
Treasurer: Himanshu Bhargava (7023270253)
Core Committee Convenor: Ashutosh Joshi (7357339889)
Email: [email protected]
Instagram: connaissance10.0
Disclaimer
All efforts are made to ensure the accuracy and correctness of the information published at Legally Flawless. However, Legally Flawless shall not be responsible for any errors caused due to oversight or otherwise. The users are advised to check the information themselves.