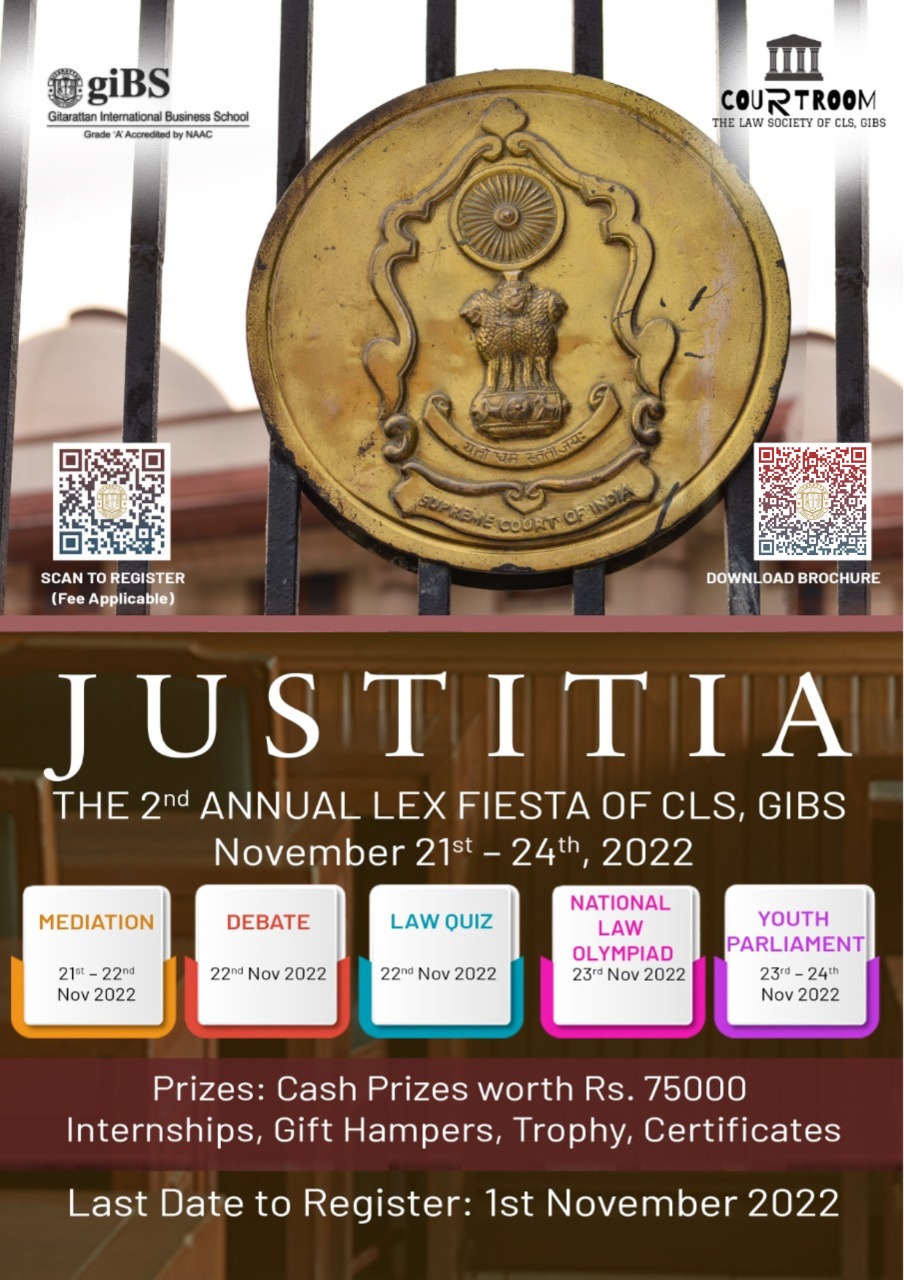 About CLS GIBS
Centre for Legal Studies- Gitarattan International Business School (giBS), Rohini, Delhi was established in the year 2004. The Institute is affiliated to Guru Gobind Singh Indraprastha (GGSIP) University, Delhi. GIBS is approved by the Bar Council of India for BA- LL.B. & BBA- LL.B. Courses. GIBS is NAAC Grade 'A' accredited institute and is assessed Category 'A+' by the Government of NCT of Delhi & GGSIP University.
About Justitia- The 2nd Annual Lex Fiesta
It gives us immense pleasure to announce that the 'COURTROOM: THE LAW SOCIETY OF CLS, GIBS' is organizing the 2ndedition of 'JUSTITIA- 2022'~ The 2ndAnnual Lex Fiesta from 21stto 24th November 2022, following the success of Justitia in the Virtual mode in 2021, Justitia 2022 will be held in the CLS GIBS campus grounds. The National Law fiesta of CLS-GIBS is the one where we aim to improve the competitive spirit in an innovative process of mind and deal with learning aspects of legal education. The event is planned to widen the horizons to accommodate various events/ competitions. The event brings academicians, practitioners, and students of law together to learn and share their knowledge.
Important Dates
The following events will take place on different days:
Mediation Competition- November 21-22, 2022
Law Quiz– November 22, 2022
Debate Competition- November 22, 2022
National Law Olympiad(NLO)- November 23, 2022
Youth Parliament– November 23-24, 2022
Last Date to Register
15th November 2022 (First come, first serve)
Registration Fees
Mediation (Per Team)- Rs. 2700/-
Debate (Per Team)- Rs. 1100/-
Youth Parliament (Per Participant)- Rs. 600/-
Law Quiz (Per Team)- Rs. 600/-
Law Olympiad (Per Participant)- Rs. 300/-
Package deal (Participation slot in all 5 events)- Rs.5000/-
Registration Link
Official Brochure:
Disclaimer
All efforts are made to ensure the accuracy and correctness of the information published at Legally Flawless. However, Legally Flawless shall not be responsible for any errors caused due to oversight or otherwise. The users are advised to check the information themselves.