About the Organization
The Indian Maritime sector has been consistently exhibiting strong growth and is slated to be the maritime market of the future. The establishment of Gujarat Maritime University (GMU) is an endeavour by the Gujarat Maritime Board to provide a fillip to this growth by bridging the knowledge gap within the industry.
Gujarat Maritime University has been established under the Gujarat Private Universities Act, 2009. The prime objective of Gujarat Maritime University is to be a global centre of excellence in maritime education, research and development, professional training and it aims to enhance and increase the human capital and capacity of maritime industry both in India and across the globe. The aspiration is to serve the global maritime community by producing educated and well trained professionals in the maritime domain.
In the first phase, the University plans to offer programs catering to the commercial aspects of Maritime value chain like maritime law, shipping finance and economics, maritime management, logistics, ship broking, ship finance, chartering, ship management just to name a few. The first phase will also have short term Executive Development Programs and Management Development Programs. The second phase will focus on the technical aspects.
About the Course
Gujarat Maritime University is pleased to organise the #CertificateCourse on #InternationalMaritimeLaw in association with the KiiT University from 21 March 2022 to 25 March 2022.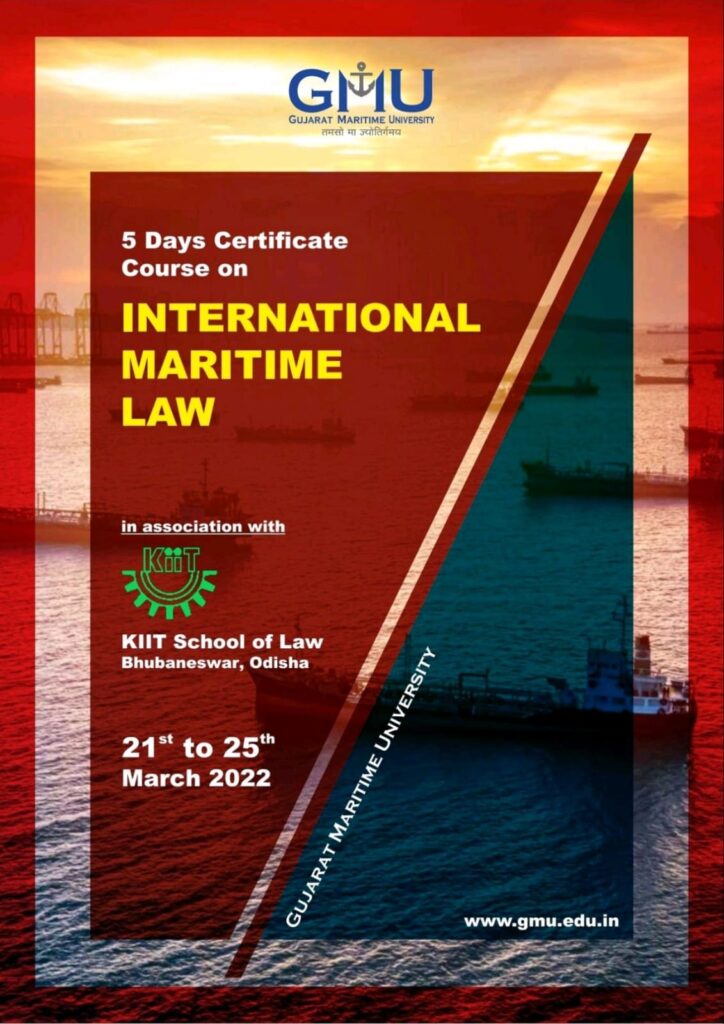 Introduction of the Course
Maritime Law is a unique field of law that significantly impacts people's everyday lives. No country can work in isolation, and maritime law enables countries to connect in today's world. As 90% of global trade depends upon ships, a great deal of emphasis has to be laid on sea regulations. It is a little-known fact that a vessel can be operated from one country, flagged for operational reasons to another, and then has crew from another nation. This makes the domain of Shipping law more intricate yet exciting to pursue as a professional. Increasing work in the maritime space for reasons like ship arrest, cargo claims, etc., provides excellent opportunities. Five days Training Program is aimed to cover a wide range of areas related to maritime law, including Shipping Contracts, Marine Environment, Admiralty law, and Maritime Dispute Resolution.
Significance of the Course
To make the participants aware of the legal framework governing the maritime sector. It will equip participants with knowledge on contemporary and advanced issues related to the maritime industry. The training course would be ideal for students and professionals aiming
to specialize in the shipping and maritime domain.
To know more Click Here
Also Read
If your organization wants to promote any event or competition for the legal fraternity at Legally Flawless, kindly reach out to us at pr.legallyflawless@gmail.com
Join our WhatsApp Group for regular updates: Click Here
Disclaimer
All efforts are made to ensure the accuracy and correctness of the information published at Legally Flawless. However, Legally Flawless shall not be responsible for any errors caused due to oversight or otherwise. The students are advised to check an opportunity themselves before applying.