About the Organization
The National Forensic Sciences University with the status of an Institution of National Importance is the world's first and only University dedicated to Forensic, behavioral, cybersecurity, digital forensics, and allied Sciences. It was established by the Government of India through Act, 2020 (32 of 2020) with the objective of fulfilling the acute shortage against the increasing demand for forensic experts in the country and around the world.
Gandhinagar Campus is the first campus of National Forensic Sciences University at Gandhinagar, Gujarat. The Gandhinagar Campus of the National Forensic Sciences University is running 46 courses in the eight schools namely, School of Doctoral Studies and Research, School of Forensic Science, School of Cyber Security and Digital Forensics, School of Management Studies, School of Engineering and Technology, School of Pharmacy, School of Behavioral Sciences and School of Open Learning. Due to the advanced and specialized courses run by each of the schools, it currently offers only postgraduate level academic programs. Maintaining excellence in education, research, and training with appropriate facilities within this campus encourage collaborations across multiple disciplines and skillsets.
The Gandhinagar Campus – Ultramodern Campus is constructed near the DFS premises, on a government allocated land of 50,000 square meters.
The Gandhinagar Campus is headed by the Campus Director and each school is headed by the Dean and Associate Dean.
Gandhinagar Campus has the following Centers:
Centre for International Relations
Cyber Defence Centre (CDC)
Centre of Excellence for Narcotics Drugs and Psychotropic Substances (NDPS)
Ballistics Research & Testing Centre
International Centre for Humanitarian Forensics (ICHF)
Centre for Futuristic Defence Studies
Forensic Innovation Centre
Buddha Psychological Centre
About the Conference
The School of Law, Forensic Justice and Policy Studies, NFSU in collaboration with Indian Council of Social Science Research is organizing a two-day International Conference on Law and Forensic Justice to be held on MARCH 5-6, 2022.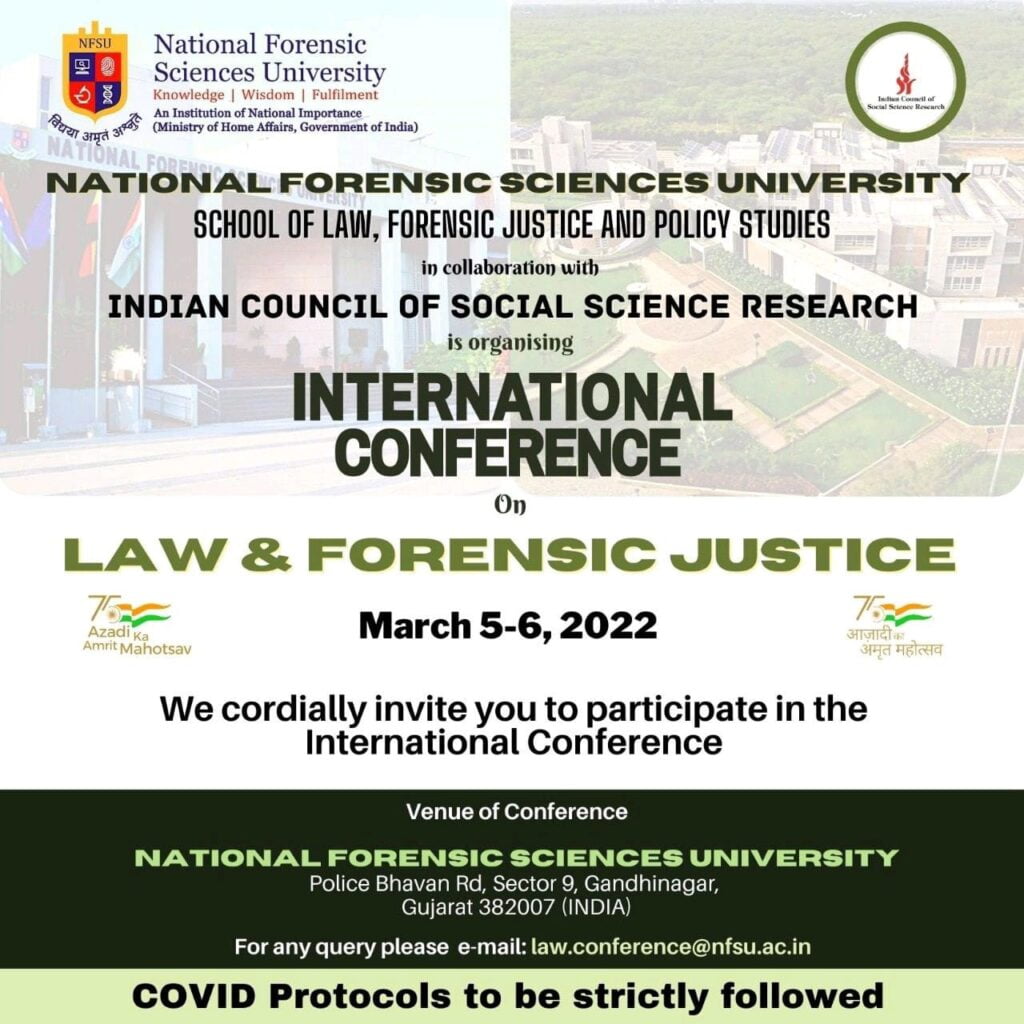 Important Dates
Last date for submission of abstracts: February 28, 2022
Last date for Registration: March 3, 2022
Fees can be payable through IMPS/NEFT:
BANK ACCOUNT NO.: 4601000100070443
IFSC CODE: PUNB0460100
NAME OF ACCOUNT: National Forensic Sciences University
Bank Name: Punjab National Bank
Branch Name: JALSEVA BHAVAN BRANCH, SEC-10, GANDHINAGAR
FEES FOR REGISTRATION
For Participants
Students & Research Scholars- Rs. 1000/-
Professionals- Rs. 1500/-
International Participants Dollar 100$
Participants can REGISTER at: https://lnkd.in/eMh224-t
Attendees can REGISTER at: https://lnkd.in/eQNjHs5z
Also Read :-
If your organization wants to promote any event or competition for the legal fraternity at Legally Flawless, kindly reach out to us at [email protected]
Join our WhatsApp Group for regular updates: Click Here
Disclaimer
All efforts are made to ensure the accuracy and correctness of the information published at Legally Flawless. However, Legally Flawless shall not be responsible for any errors caused due to oversight or otherwise. The users are advised to check the information themselves.