About the Organization
The Centre for Alternative Dispute Resolution (CADR), Rajiv Gandhi National University of Law has been established to promote students' and researchers' interest in Alternative Dispute Resolution constituting dispute resolution methods like Arbitration – International, and Domestic; Negotiation, Mediation, and Conciliation. CADR has also sought to build an Investment Arbitration community in India.
Started in 2018, the Centre strives to organize stimulating discourse which is relevant to, not only the academia, but also the professional world and thus add to the literature of ADR.
In pursuance of its objectives, CADR has initiated various novel and successful events, lectures, competitions et. al. in collaboration with valued partners in the professional and academic world.
About the Event
Centre for Alternative Dispute Resolution (CADR-RGNUL) in collaboration with the Centre for Trade and Investment Law (CTIL), Ministry of Commerce and Industry, Government of India, is organising a one of its kind conference on 'Dispute Resolution in International Trade Agreements: Prospective Pathways'.
We feel privileged to have the honour of hosting Shri Piyush Goyal, Minister of Commerce and Industry; Textiles, and; Consumer Affairs, Food & Public Distribution, as our Chief Guest for the event.
The two-day conference will also witness a congregation of the leading luminaries on the subject from across the globe, including former WTO Appellate body members, renowned academics and trade law experts.
The event is scheduled for 10-11 February. The registration links for both the days are as below!
Day 1 – https://lnkd.in/exDzgcRE
Day 2 – https://lnkd.in/egWtwcTS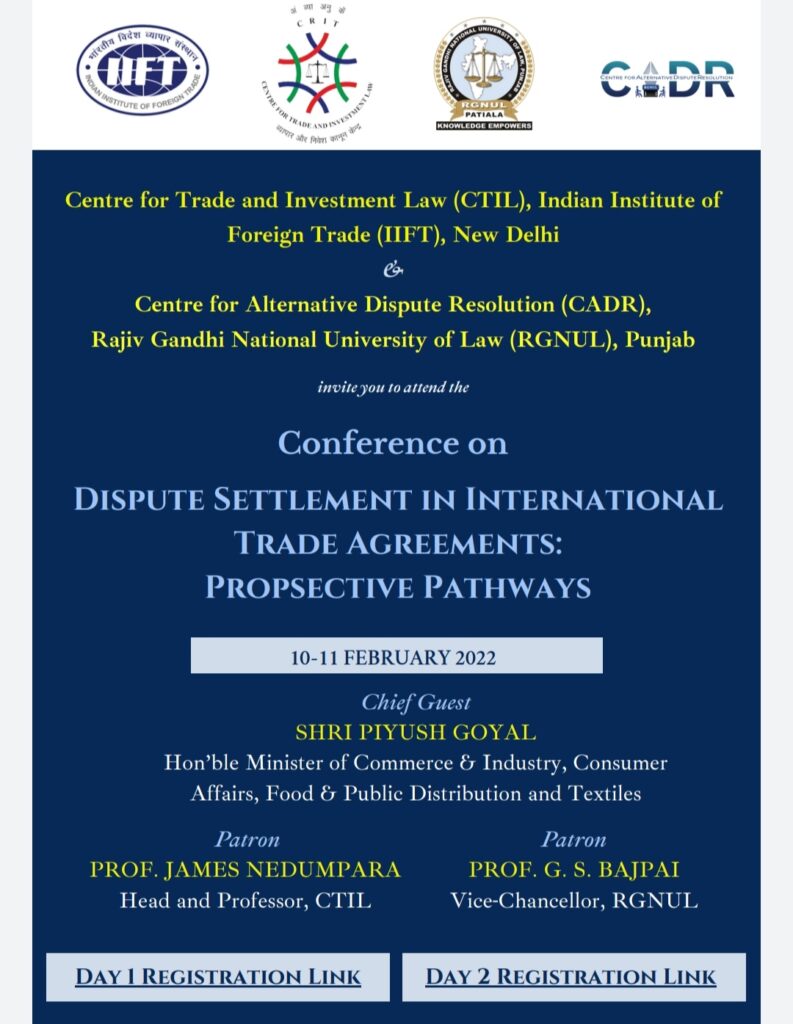 Also Read :
If your organization wants to promote any event or competition for the legal fraternity at Legally Flawless, kindly reach out to us at [email protected]
Join our WhatsApp Group for regular updates: Click Here
Disclaimer
All efforts are made to ensure the accuracy and correctness of the information published at Legally Flawless. However, Legally Flawless shall not be responsible for any errors caused due to oversight or otherwise. The users are advised to check the information themselves.