About IIAM
Indian Institute of Arbitration & Mediation (IIAM) is one of the pioneer institutions in India, providing institutional Alternative Dispute Resolution (ADR) services, which includes international and domestic commercial arbitration, mediation and negotiation and conducting training programs in ADR. IIAM is a non-profit organization registered in India and commenced activities in the year 2001.IIAM is one of the founding members of Asia Pacific Centre for Arbitration & Mediation (APCAM) and functions as the APCAM Centre in India. IIAM is also the first Secretariat of APCAM, having centres in most of countries in the Asia Pacific Region.
About Webinar
This webinar on opening the mediation framework in india analyse the Draft Indian Mediation law through Domestic and International Lens.A round table discussion about the draft Mediation law of India and how effective it is for catering cross border mediation in India and how domestic and international business community would look at India. The panelists will analyze the basis of the Singapore Convention and the UNCITRAL Model law and how a domestic mediation law could be helpful for the parties to resolve disputes by way of mediation.
JOIN
Wednesday
15 December 202116.00 to 17:30
Indian Standard Time(UTC+5:30)
Meeting ID: 840 9964 5262
Passcode: 151221
Email: info@arbitrationindia.com
About speaker
Justice Madan B. Lokur
Former Judge, Supreme Court of India & Former Chairman,MCPC, Supreme Court
Prof. Nadja Alexander
Director, Singapore Interntional Dispute Resolution Academy Singapore
Justice M.L. Mehta
Former Judge, High Court of Delhi & Founder Chairman Delhi Dispute Resolution Society
Mr. Anil Xavier
President, Indian Institute of Arbitration & Mediation
Mr. Jae Sung Lee
Legal Offcer, UNCITRAL& Secretary, Working Group,Dispute Settlement, Vlenna
Moderator
Ms. Iram MajidDirector, Indian institute ofArbitration &Mediation& Executive Director, APCAM&Chaiman, APCAM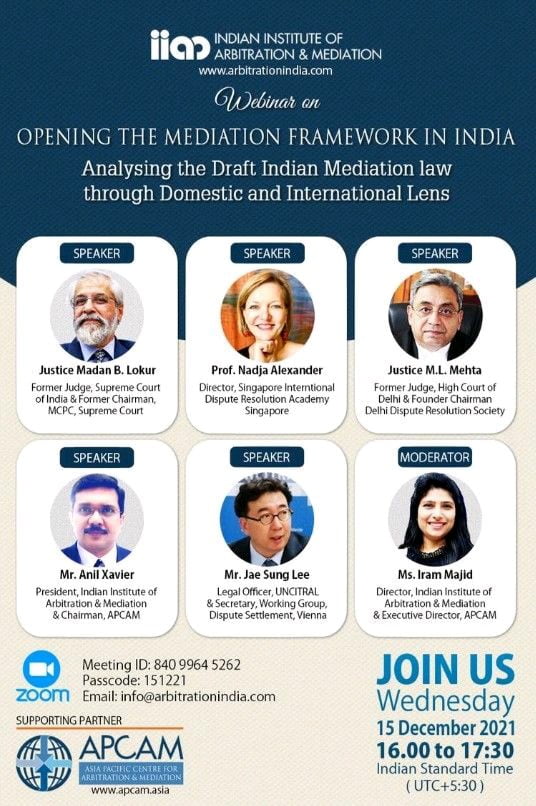 Disclaimer
All efforts are made to ensure the accuracy and correctness of the information published at Legally Flawless. However, Legally Flawless shall not be responsible for any errors caused due to oversight or otherwise. The students are advised to check an opportunity themselves before applying.