The time has come to think and talk about many things. One is the need for changes in India's judicial system. National Judicial Reforms Council brings to you a panel discussion on 'Need for Judicial Reforms in India'.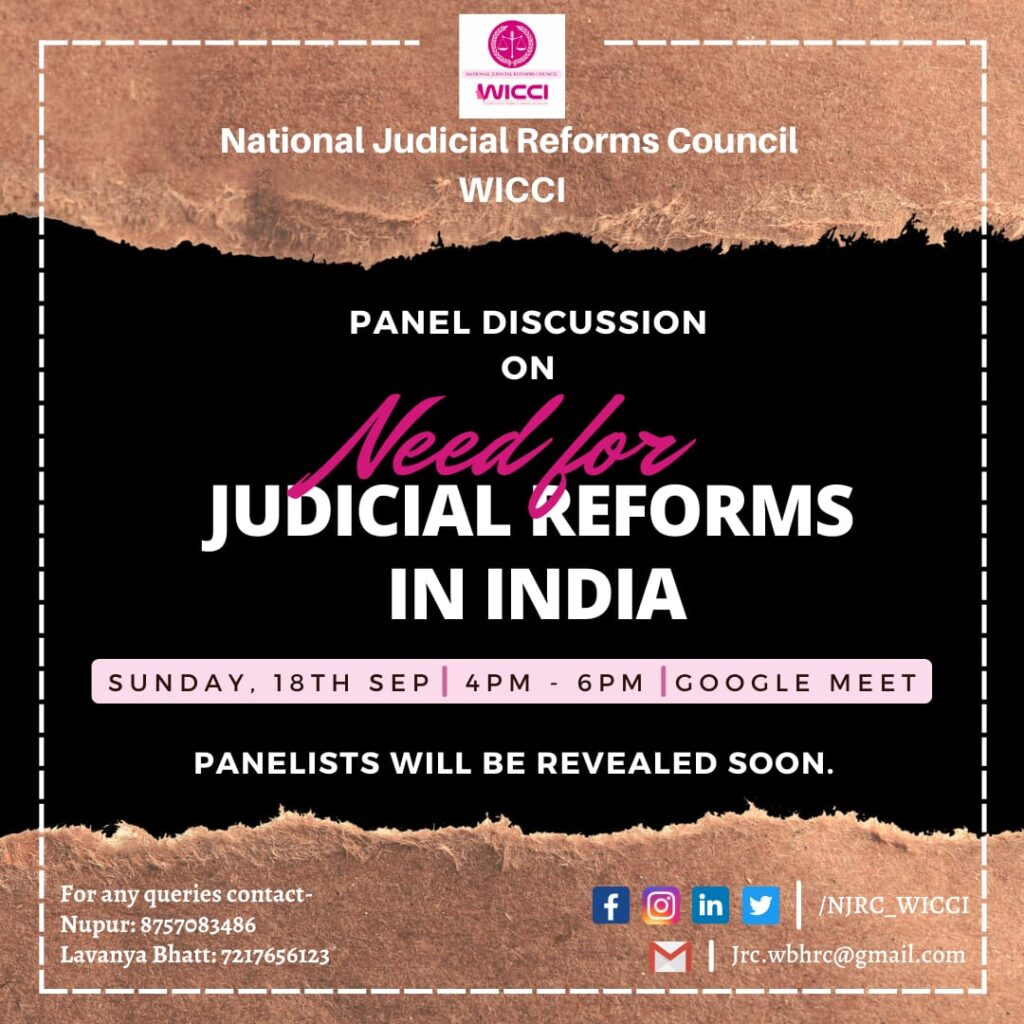 About National Judicial Reforms Council
The National Judicial Reforms Council is a Non-Governmental Organisation under the aegis of the Women's Indian Chamber of Commerce and Industry. WICCI is a premier National Business Chamber for Women. The council aims to promote an effective judicial mechanism across India. The justice system is the principal instrumentality in satisfying the undertakings in construction. Speedy justice is a prerequisite for maintaining the rule of law and delivering good governance. The council not only focuses on searching and understanding the lacunas in the judicial system but also on bridging the gap to ensure speedy delivery of justice.
About the Panel Discussion
The panel discussion is aimed at looking into the nuances of judicial reforms in India over a period of time and the future course of action. The requirement for judicial reforms is highlighted by the fact that the limited supply of judges to cater to the vast demand for the attention of courts by accumulating cases has led to a rise in the figurative price of justice. Those who approach courts not only incur litigation costs but also spend a large amount of time in wait. As William E. Gladstone said, "Justice delayed is justice denied".
Like other institutions in the country, the Indian judiciary has found it challenging to function amid the risks and constraints created by the pandemic. Data from the National Judicial Data Grid shows that, in 2020, the country's high courts—the apex courts in each Indian state and union territory—disposed of fewer than half as many cases as they did in 2019. However, since the number of cases instituted fell only by one-third, the total number of pending cases increased. This problem has major consequences for India's judiciary and its wider political system. Join us in this thought-provoking discussion regarding the future course of judicial reforms in India.
Details of the event:
Timing: 4-6 pm, September 18th, via Google Meet
Theme: Need for Judicial Reforms in India
Eligibility: Students/ Researchers/ Academicians from all walks of life
Registration Fees: NONE
Panellists: To be revealed soon
Registration Details
Important Dates
Last date to register: 17th September 2022, before 11:59 pm.
Contact Information
Contact Number: Lavanya Bhatt: 7217656123; Nupur: 8757083486
Email ID: [email protected]
Disclaimer
All efforts are made to ensure the accuracy and correctness of the information published at Legally Flawless. However, Legally Flawless shall not be responsible for any errors caused due to oversight or otherwise. The users are advised to check the information themselves.