About the Organization
INSOL India is an independent leadership body representing practitioners and other associated professionals specialising in the fields of restructuring, insolvency and turnaround. It is an association with an architecture that facilitates key stakeholders to come together and share experiences while preserving their independence.
INSOL India is a member association of INSOL International – the global federation of insolvency, restructuring and turnaround fraternity. With over 10000 members located in over 90 countries, INSOL is a truly global organisation influencing the global restructuring practice and policy.
Sharing knowledge, promoting best practices and providing a forum for debate on key issues facing the industry and profession.
About the Event
INSOL India in association with Insolvency and Bankruptcy Board of India, National Law University, Delhi and Centre for Transnational Commercial Law cordially invite you for a Online Roundtable on Cross-Border Insolvency Rules & Regulations
Date
11th December, 2021.
Time
10:30 A.M. to 12:30 P.M.
About speakers
An conversation moderate by Dr. Risham Garg, Director, Centre for Transnational Commercial Law(CTCL) and speakers Abizer Diwanji, EY India Financial Services Leader, Dhananjay Kumar Partner, Cyril Amarchand Mangaldas, Dr. CS Adv Mamta Binani National President (2016) of The Institute of Company Secretaries of India and India's First Registered Insolvency Professional, Somasekhar Sundaresan Advocate; Independent Legal Counsel and Suharsh Sinha Partner, AZB & Partners
Joining link https://bit.ly/3y8nadf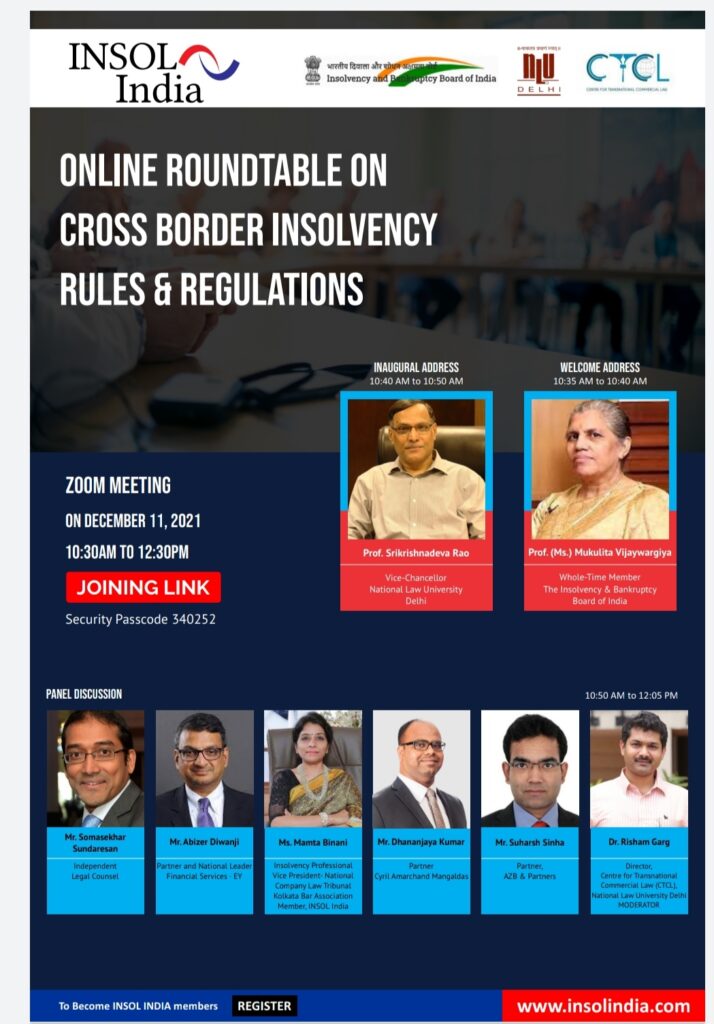 Disclaimer
All efforts are made to ensure the accuracy and correctness of the information published at Legally Flawless. However, Legally Flawless shall not be responsible for any errors caused due to oversight or otherwise. The students are advised to check an opportunity themselves before applying.