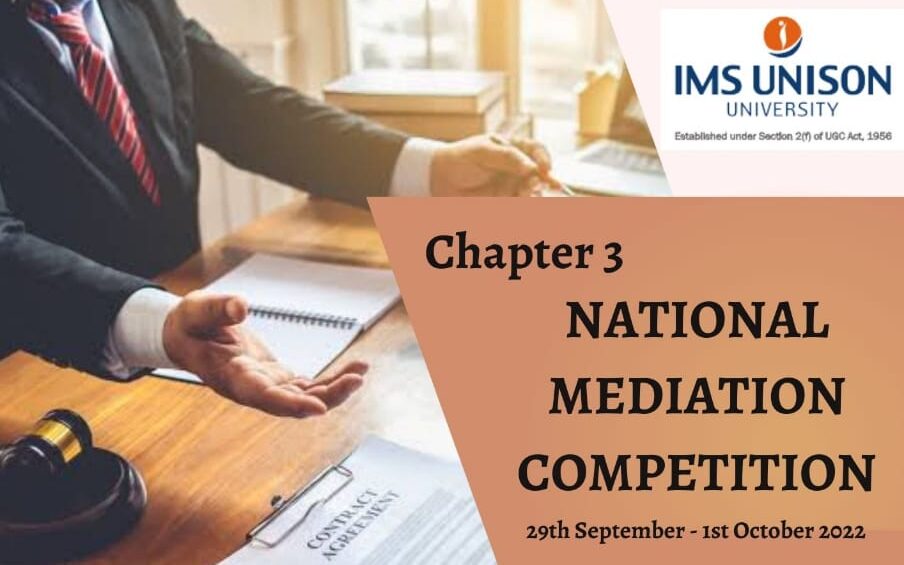 About the University
IMS Unison University Dehradun, a constituent of Unison Group has made fast strides in the horizon of education as a premier educational and research University. IMS Unison University formerly Institute of Management Studies, is a private university located in Dehradun, Uttarakhand, India. It offers academic programs at under-graduate, post-graduate, and doctoral levels in different streams of management, mass communication, law, hospitality management and liberal arts. It provides a setting that encourages study and sparks creativity while nestled in lovely and peaceful surroundings. It aims to provide a holistic career-oriented education that develops intellectual, moral, and physicalcapabilities of the students, nurturing creativity, and innovation.
About National Mediation Competition 2022
IMS Unison University (School of Law), Dehradun is organising its paramount event, the 3 rd edition of National Mediation Competition (29 th September – 1 st October 2022) to raise awareness of Alternate Dispute Resolution and equip students with the skills they require in Alternate Dispute Resolution.

The National Mediation Competition (NMC, 2K22) is an annual competition that aims to promote greater knowledge and interest, allowing students to flex their advocacy muscles within the mediation process. The competition intends to provide a platform that reflects the ever-growing expectation of clients to utilise other cost-effective alternative dispute resolution mechanisms to trial.
In a situation where the pendency of the cases is reaching its saturation, ADR methods such as mediation, negotiation, arbitration offer a peaceful way out. Mediation is the fastest growing and most efficient methods of Alternate Dispute Resolution (ADR) in current times and a constantly expanding legal practice. IMS Unison University presents with an opportunity for the law students to develop the necessary abilities to be an effective mediator or negotiator in the field of alternative dispute resolution. It is an attempt to provide the law students with a platform to be equipped with mediation or negotiation skills and to help them understand the procedure and get accustomed with the same.
Eligibility
The Competition shall be open for 'bona-fide' students who are pursuing LL.M. Programme or Integrated Five-Year LL.B. Programme or Three-Year LL.B. programme from any Institute/University in India. Such Institute/University must be recognized by the Bar Council of India.

Mode of Competition
Offline.
Team Composition
Team shall comprise of two members. One will be "Mediator" and the other being "Client".
Prizes
Best Team – INR 5000
Runner-up Team – INR 4000
Best Mediator – INR 3000
Best Client – INR 3000
Accommodation
No accommodation will be provided by the organisers. A list of hotels will be recommended by the organisers and as per their requirement they will hold the rooms in such hotel.
Registration
Teams can register by filling up the google form provided below.
Maximum 25 teams will be allowed to register on first come – first serve basis
Payment Method
Registration fee Rs. 1800 for each team shall be submitted through NEFT/RTGS in the University account with following details –

Beneficiary Name: IMS Unison University
Account No: 15262191003778
Bank: Punjab National Bank
IFSC Code: PUNB0152610
Branch – Makkawala
The registration fee is non-transferable and non-refundable
Registration Deadline
20 th September 2022
Registration Link
Contact us
For further information and clarifications contact:
Student Conveners
Ms. Palak Srivastava: 7084574734
Ms. Arunika Pal: 7906400796
Student Co-Conveners
Mr. Anil Kumar Ranjan: 6200009405
Ms. Jaishree Bhadauria: 9179767572
Mail them your query at – [email protected]
Official Brochure
Disclaimer
All efforts are made to ensure the accuracy and correctness of the information published at Legally Flawless. However, Legally Flawless shall not be responsible for any errors caused due to oversight or otherwise. The users are advised to check the information themselves.