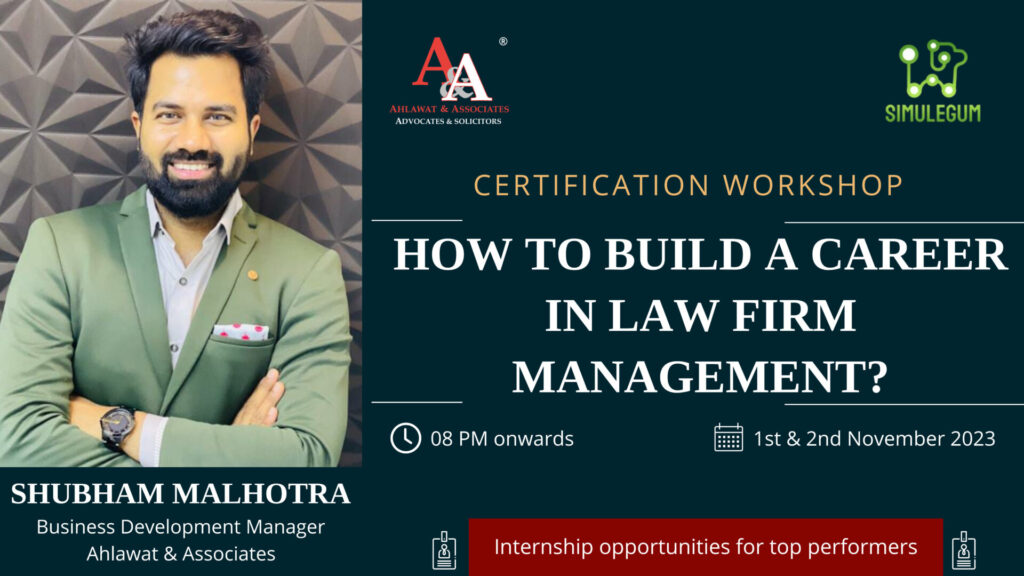 Are you intrigued about the niche practice of law firm management and are looking to understand the functionality of law firm management arena? We've got you covered!
SimuLegum is thrilled to announce the first-ever two-day certification workshop on 'How to Build a Career in Law Firm Management?'. The workshop will be conducted by Mr. Shubham Malhotra, Business Development Manager at Ahlawat & Associates law firm.
About SimuLegum
SimuLegum is an incorporated company providing mentorship and legal training to law students through law firm collaborations. The organization has been very active for the past year providing international opportunities, research assistantships, and internship opportunities to law students worldwide.
About Ahlawat & Associates
Ahlawat & Associates is one of India's leading full-service law firms, catering to domestic and international clients. Our services extend through diverse industry sectors, including assistance to facilitate foreign direct investments and business setup in India and our clientele includes an array of domestic and international individuals and companies.
Course Overview
The workshop is designed to provide knowledge and insight about the world of law firm management by the industry professional along with a roadmap of becoming a law firm management expert.
This workshop will equip participants with the knowledge, skills, and strategies needed to excel in roles related to law firm management, business development, knowledge management and practice development within law firms and legal service organizations.
It will be an interactive workshop providing networking opportunity along with a certificate on successful completion of the workshop.
About the Mentor
Shubham Malhotra is a lawyer by profession who built his career in the niche field of law firm management. He is currently working as Business Development Manager at Ahlawat & Associates, one the India's leading full-service law firm. Shubham holds vast experience in providing consulting to multiple law firms PAN India in implementing brand enhancement initiatives, strategic business planning and elevating market positioning for law firms.
Perks
Internships to top performers on Ahlawat & Associates' discretion.
Networking opportunity with the mentor.
Certificate of Completion/Appreciation.
Live, interactive sessions with Q&A with the mentor.
Lifetime access to recordings.
Who should attend?
Recent graduates and individuals interested in entering the field of law firm management.
Current legal professionals looking to transition into law firm management roles.
Law students exploring career options in the legal industry.
Legal content writers, graphic designers or any other freelancers providing assistance to the legal industry.
Professionals in other fields seeking a career change to law firm management roles.
Course Highlights
Day & Date: Wednesday, 01st November 2023 | Thursday, 02nd November 2023
Time: 08 PM onwards
Duration: 90 minutes each day, including open house for Q&A round for all participants.
How to Register?
To register, click on the link below
Course Content
Disclaimer
All efforts are made to ensure the accuracy and correctness of the information published at Legally Flawless. However, Legally Flawless shall not be responsible for any errors caused due to oversight or otherwise. The users are advised to check the information themselves.