About the Organizer
Amity Law School, Amity University Madhya Pradesh was established in 2013. Amity Law School conducts two integrated 5-year undergraduate courses (B.A LL.B, BBA LL.B.); LLB (Hons) (3 Years); LL.M. (One Year); and Ph.D. programs in law-related subjects.
About the Moot
During these unprecedented times, we are keen to nourish minds that are comfortable and skilled in dealing with the differing legal systems and cultures that make up our global community.
Amity Law School is proud to announce that it is organizing the AUMP National Moot Court Competition, 2023 which is scheduled to be held from November 24-25, 2023.
Moot Court Committee, Amity Law School, Amity University Madhya Pradesh is privileged to invite you to advance premier-level arguments and to hone your research as well as argumentative skills on a National level event of Moot Court Competition which shall be judged and presided over by the Hon'ble Justices (sitting or retired) of the Court of law and renowned advocates in the arena of Criminal & Corporate Laws.
Having successfully organized various webinars and competitions in a row, this edition speaks of our efforts that aim at improving the whole experience by ensuring that the teams are met with a challenging problem based on contemporary and developing aspects of Law.
Eligibility
The Competition shall be open for 'bona fide' students who are pursuing an integrated 5-year or 3-year Law Program in India from an institution recognized by the Bar Council of India.
Team Composition
Each team shall consist of a minimum of two (2) members and a maximum of three (3) members. Teams comprising two members shall only have two (2) speakers and teams comprising three members shall have two (2) speakers and one (1) researcher.
Registration
All interested teams must register themselves on or before November 10, 2023, by diligently filling out the registration Google Form. Only one form per team is to be submitted. The registration fee for this Competition is INR 5000 – per team.
Registration Form Link
For Provincial Registration, Click Here!
For Final Registration, Click Here!
Mode of Payment
The details of the payment are mentioned in the link attached at the end of the post.
Key Dates
Date of the Competition: November 24-25, 2023
Last date of registration: November 10, 2023
Last date to seek clarifications: November 03, 2023
Last date for Memorial Submission: November 12, 2023
Prizes and Awards
| | | |
| --- | --- | --- |
| Sr. No | Awards | Prizes |
| 1. | Winner | INR 30,000 & 1-Year SCC online Subscription worth INR 43,500. |
| 2. | Runner- Up | INR 21,000 |
| 3. | Best Speaker | 1NR 10,000 |
| 4. | Best Memorial | INR 10,000 |
| 5. | Best Researcher | INR 10,000 |
Contact Information
In case of any queries, please contact them on their official e-mail, i.e. [email protected]
You may also contact the following:
Ms. Shubhangi Gupta (Faculty Convener): +91 7999370892
Mr. Devanshu Sharma (Student Convener): +91 7999077977
Mr. Siddharth Dixit (Student Convener): +91 7610576948
Other Important Links
Click Here for the brochure and rules of the Competition.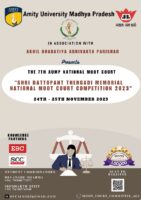 Disclaimer
All efforts are made to ensure the accuracy and correctness of the information published at Legally Flawless. However, Legally Flawless shall not be responsible for any errors caused due to oversight or otherwise. The users are advised to check the information themselves.