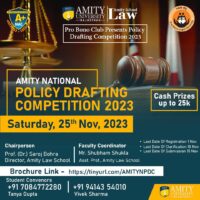 The Amity National Policy Drafting Competition 2023 is organized by the Pro Bono Club under the Ministry of Law and Justice, Amity Law School, Amity University Jaipur.
About Amity Law School
Amity Law School, Amity University, Rajasthan, was established in 2008. It aims to provide world-class legal education and develop responsible and socially empathetic citizens. The school is affiliated with Amity University and approved by the Bar Council of India. They offer various teaching methods, including lecture discussions, case law analysis, moot court training, project assignments, and placement programs. The school also conducts seminars on contemporary legal issues, clinical courses, and trains students in legal research and writing.
About Pro Bono Club
The Pro Bono Club of Amity University Rajasthan, established under the Ministry of Law and Justice, Government of India, is part of the Nyaya Bandhu Scheme. The club's primary objective is to improve the quality of pro bono legal services by connecting law students with pro bono advocates. Students assist in legal research, document drafting, case summaries, and other support for advocates, gaining practical experience and contributing to the delivery of justice.
About the Opportunity
The National Policy Drafting Competition encourages citizen participation in policy drafting, emphasizing the importance of democracy being "of the people, by the people, and for the people." This competition, a first of its kind in the university, seeks to inspire and empower youth to propose innovative solutions for both timeless and contemporary issues, making it a platform for the next generation of policy leaders.
This competition provides law students with an excellent opportunity to engage in policy drafting and contribute to the development of innovative solutions for various issues. It encourages active participation in policy-making and offers attractive prizes for the winners.
Eligibility
The competition is open to all law students enrolled in either a 5-year law program, a 3-year law program, or an LL.M. course.
Prizes
First Prize: ₹7,000
Second Prize: ₹3,000
Third Prize: ₹2,000
Merit Certificates
Timeline
Registration opens: October 17, 2023
Last date of registration: November 1, 2023
Last date for seeking clarifications: November 10, 2023
Policy statement submission deadline: November 15, 2023
Winner Announcement: Results will be declared on November 25, 2023
Links
Contact Information
In case of any queries, please contact:
Tanya Gupta: +917084772280
Vivek Sharma: +919414354010
Disclaimer
All efforts are made to ensure the accuracy and correctness of the information published at Legally Flawless. However, Legally Flawless shall not be responsible for any errors caused due to oversight or otherwise. The users are advised to check the information themselves.