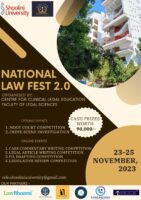 About Shoolini University
Shoolini University of Biotechnology and Management Sciences, also known simply as Shoolini University, is a private university located near Kasauli in Solan district, Himachal Pradesh,173229, India. It is located 73 km from Chandigarh and 67 km from Shimla. Shoolini University is a young, research-focused, philanthropic university.
About Centre for Clinical Legal Education 
Clinical legal education is essential for the student community to develop professional skills and practical application of the law. The Centre not only aims to create and promote an environment conducive to clinic-based education but also to inculcate social, moral, and ethical values in the students.
About National Law Fest 2.0 
Law Fest 2.0 is a hybrid event that offers a wide range of legal activities to advance law students' clinical abilities and practical knowledge. This series of events is being carried out at the university for the second time. The entire idea behind this event was to promote "for the students, by the students, from the students" culture.
Events 
OFFLINE EVENTS: 

National Moot Court Competition
Crime Scene Investigation Competition

ONLINE EVENTS:
Case Commentary Writing Competition

PIL Drafting Competition
Legal Article Writing Competition
Legislative Review Competition
Eligibility 
The Competition is open to bona fide undergraduate students of recognized Colleges/Institutions/Universities who are pursuing their Bachelor's Degree in Law i.e. 3 years LLB or 5-year Integrated or Honors' LL.B Program with all combinations on a regular basis.
Important Dates 
Date of Event: 23-25 November, 2023
Last date of Registration: 15 October, 2023
Registration Fee 
OFFLINE EVENTS: 

National Moot Court Competition – Rs. 3500/-
Crime Scene Investigation Competition – Rs. 2500/-

ONLINE EVENTS:

The Registration Fee is INR 700/- for one participant and INR 1000/- for two participants (Considered as one entry) for all online events.
Prizes 
Cash prizes worth Rs. 90,000/-
Certificates and Trophies
Publication of Drafts in International Journal of legal affairs and exploration (IJLAE)
Handbook on Civil Contract Drafting
Submission Guidelines
All the teams are required to submit soft copies of their memorials or drafts for online competitions via mail to [email protected] as per the given format before 10 November 2023.
Payment & Registration
All the teams are required to pay the desired amount for each competition on the link provided and upload the screenshot on the Google form for the specific competition.
Once payment is done and the form is filled with all the required details, the participants will receive a confirmation mail and team codes thereon.
Payment link:
Please note that charges for accommodation will be collected separately for offline events and students participating in online events are not required to come to the organising university at the time of competition.
Contact Details
Mail-
Student Conveners-
Anshula Grover- 7087457907
Mansha Goel- 9996597236
Tarun Rana- 9996399179
Relevant Links
Official Brochure for the event:
Drive with detailed rules and guidelines:
Payment link:
Disclaimer
All efforts are made to ensure the accuracy and correctness of the information published at Legally Flawless. However, Legally Flawless shall not be responsible for any errors caused due to oversight or otherwise. The users are advised to check the information themselves.