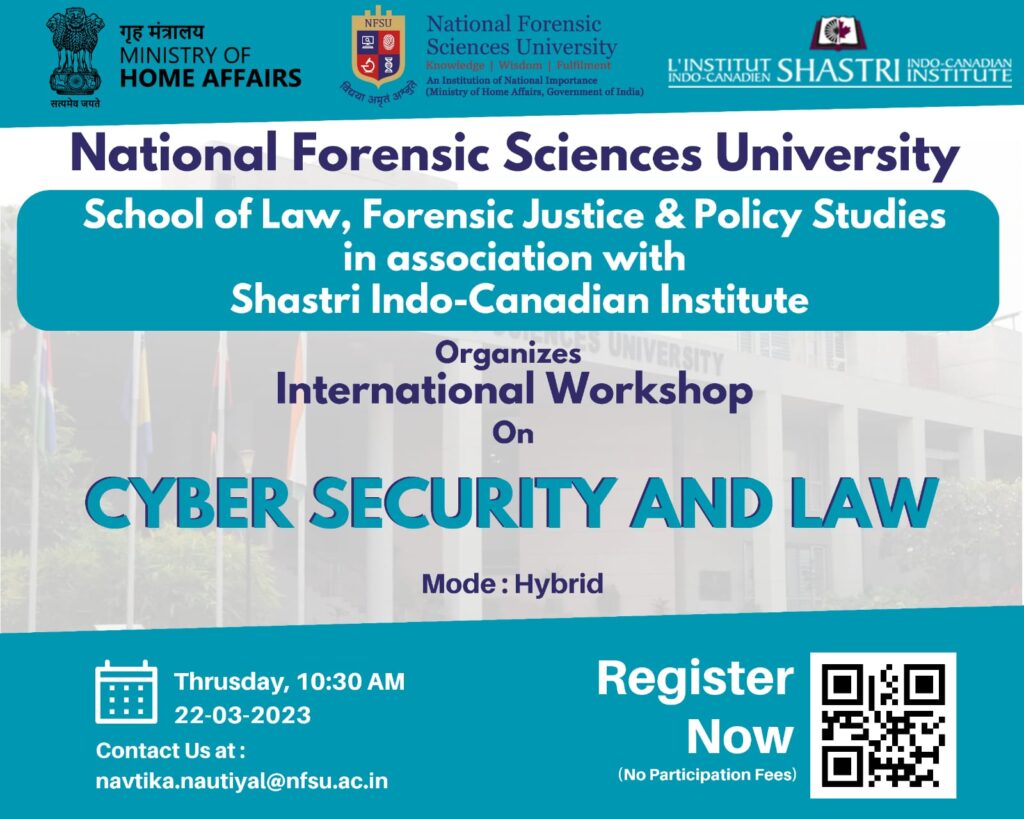 About The Workshop
National Forensic Sciences University (NFSU), an institution of National Importance, aims to provide world-class education in forensics science and allied subjects. Cybersecurity and Law are broad concepts that deal with integrating legal principles and the advent of technology. Cyber security helps in evolving various mechanisms through which cyberspace can be secured, which at a time creates legal implications. This Workshop, organized by the School of Law of Forensic Justice & Policy Studies, NFSU, in association with Shastri Indo Canadian Institute, aims at the dissemination and deliberation of scientific investigative knowledge and the intricacies of cyber security law.
The objective of this workshop is to discuss various aspects of cybercrimes and cyber laws and the problem of lawmaking and policy initiatives in this regard. This issue is of great importance in recent times as the whole world is connected in one place and is accessible at any time and place. Technology is the driving force for development. There are many ways in which it can be used to protect individuals and society.
But technology has always been a double-edged sword. The forces of evil will not hesitate to take advantage of these emerging technologies and deploy than against the masses. The more we plug our devices and our lives into the global informational grid, whether it's through mobile phones, social networks, elevators, or self-driving cars, the more vulnerable we become to those who know how the underlying technologies work and how they are exploited. A strong regulatory framework that has international jurisdiction is the need of the hour to control this phenomenon.
Each aspect of the topic will be thoroughly analyzed to educate the participants on how to deal with the issue in different levels of educational practice.
This Workshop is an attempt to provide a platform for interdisciplinary discussion on the current issues involving cyber security and law for researchers, practitioners, educators to present and discuss the most recent innovations, trends, and concerns as well as practical challenges encountered and solutions adopted in the fields of cyber security and law
About The Organizer
National Forensic Sciences University
The National Forensic Sciences University is the world's first and only University dedicated to Forensic and allied Sciences. It was established with an objective to facilitate and promote studies and research and to achieve excellence in the field of forensic science in conjunction with allied subjects. Considering the role, importance and contribution of erstwhile GFSU, the GOI elevated GFSU as NFSU under the Ministry of Home Affairs and also accorded a special status of "An Institution of National Importance" with effect from October 1, 2020 with the objective of strengthening the criminal justice system by providing quality research and skilled manpower in the field of forensic science and allied subjects. University has 13 schools in different disciplines ranging from School of Forensic Sciences, School of Cyber and Digital Security, School of Engineering and Technology, School of Management Studies, School of Pharmacy, School of Medico Legal Studies, School of Behavioral Science, School of Forensic Psychology, School of Police Science and Security, School of Earth Space and Internet Technologies and School of Law, forensic Justice and Policy Studies.
School of Law, Forensic Justice and Policy Studies
The School of Law, Forensic Justice and Policy Studies has been established with the aim of imparting legal education with a special focus of forensic application in areas of law and policy framework. The school aspired to be the leading provider of forensic justice understanding to all professionals from different areas of governance including justice administration. School of Law, forensic justice under policy studies works under the aegis of NFSU and have ability and potential to successfully conduct any such kind of event.
Workshop Objectives
The "International Workshop on Cyber Security and Law" specifically aims:
To understand the concept of Cyber Crimes & Securities in India
To discuss the Issues and Challenges in Cyber laws
To know the Relationship between internet rights and internet security
To provide insights to students, academicians, research scholars etc on approach of judiciary towards the cyber laws
To provide advice, inputs and also guidance to people on their day-to-day legal issues concerning the use of cyberspace.
Desired Outcome of Workshop
This Workshop will lead to a better understanding cyber security and the legal intricacies involved therein along with role of the judiciary, regulatory bodies, and the other stakeholders in handling the issues related to same. The conclusion drawn from the Workshop would facilitate the organizers, participants, law enforcement & investigation agencies and other stakeholders in making improvements and reforms required in legislations and strengthen the cyber laws.
Participation
This International workshop aimed to deliberate upon the emerging issues of the present times. The discourse during the workshop is outlined in a way that shall benefit academicians, investigating agencies, lawyers, policymakers, government officials, students of cyber Security, and other stakeholders, as it will provide a unique interdisciplinary platform for intellectuals from the field of science, technology, and law to discuss, exchange and share their experiences and deliberate on how law can regulate and effectively utilize the potential of advanced technology and science to bolster the deliverance of justice in the criminal justice system.
Important dates
Workshop date: 22/03/2023
Timing
10:30 AM onwards
Registration fees
No Participation fees
Disclaimer
All efforts are made to ensure the accuracy and correctness of the information published at Legally Flawless. However, Legally Flawless shall not be responsible for any errors caused due to oversight or otherwise. The users are advised to check the information themselves.