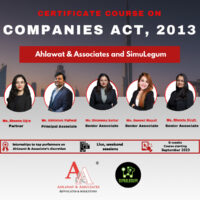 SimuLegum is extremely delighted to announce the 8-week Certificate Course on Companies Act, 2013 in collaboration with Ahlawat & Associates.
About SimuLegum
SimuLegum is an incorporated company providing mentorship and legal training to law students through law firm collaborations. The organization has been very active for the past year providing international opportunities, research assistantships, and internship opportunities to law students worldwide.
About Ahlawat & Associates
Ahlawat & Associates is one of India's leading full-service law firms, catering to domestic and international clients. Our services extend through diverse industry sectors, including assistance to facilitate foreign direct investments and business setup in India and our clientele includes an array of domestic and international individuals and companies.
About the Course
The participants would have the opportunity to gain practical exposure and a comprehensive understanding of the Companies Act, making it a unique experience for them.
Enroll in this certificate course and gain hands-on experience with the Companies Act, 2013. This course is designed to prepare you for the professional world by providing the necessary practical skills required to succeed.
Course Mentors
Ms. Sheena Ogra, Partner, Ahlawat & Associates
CS Abhishek Paliwal, Principal Associate, Ahlawat & Associates
Ms. Shweta Singh, Senior Associate, Ahlawat & Associates
Ms. Shramona Sarkar, Senior Associate, Ahlawat & Associates
Ms. Guneet Mayall, Senior Associate, Ahlawat & Associates
Perks
Internships to top performers at Ahlawat & Associates' discretion.
Weekend sessions only.
Networking opportunity with the speakers and mentors.
Certificate of Completion/Appreciation.
Live, interactive sessions with Q&A with the mentors.
Lifetime access to recordings.
Last Date to Apply
7th October 2023
Course Fee
Rs 2,999
How to Register?
To register, click on the link below
https://payments.cashfree.com/forms/ccaclf
Brochure
Disclaimer
All efforts are made to ensure the accuracy and correctness of the information published at Legally Flawless. However, Legally Flawless shall not be responsible for any errors caused due to oversight or otherwise. The users are advised to check the information themselves.