In the spirit of Vijay Dashmi, symbolizing the victory of good over evil, the Center for Child Rights (CCR), is embarking on a new blog series that addresses juvenile justice.
About the Opportunity
There goal is to shed light on the issues surrounding child abuse and provide solutions, including legislative amendments and critiques of court judgments.  
Eligibility Criteria
They are inviting submissions from research scholars, academicians, and students from diverse fields who share our empathy and passion for this cause to contribute to the series.
Sub Themes for Blog Submission
Child Pornography: Legal Implications and Safeguards
Digital Rape: A Critical Examination within Legal Frameworks
Child as a Ground for Divorce in Matrimonial Disputes: A Comprehensive Legal Analysis
Children as Parents' Property: Legal Perspectives and Contemporary Discourse
Corporal Punishment for Children: Legal Aspects and Ethical Concerns
Rights of Queer Children: A Jurisprudential Exploration
Implementation & Infringement of the Right to Education: A Reality Check
Child Beggary: A Socio-Legal Perspective
Aaganwadis as Constitutional Obligation: Evaluating Legal Frameworks
Child Rights Gram Sabhas: A Status Report on Implementation and Challenges
Fee Defaulters and Right to Education: The Imperative for Stringent Legislation
Legality of Employing Children Below 14 years as Priests in Temples & Govindas during Festivals: Legal Scrutiny and Societal Impact
Note: The sub-themes are merely suggestive, and the authors are free to choose any relevant field of study under the umbrella of juvenile justice.  
Submission Guidelines
Explore contemporary Juvenile Justice Law.
Formats: Articles, opinions, case comments, short notes, and critiques.
Length: 1000-2500 words.
Originality is key: no simultaneous submissions or extensive plagiarism.
AI-generated content will be summarily rejected.
Co-authorship (max 2 authors).
Formatting Guidelines: Times New Roman, font size 12, line spacing 1.5.
Use hyperlinks within the text for citations. For offline sources or sources behind a paywall, use Bluebook 20th Edition format for endnotes.
Share your LinkedIn handle for social media acknowledgements.
Submission Process
The centre is accepting submissions on Rolling basis via our Google Form: Click Here to Submit!
3-4 weeks for review and notification.
Contact Information
All communication and queries must be directed to [email protected].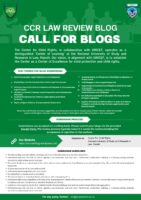 Disclaimer
All efforts are made to ensure the accuracy and correctness of the information published at Legally Flawless. However, Legally Flawless shall not be responsible for any errors caused due to oversight or otherwise. The users are advised to check the information themselves.