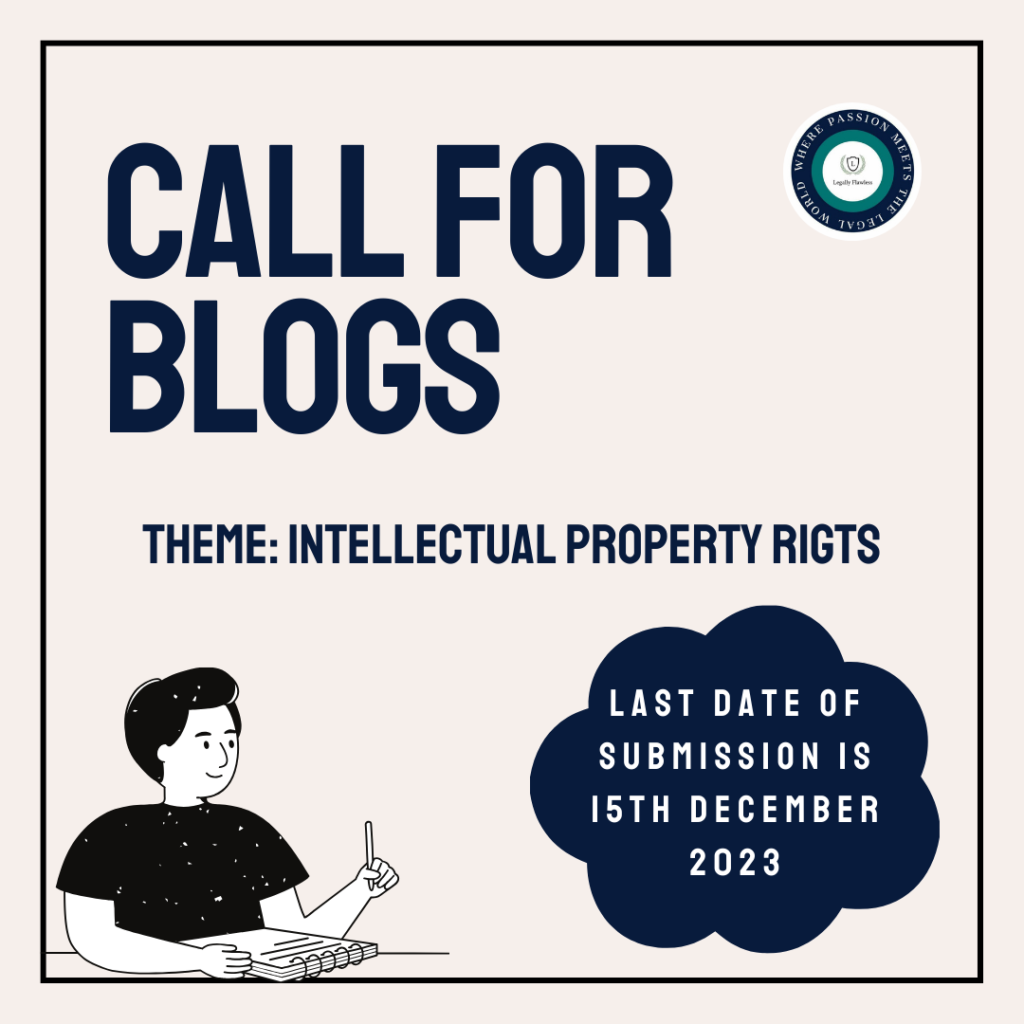 About Legally Flawless
Legally Flawless was founded in the year 2020 with the objective of spreading legal awareness. Within a short span of time, it now gets more than 2 lakh page views every month. Today, it is one of the most popular platforms amongst law students looking for internships, jobs, career guidance or other opportunities in the legal sector.
About the Call for Blogs
With a passion for encouraging young law students, professionals and academicians, to write quality research articles, we are introducing our call for blogs for the month of November 2023 specifically in the area of Intellectual Propert Rights (IPR).
Theme
The submission can relate to any aspect or development in the area of Intellectual Property Rights.
Submission Guidelines
Word Limit: 1500-2000
Co-authorship: A maximum of 2 co-authors are permissible
The submission shall be made in docx. or doc. format.
Hyperlinks are preferred over footnotes. However, footnotes may be used when URL is not available.
Formatting Guidelines
Font Style: Times New Roman
Font Size: 12 (for body)
Font Size: 14 (for sub-headings)
Alignment: Justified
Line Spacing: 1.5
How to Submit
You can submit your article by writing an email to

[email protected]

.
The subject of the mail should be "Submission of Intellectual Property Rights Article for Legally Flawless Blog".
The body of the mail should contain:
Your Name
College Name/ Law Firm/ Company of Association.
The professional photographs of the authors.
I conform to the below-mentioned points:
That the article has not been sent for publication elsewhere or, if sent, has been retracted in view of submission to Legally Flawless.
It is agreed by you that once the article is published on Legally Flawless, the copyright of the same shall vest with Legally Flawless.
The article is as per the blog's submission guidelines.
The Plagiarism of the article is below 20%.
The contents of the article are written by the author and are not AI-generated.
Last date to Submit
Extended to 15th December 2023
Contact Details
For any queries, write an email to [email protected].
Disclaimer
All efforts are made to ensure the accuracy and correctness of the information published at Legally Flawless. However, Legally Flawless shall not be responsible for any errors caused due to oversight or otherwise. The users are advised to check the information themselves.