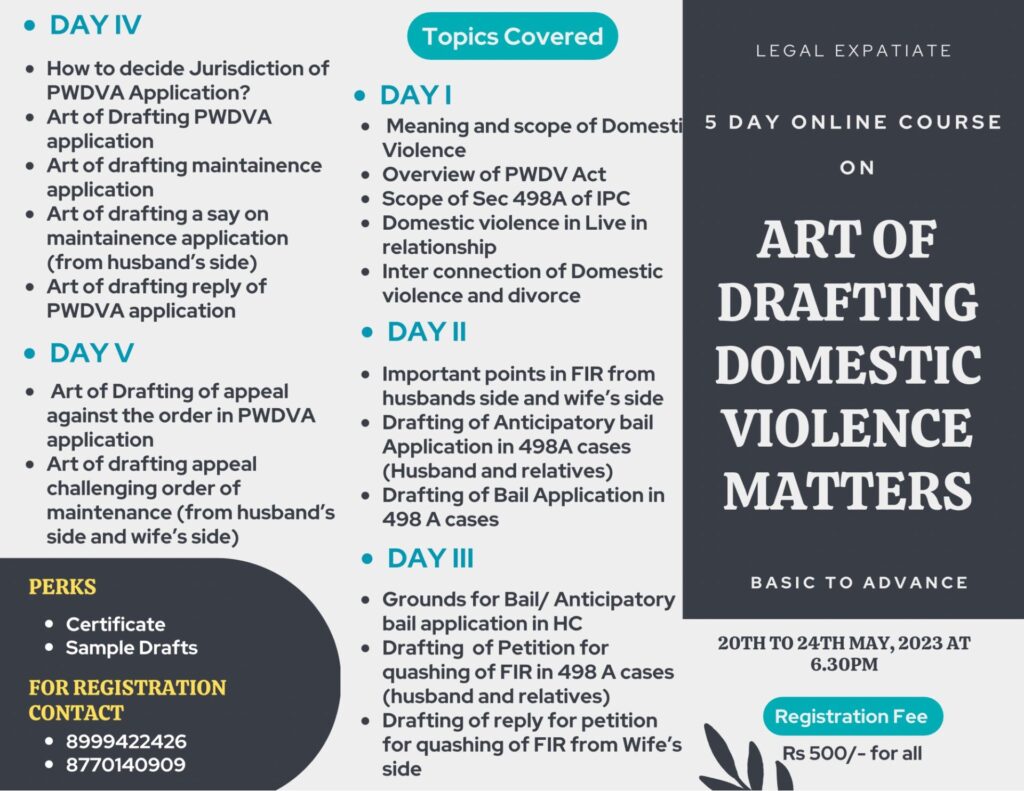 Legal Expatiate brings to you again the well experienced, named and renowned personality in the field of Law at your doorstep through online sessions.
Domestic Violence and 498A matters are common matters which come to any junior and senior advocate wherein drafting plays an important role in these kinds of matters. In this 5 Day basic to advance drafting course we have tried to cover the major aspects of drafting of domestic violence and 498A matters in which will be addressed by the best experienced guest speaker
Topics Covered
Module 1
Meaning and scope of domestic Violence
Overview of PWDV Act
Scope of Sec 498A of IPC
Domestic violence in Live in relationship
Interconnection of Domestic violence and divorce
Module 2
Important points in FIR from husbands side and wife's side
Drafting of Anticipatory bail Application in 498A cases (Husband and relatives)
Drafting of Bail Application in 498 A cases
Module 3
Grounds for Bail/ Anticipatory bail application in HC
Drafting of Petition for quashing of FIR in 498 A cases (husband and relatives)
Drafting of reply for petition for quashing of FIR from Wife's side
Module 4
How to decide Jurisdiction of PWDVA Application?
Art of Drafting PWDVA application
Art of drafting maintenance application
Art of drafting a say on maintenance application (from husband's side)
Art of drafting reply of
PWDVA application
Module 5 
Art of Drafting of appeal against the order in PWDVA application
Art of drafting appeal challenging order of maintenance (from husband's side and wife's side)
Speakers
Dr Devvanshu Srivastava, Jagran Lake city University, Bhopal
Adv S Thulasiram, High Court of Andhra Pradesh and Telangana
Adv Prithwish Ganguly, High Court of Calcutta
Adv Sudershani Ray, Delhi High Court
Adv Vikram Sutaria, Family Court and District and Sessions Court, Pune
Perks of Attending the Course
Learn the things which are never taught in any law school, internship or juniorship
E certificate of completion and sample drafts
Improvise your skills of litigation
Pocket Friendly course
Easy access on zoom
Experienced guidance at your door step
Who can Attend?
Students (UG and PG)
Advocates
Academicians
Research Scholars
Registrations Fees:
Rs 500/- only
Last Date of Registration:
18th May, 2023
Platform of Sessions
Zoom
Registration Procedure:
Send Rs 500/- on Gpay/paytym to 8999422426
Fill form at https://form.jotform.com/231222120219438
Send screenshot of the payment to 8999422426
Contact Details
You may reach out to: 08999422426/08770140909; or [email protected]
Disclaimer
All efforts are made to ensure the accuracy and correctness of the information published at Legally Flawless. However, Legally Flawless shall not be responsible for any errors caused due to oversight or otherwise. The users are advised to check the information themselves.