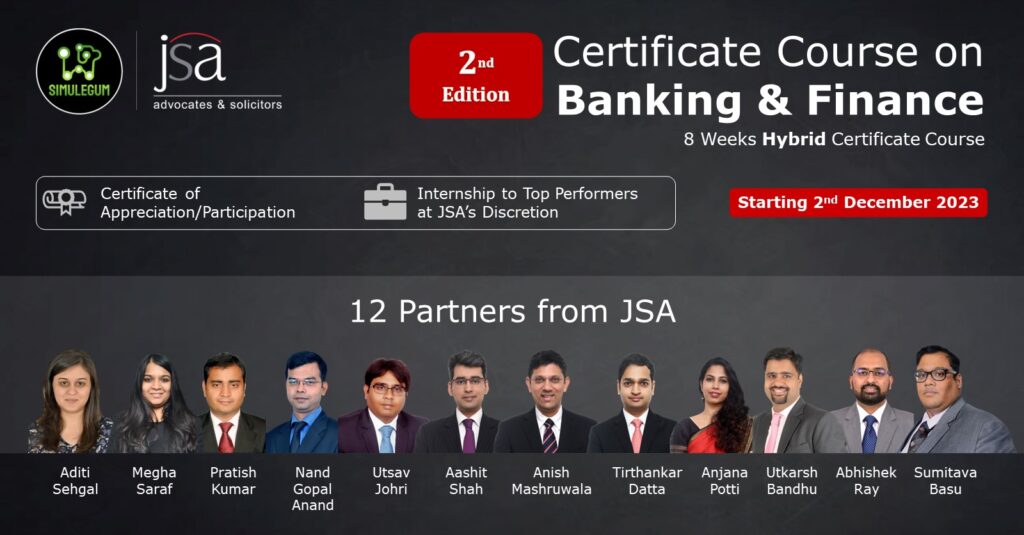 SimuLegum is extremely delighted to announce the 2nd Edition of the flagship Certificate Course on Banking & Finance in collaboration with JSA.
 About SimuLegum
SimuLegum is an incorporated company providing mentorship and legal training to law students through law firm collaborations. The organisation has been very active for the past year providing international opportunities, research assistantships, and internship opportunities to law students worldwide.
About JSA 
JSA is a leading national law firm in India with over 400 professionals operating out of 7 offices located in: Ahmedabad, Bengaluru, Chennai, Gurugram, Hyderabad, Mumbai and New Delhi.
Their practice is organised along service lines and sector specialisation that provides legal services to top Indian corporates, Fortune 500 companies, multinational banks and financial institutions, governmental and statutory authorities and multilateral and bilateral institutions.
About the opportunity
The participants would have the opportunity to gain practical exposure and a comprehensive understanding of Banking and Finance Laws.
This course is designed to prepare you for the professional world by providing the necessary practical skills required to succeed.
The course would be conducted by the following Partners at JSA
Mr. Aashit Shah
Mr. Anish Mashruwala
Mr. Tirthankar Datta
Mr. Utsav Johri
Mr. Nand Gopal Anand
Mr. Pratish Kumar 
Ms. Anjana Potti 
Ms. Megha Saraf
Mr. Utkarsh Bandhu
Ms. Aditi Sehgal
Mr. Abhishek Ray
Mr. Sumitava Basu
Eligibility
Law students
Recent law graduates seeking to kickstart their legal careers
Legal practitioners aiming to enhance their expertise and acquire specialized knowledge in a rapidly growing area of law.
Perks
Internships to Top Performers at JSA's discretion.
Networking opportunity with the speakers and mentors.
Certificate of Appreciation/Participation.
Hybrid sessions (a mix of live online and pre-recorded sessions).
Lifetime access to recordings.
Sessions by 12 Partners from JSA.
Upto 20 hours of Practical Learning.
Duration
8 weeks Hybrid Course starting 2nd December 2023.
Registration Link
Click on the link below to register
Course Brochure
Disclaimer
All efforts are made to ensure the accuracy and correctness of the information published at Legally Flawless. However, Legally Flawless shall not be responsible for any errors caused due to oversight or otherwise. The users are advised to check the information themselves.